June 28, 2021
Virtual Teamwork Yields Debut Song
By Michael Henninger mhenninger(through)cmu.edu
Media Inquiries
Shilpa Bakre
Marketing and Communications
Accustomed to a 24-hour design studio on Carnegie Mellon University's campus full of peer perspectives, the COVID-19 pandemic presented a new challenge for Julia "Jubbies" Steinweh-Adler. A junior
design
major, Jubbies found herself transplanted back home, physically isolated from fellow students and in need of a new goal.
Jubbies began to focus on one of her longtime interests, songwriting. More specifically, she decided to write one song. Perpetually frustrated in her music-making efforts, she was able to write lyrics and wrap pieces around melodies. But after hundreds of little fractions of song ideas, she had never actually finished one.
It took isolation to help her realize she just needed a little help.
"I used to think I had to do every part of the process myself, but ultimately, I had to acknowledge that collaboration actually enhances the quality of what you make," Jubbies said. "Collaboration unlocks parts of you — capabilities you didn't even know you had. That was a gratifying lesson and I'm definitely taking that forward."
Bishop Ivy, a junior studying
music
at CMU, has been
releasing original music
since 2017. Ivy came to CMU to combine his interests in technology and music, studying
computer science
,
electrical engineering
and music. Interested in building a production portfolio, he answered Jubbies's call on social media for collaboration on her song.
"I'd heard Bishop perform at
Orientation Week
freshman year, and I was really impressed," Jubbies said. "We started meeting virtually with this streaming software he'd learned in one of his classes. In between our sessions, he'd send me the mix of the day, and I'd send back a critique, all the while we'd never met in person. Having a shared goal became a way to counteract the lack of social interactions."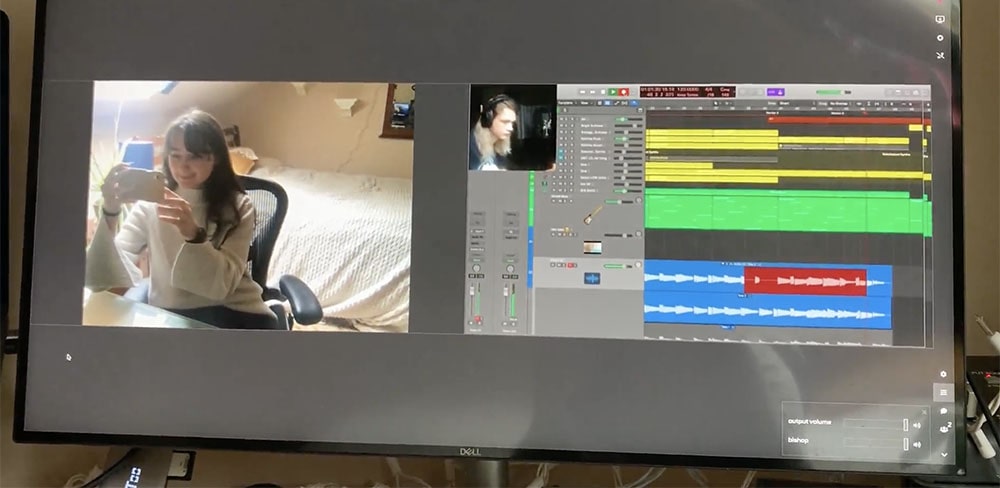 Jubbies, left, and Bishop Ivy collaborate on the track "Out of My Mind." 
Jubbies came to Ivy with the demo of the song. Ivy worked on the instrumentals, playing the percussion, bass and guitar and adding background vocals. He mixed the tracks, making them cleaner, and had everything ready for the final master recording. Ivy received as much as he gave in the project, growing as a collaborator.
"When I'm working with another artist, I have to figure out their own vision and find a way to make it happen," Ivy said. "It's really all about the other artist."
While there were minor hurdles, like internet glitches, with working together online, ultimately it was a smooth and efficient process.
"We did all this over video calls — it had a lot of the same effect as being in the same room," Ivy said. "I was blown away by Jubbies' reaction to the final product. I don't see recording at home as a limitation. You can create really amazing quality without a crazy studio."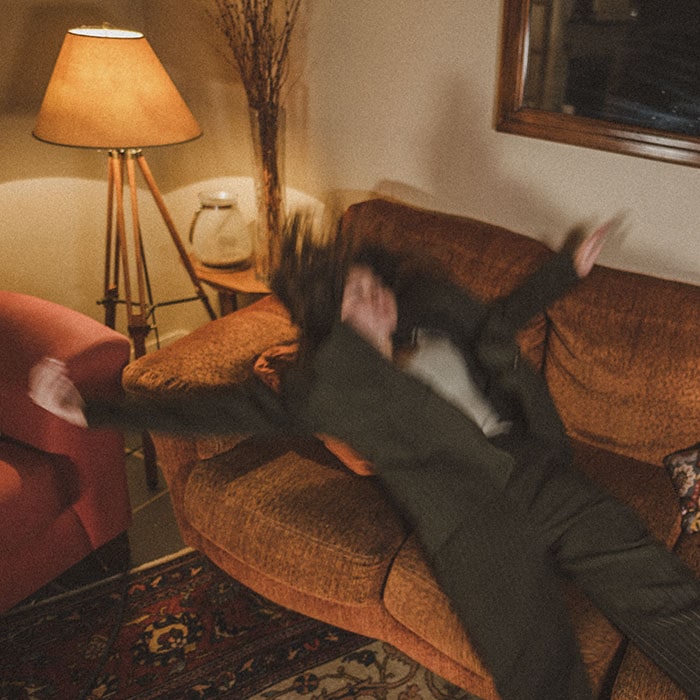 With help from Ivy and others, Jubbies (
pictured at left in a self-portrait)
was finally able to finish "Out of My Mind," a song about the feeling stuck by not wanting to go somewhere, yet still wanting to have gone.
"It seems pretty clear that's what my music journey has been like," Jubbies said. "I've always wanted to participate and share music, but I've felt scared sharing things with people."
It's now being shared worldwide. The song is
available to stream
on various services, including Spotify.
"I wanted to be able and take that leap, to finish it and share it out. It's like a form of conversation with the audience," Jubbies said. "I was certainly overwhelmed by how positive people were about it. This was the first time I'd made something that reached people in a way that made them want to reach out and connect over it. I think that speaks to the power of music."