May 22, 2020
Fulbright Grantees' Dreams on Pause, but not Forgotten
By Heidi Opdyke opdyke(through)andrew.cmu.edu
Media Inquiries
Jason Maderer
Marketing & Communications
Julie Mattera
Marketing & Communications
At a time when most people are staying close to home due to the COVID-19 pandemic, Carnegie Mellon University graduates are looking to future travel as Fulbright Student Grantees.
Katelyn Croft, who recently completed her master's degree in music at CMU, will head to China next year.
After completing bachelor's degrees in harp performance and Chinese studies, Croft spent a year living and studying in Suzhou, China, where she played in a professional Chinese Folk Orchestra. Her goal is to pursue a doctorate in music and teach harp at the university level.
"I hope that the research I gather in China can be used for my dissertation," Croft said.
Croft applied for a Fulbright grant for the 2020-2021 cycle through CMU's Fellowships and Scholarships Office, which helped seven recent graduates complete successful applications for this year's grants. Six of the CMU grantees have accepted Fulbright awards. Haider Nazir, who graduated with a bachelor's degree in global and Chinese studies, accepted a Yenching Academy Scholarship to pursue a master's degree in China Studies at Peking University.
The U.S. Department of State's Bureau of Educational and Cultural Affairs sponsors the Fulbright U.S. Student Program to "increase mutual understanding between the people of the United States and the people of other countries." Winners are selected based on a number of factors, including their proposal, called a "Statement of Grant Purpose," academic record and personal qualifications.
"We are sending some of our top students out into the world, which raises CMU's profile internationally," said Stephanie Wallach, assistant vice provost for undergraduate education and head of Undergraduate Research and National Fellowships.
Croft's 2020-2021 cohort would typically begin this fall but start dates have been pushed back to at least Jan. 1, 2021 depending on the country to which each student will travel.
A worldwide suspension of the Fulbright program for 2019-2020 grantees was announced in March. Richelle Bernazzoli, associate director of Undergraduate Research and National Fellowships at CMU, said that many scholars returned to the United States at that time.
"In certain countries, they were able to stay and continue to receive support even though they were officially Fulbright alumni at that point," Bernazzoli said. "For the 2021-2022 grants, there have not yet been any COVID-19-related changes thus far. On a positive note, there has been an increase in the grant offerings in many countries, including a new English Teaching Assistantship in Myanmar."
Carnegie Mellon provides resources for students to pursue nationally competitive scholarships and fellowships, like the Fulbright program offerings. Experiences like these can help them develop skills in research, teaching and cross-cultural communication skills valuable to employers.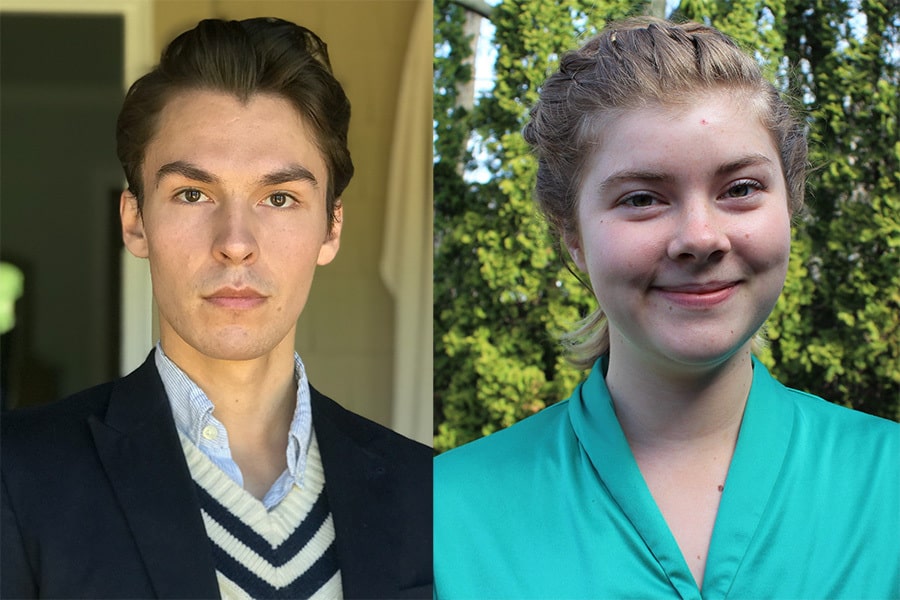 Stefan Romero, left, graduated in 2019 with bachelor's degrees in social and political history and drama, and Victoria (V) Reiter graduated in 2020 with majors in global, Hispanic and Chinese studies.
Stefan Romero graduated from CMU in 2019 with bachelor's degrees in social and political history and drama through the BXA Intercollege Degree Programs.
"The BXA allowed me to intersect my interests in costume and sociopolitical history in ways that pushed me creatively and academically," Romero said. "Both the rigors within the curriculum of these separate disciplines and mentorship of professors developed my voice both as a costume practitioner and historical researcher in material history.
Romero will conduct research related to the politicization of dress during the 18th century Scottish Revolt with a University of Glasgow Master's Award through the Fulbright program.
"The University of Glasgow's Dress and Textile History Program is one of the few of its kind to analyze textiles and costume in their sociopolitical context," Romero said. He plans to continue his research in a Ph.D. program in American studies, analyzing the sociopolitical landscape of 18th century material history and its correlation to gender, status and political orientation.
Victoria Reiter, who graduated with majors in global, Hispanic and Chinese studies, will teach English in Colombia at the university and post-secondary level. Her goal is to return to the U.S. to teach English as a Second Language (ESL) to refugees, something she previously has done as a volunteer.
"It is important to me that I develop skills specifically suited to teaching ESL to adults, who have different learning styles and needs than younger students," Reiter said. "Fulbright is an opportunity to continue pursuing a passion of mine — learning foreign languages — while getting experience and training for my immediate career goal of becoming an ESL teacher."
Reiter said that CMU professors and advisors helped her identify opportunities to pursue her passions outside of traditional classrooms including studying abroad four times.
"The opportunity to navigate my way through the world — relying on my second-language skills that I developed at CMU to figure my way through foreign places — has led to immense personal growth in my sense of independence, confidence and self-esteem," Reiter said. "I'm so grateful for all the guidance and support my professors and advisers have given me to encourage me to never stop following my passions and to always dream big."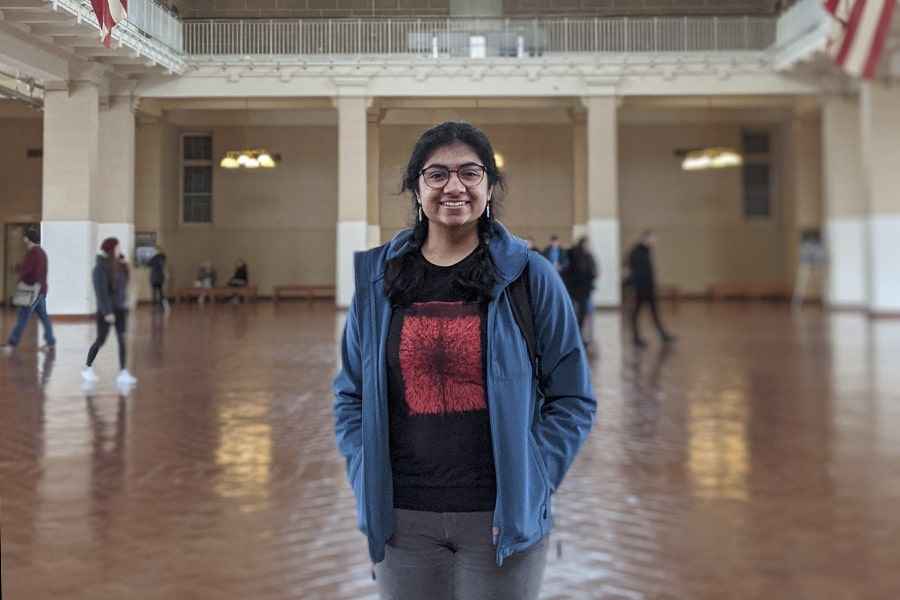 Vaidehi Srinivas graduated in 2020 with a bachelor's degree in computer science.
Vaidehi Srinivas, who recently graduated with a bachelor's degree in computer science, is off to Austria.
"I had toyed with the idea of finding a job abroad for a year or two after graduation, but I wasn't sure how I would find one. My dream job was either doing research or teaching, since I want to go to graduate school, and I've loved being a teaching assistant at CMU," Srinivas said. "In the fall, I asked my advisors if there was some way I could do research abroad for a year, and they suggested I apply to the Fulbright. When I found out Austria had a joint English Teaching Assistant and research program, I was so excited, it was exactly what I was looking for."
Srinivas said she will be teaching English in a secondary classroom part-time and working on a research project in the Algorithms group at the University of Vienna's Computer Science Department.
As a first-year student, Srinivas said she wasn't sure where studying computer science would take her.
"I wanted to study computer science, but I wasn't sure of anything beyond that: what area, what career, or where I saw myself in four years. I was intimidated by all of the brilliant people around me, and not sure if I could live up to their example," she said. "But in addition to being brilliant, the community here has been really supportive. I am always amazed by the professors who go out of their way to get to know you, the TAs and fellow students you meet in office hours who help you when you are struggling, and other staff and community members, who go the extra mile to help you out, even if they didn't know you before."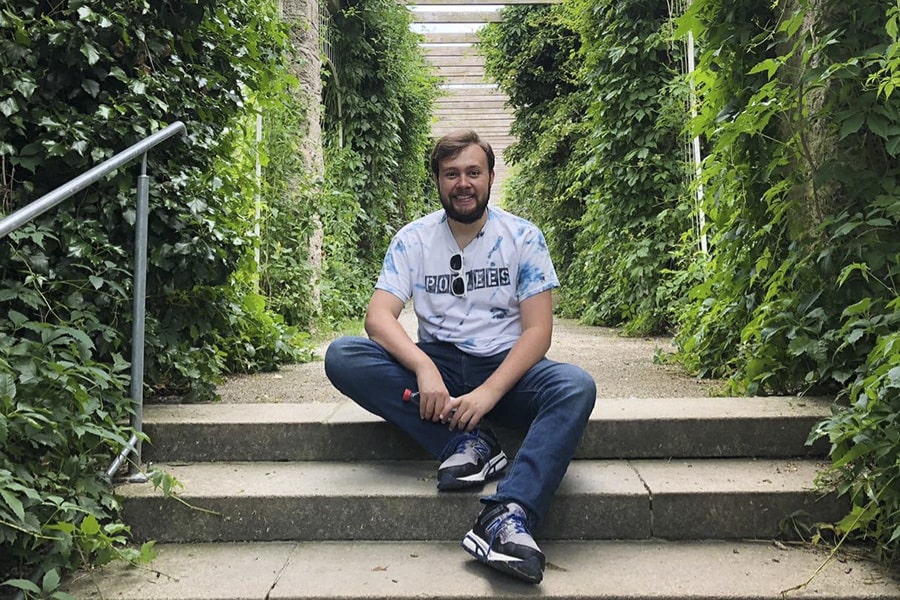 Jonathan Fritz graduated in 2020 bachelor's degrees in physics and German studies.
Jonathan Fritz, who graduated with bachelor's degrees in physics and German studies will head to Germany. Fritz works as part of residential education at CMU.
"It would have made sense to have done research in Germany in physics, but I distinctly wanted to do a program to let me take a step back from science and immerse myself in the culture," Fritz said. "During my undergraduate time I bounced around a lot in academic interests so am able to be flexible and adapt to different challenges. I'm very interested to see how those skills will manifest together as a successful Fulbright."
Fritz said that he was initially unsure if he should pursue a Fulbright but that Bernazzoli and other staff members encouraged him and were with him through the whole process.
"The Undergraduate Research Office gave me the confidence and the tools to apply and see it through," he said. "CMU has opened so many doors for me and then also said, 'keep pushing.' No one has ever said no, either. It's also a question of 'How do we get there?'"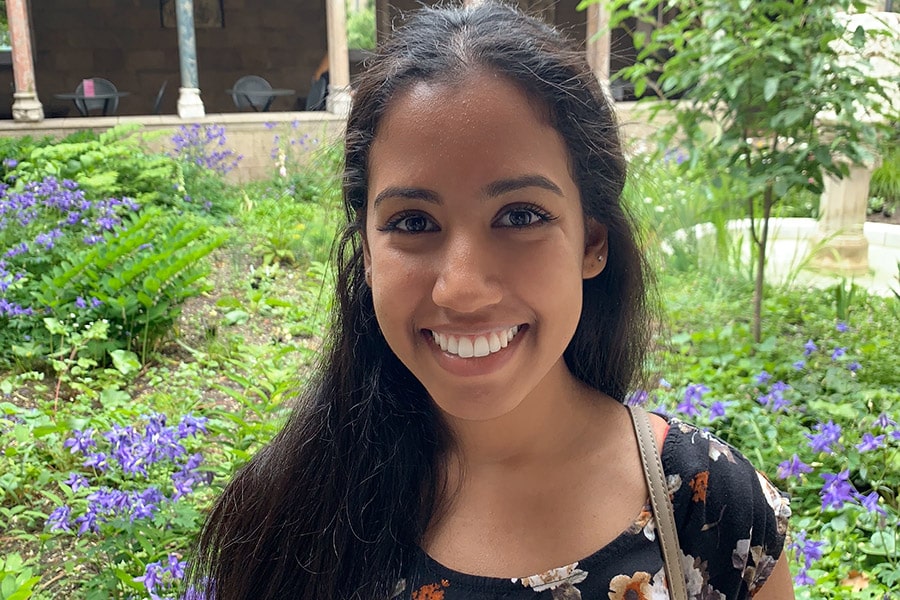 Namita Thomas graduated in 2020 with a bachelor's degree in biological sciences.
Namita Thomas will be heading to India to teach English. She said that CMU helped her develop a passion for community service and teaching through activities such as working as an academic coach, EXCEL leader and a biological sciences teaching assistant. Having traveled to India multiple times, she said she has seen the strengths and challenges that Indian education presented.
"I want to increase education equity by working with the children in my host community to strengthen their communication skills, so they can be equipped to pursue their career goals later in life. Along with my interests in education equity, I also feel very strongly about equal access to health care and increasing health literacy within underserved populations," Thomas said. "I plan to engage with my host community further by creating a mentoring program promoting educational empowerment and women's health literacy with the young girls in my host community."
Thomas and other students praised the URO office for their guidance through the Fulbright application process.
"Dr. Bernazzoli's initial email got me interested in applying for the Fulbright, and her continued support and excitement for my ideas helped me craft a compelling narrative and even helped me learn more about myself in the process," Thomas said.
Pursuing a Fulbright can be a demanding application process, Wallach said, which begins in April and goes through October each year. CMU's process includes webinars and individual meetings on how to craft great proposals and personal statements, which can then be used as templates for applying to graduate school, jobs, or internships.
"Our applicants have had a lot of success in obtaining grants," Bernazzoli said. "But even when they don't ultimately receive the grant, they very often express that the process is enormously beneficial in helping them to inventory their skills, experiences and accomplishments and articulate their career goals."