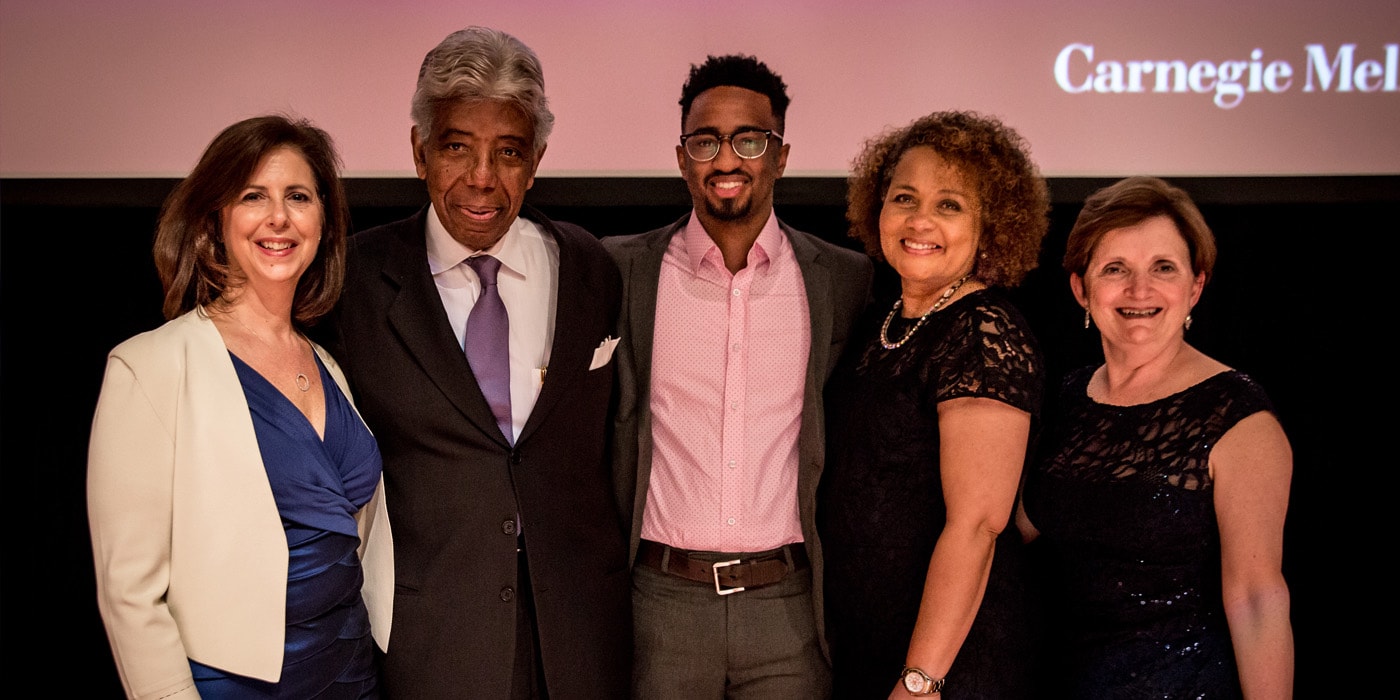 May 29, 2018
CMU Reflects on 50 Years of Embracing All Students
By Julie Albright
Media Inquiries
Abby Simmons
Marketing & Communications
Carnegie Mellon University has been ahead of the curve in working toward being inclusive of all students.
In 1968, Martin Luther King, Jr.'s assassination galvanized the national conversation about how universities could help in the struggle for equality. Carnegie Mellon answered by launching the Carnegie Mellon Action Project (CMAP), with Norman Johnson at its helm. The project's initial aim was to increase the school's recruitment and retention of African-American students.
During 2018 Spring Carnival weekend, the university hosted a 50th anniversary event: "CMAP/CMARC 50 Years Later: Honoring the Legacy of Gloria Hill." Several hundred students, alumni, faculty and staff gathered at Carnegie Music Hall.
"We are incredibly proud at CMU to have such visionary advocates as part of our community — students, staff and faculty alike," said Interim Provost Laurie Weingart. "In 1968, they looked outside of their day-to-day routines, empathized with the national struggle for civil rights and inspired change on our own campus. CMAP was created with the goal of equality squarely at its core."
Amy Burkert, vice provost for education, described the university's commitment to diversity and inclusion at the event.
"We have seen our student population diversify from early classes that were mostly white men hailing from the Pittsburgh region to an entering class of 2017 that was greater than 50 percent women, representing numerous cultures and ethnicities from nearly every state as well as from 32 countries from around the world," Burkert said.
The Beginning
From the start, CMAP worked on three fronts: college preparation and recruitment, on-campus support and alumni engagement.
Trina Ramsey, a 1988 graduate of the Dietrich College of Humanities and Social Sciences, spent the summer before college learning the technical and study skills she would need as a major in information systems.
"I was able to be successful in great part because of the summer program, the academic support that I got, but also the emotional support and community that I got," said Ramsey, who for 20 years has worked in nonprofit fundraising and management. She was named chief development officer of the Center for Public Integrity in 2018.
Gloria Hill was the CMAP director of 1984 to 2004. A beloved figure, Hill came to represent the project and its quest for excellence. Robert Patterson, Jr., co-director of the Carnegie Mellon Black Alumni Association and a 1989 graduate from the College of Engineering, described being able to walk into Hill's office for a hug or a listening ear.
"I don't think a day of my undergraduate experience went by that I did not go to CMAP for some reason," Patterson said. Hill's empathy, intellect and advocacy made her a legend among colleagues and students.
As a colleague of Hill's, Johnson said: "She was caring, but she knew how to be firm and caring."
In the 1980s, CMAP broadened its efforts to include Hispanic, Latinx and Native American students. Ty Walton served as CMARC director from 2004 to 2018.
"We were doing diversity before it was a popular word," Walton said.
During Walton's tenure, the center was renamed to Carnegie Mellon Resource Advising Center (CMARC), but the core mission was the same: to fortify students of color so that all could thrive. In 2015, CMARC, widened its focus to include students who were the first in their families to attend college.
A New Chapter
In August 2017, The Center for Student Diversity and Inclusion opened to support not only students of color and first-generation college students, but also low-income, LGBTQIA students, women — any individuals who have experienced underrepresentation and systemic inequality.
"The new Center for Diversity and Inclusion is centrally located on campus; its visibility speaks to the school's commitment as well," said Walton, who is a member of the center's team.
Devynne Farquharson grew up in the projects of Clairton, Pennsylvania. He attended CMU's Summer Academy for Mathematics and Science during high school and earned his undergraduate degree in mechanical engineering. Now a doctoral candidate in the Department of Engineering and Public Policy, Farquharson encouraged alumni to pay forward the support they received to current students.
"[It was] impossible to separate the CMU experience from CMAP/CMARC," said Farquharson, who spoke at the 50th anniversary event.
Moving Forward
The work is not complete.
"As a community, the students, alumni, staff, faculty, parents, administrators and board members all embraced and endorsed the CMU 2025 Strategic Plan that puts forward our collective commitment to build an even more diverse and inclusive community where all people have the ability to succeed," Burkert said.
CMU's Strategic Plan 2025 goals focus on the interconnected threads among individual experience, the university community and societal impact. As part of that, CMU remains dedicated to nurturing student, faculty, and staff growth and to focus on attracting a diverse and inclusive community willing to cross academic boundaries.
CMU is at a time of unprecedented momentum. The university attracted a record-breaking 24,351 applicants for admission to the Class of 2022, a 19 percent increase over last year's pool. It is the largest year-to-year increase and the most applicants in the university's history.
The diversity of the applicant pool also grew at record pace, including increases in applications from Asian-Americans (up 30 percent), African-Americans (up 26 percent), and Hispanic-Latinos (up 20 percent). International student applicants increased by 7 percent. The pool of female applicants also continued to grow dramatically, up 22 percent from last year.
"CMU's efforts in diversity and inclusion have come a long way," Weingart said. "And while there is still much work to do, we have so much to celebrate."
Russell Crockett, a 1987 graduate of CMU's chemical engineering program and a member of the university's Board of Trustees said now is a time of action and to continue the efforts that the leaders of CMAP/CMARC began in supporting individual and collective success.
"Let's just keep going forward with this because I think it has profound impact," said Crockett, who, like Farquharson, encouraged alumni to take action. "I'm going to help this in some form or fashion. I'm going to give my time, my treasure and my talent to this effort to keep it going."