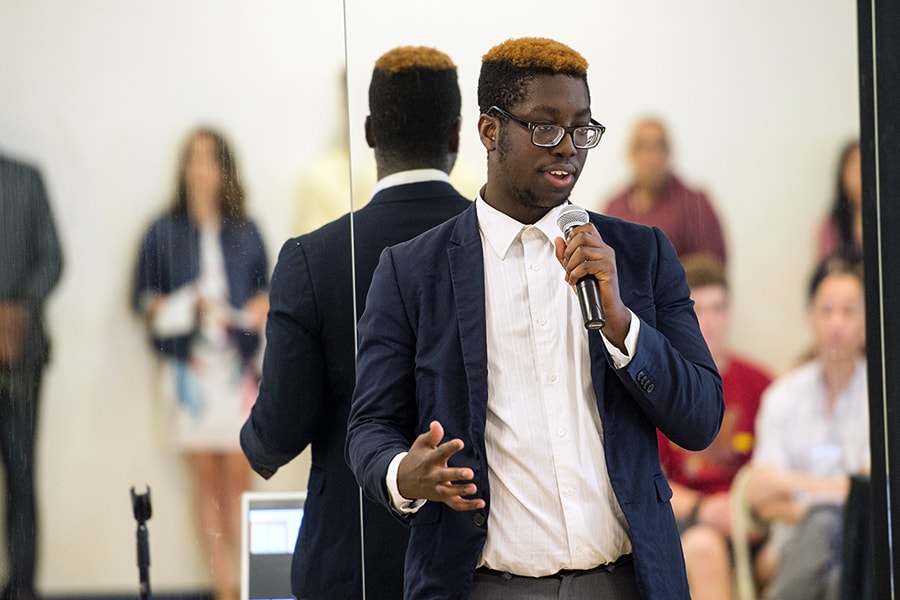 September 29, 2017
Summer Academy's Largest Class Discovers Wonders of Science, Math and Computation
SAMS celebrates historic gift from CMU Trustee Larry Jennings
By Julianne Mattera jmattera(through)cmu.edu
Media Inquiries
Julianne Mattera
Marketing and Communications
A Carnegie Mellon University program aimed at increasing the number of diverse students pursuing college studies and careers in science, technology, engineering and math enrolled its largest class this past summer.
The Summer Academy for Mathematics and Science  (SAMS) marked its 17th year with 128 students, who took rigorous, college-preparatory STEM courses for six weeks on CMU's campus.
Since its inception, more than 1,200 students from across the United States, the District of Columbia, Puerto Rico and the Virgin Islands have attended SAMS. The program focuses on providing an opportunity for students historically underrepresented in STEM fields, including women, students from low-income families, students who are the first to pursue a college degree and students of color.
Longtime advocate of the program and CMU Trustee Larry E. Jennings, Jr. and Katherine Jennings donated $2 million to SAMS — $1.5M to create an endowed fund and an additional $500,000 for current use.
"The Jennings Family Endowed Fund for the Summer Academy for Mathematics and Science has enabled CMU to expand the program's mission and build toward a sustainable future," said CMU's Vice Provost for Education Amy Burkert. "SAMS continues to positively transform students' lives, and its mission to bring more diversity to the STEM workforce is a change that will fuel innovation and benefit society as a whole."
Jennings earned his bachelor's degree in mathematical sciences and economics in 1984 and his MBA from the Tepper School of Business in 1987.
"The program that eventually became SAMS was the beginning of my connection to Carnegie Mellon, a connection that I have cherished for almost 40 years. Through the program, I launched my education and my career. I also made lifelong friends, some who joined me at CMU, and others who went to other great institutions," Jennings said. "We all share a common connection in this extraordinary summer program that was our launch pad and network of support. I support SAMS to make such a rich experience possible for other young people who are eager to seize this opportunity to study at CMU."
In addition to SAMS, the Jennings family supports a variety of programming at CMU. The Jennings Global Mathematics Scholarships gives sophomores and juniors a chance to study abroad, and the Jennings Family Brave Companions Fund provides underrepresented or first-generation students who have financial need with the necessary resources to travel and conduct research. The family supports the Summer Undergraduate Research Fellowships for Math and a Summer Undergraduate Research Experience for engineering students, both of which provide students with paid summer research opportunities. Jennings also worked with Carnegie Mellon Africa to establish the Innovators Forward Fellowship Fund.
Ty Walton, director of SAMS and the Carnegie Mellon Advising Resource Center, which is now part of the Student Center for Diversity and Inclusion, said the Jennings family's gift, and a gift from the Hopper-Dean Foundation that funded a group of students in the program, were the impetus behind the largest class. 
"With a larger class, we're able to reach more students, challenge them, and help them discover the wonder and excitement of science, math and engineering," Walton said. "That exposure allows more students to decide that's an area they love and want to pursue."
Walton said SAMS' curriculum has expanded to include enhanced computer programming seminars. This year, the program included biology, chemistry, two sections of physics and four levels of math.
Burkert said this year's class also benefitted from broader CMU student and faculty engagement, as well as partnerships with several community-based organizations and corporations.
Recent SAMS graduate Alex Garcia, a senior at Seneca Valley Senior High School, said the summer program's introduction to the college experience and coursework challenged him, and he learned to improve his time-management skills and be more independent.
SAMS also helped Garcia confirm his plans to study computer science in college.
"SAMS gave me a solid introduction to computer science with multiple related courses covering areas like Python programming and robotics," Garcia said. "Specifically, the Mathematical Foundation for Computer Science course introduced me to formal mathematics. I was very fortunate to have exposure to brilliant CMU professors and graduate students, and this experience convinced me that Carnegie Mellon is my first choice for college."
As of August 2017, approximately 10 percent of SAMS alumni had enrolled at Carnegie Mellon. Program alumni also have gained admission to other top-ranked institutions including Cornell, Massachusetts Institute of Technology, Dartmouth, Duke, Georgia Institute of Technology, Harvard, Princeton, Tufts, Washington University in St. Louis, University of Pennsylvania and Yale.
In addition to the Jennings family's support and the SCS grant, SAMS received funds from the EQT Foundation and the Siemens Foundation. This support, coupled with resources from Carnegie Mellon, enables students to focus on learning and discovery without having to worry about tuition and living costs.
"This is an opportunity to level the playing field as it relates to providing the right type of preparation for under-resourced students, women and underrepresented populations," Walton said. "Our sponsors recognize this, and they've come together to assist the university in developing the talent pool. It's their way of paying back to society."