October 19, 2016
Scholarship Lets Students Immerse in Research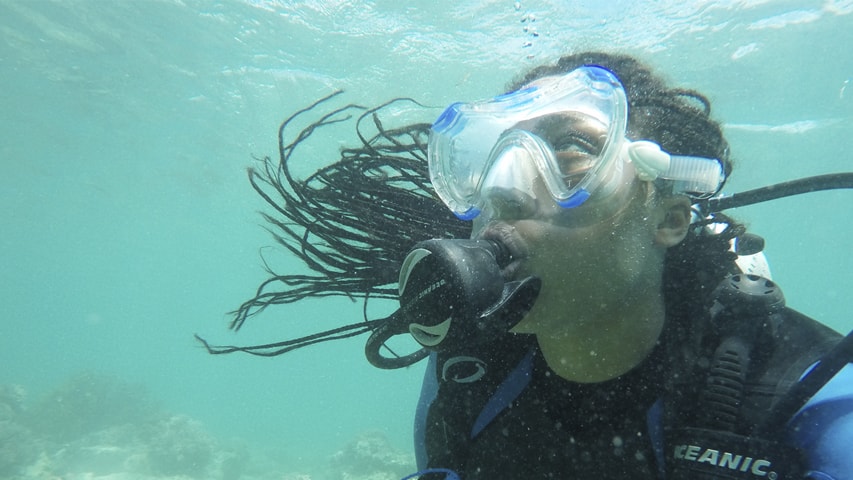 Drama senior Iris Beaumier participated in a research dive in Wakatobi National Park in Indonesia.


A trip to Indonesia helped Carnegie Mellon University senior Iris Beaumier merge her passions.
In 2015, the drama major who is working toward an environmental studies minor joined an Operation Wallacea expedition to collect data on invertebrates and coral structures. While there, she experimented with underwater cinematography.
"I wanted to create a piece of art that is scientifically based," she said.
Using underwater film and interviews with local fish farmers, Beaumier created and directed a dance piece performed in front of the projected footage. She presented it at the School of Drama's Playground festival and at the annual Meeting of the Minds, a university-wide celebration of undergraduate research.
"It was really moving to see people in my school be open to experimenting with me," she said. "It is by no means my last piece. There will definitely be more to come."
Her experience was funded by the Jennings Family Brave Companions Fund, which supports underrepresented or first generation students with demonstrated financial need to travel and conduct research.
CMU Board of Trustee member Larry Jennings was inspired to start the scholarship while in India with his teenage daughter, June. They spent a day lost trying to visit the Taj Mahal.
"My daughter tells me that night that she was terrified being lost in a foreign country," he said. And then he said she added, "'but you know what, this was really exciting. Thank you for giving me this opportunity. I know when you were in high school you never had an opportunity like this.'"
Jennings is a double graduate of CMU, earning his bachelor's degree in mathematical sciences and economics in 1984 and his MBA from the Tepper School of Business in 1987. He was moved and wondered if he could give the same experience to CMU students.
"Maybe there are a lot of students at Carnegie Mellon who are first-generation and/or underrepresented minorities who really want to do something overseas in the summer," Jennings said.
Jennings worked with Stephanie Wallach, the assistant vice provost for undergraduate education and Ty Walton, director of the Carnegie Mellon Advising Resource Center, to launch the Brave Companions Fund. When students return, they continue to develop their research and present at the Meeting of the Minds.
"Summer is a time when there is very little financial support," Wallach said. She added that low or unpaid internships or travel experiences may not be feasible for some people. Programs such as the ones Jennings supports helps level the playing field.
"It's very empowering for students to test their limits in a controlled way," Wallach said. "It sets the stage for thinking about what else you want down the road. It frees you to experiment, to test your limits and to overcome some of your fears."
Jennings supports a variety of other programming at CMU — the Summer Academy for Math and Science, a preparatory experience for high school seniors; and the Jennings Global Mathematics Scholarships, a chance for sophomores and juniors to study abroad. He also supports the Summer Undergraduate Research Fellowships for Math, and a Summer Undergraduate Research Experience for engineering students, which both provide students paid summer research. He worked with the CMU-Rwanda to establish the Innovators Forward Fellowship Fund.
Jose Veintimilla, a senior in mechanical engineering, was awarded a Brave Companions scholarship in 2015. He traveled to Buenos Aires to research the new implementation of currency control in Argentina and to intern at a startup 3-D printing company.
With the Argentine peso declining, he said people were desperate to find other currencies. The U.S. dollar, though illegal, was highly valued. Veintimilla's landlord demanded rent in dollars. Store owners begged him to pay in dollars.
"One could read news articles and watch videos about the things going on in Argentina, but it doesn't come close to being there and experiencing the effects of currency control," Veintimilla said.
He was affected by his internship. After the summer, he returned to CMU to pursue research and take courses in 3-D printing, and has joined CMU's additive manufacturing team.
"The Jennings Fund opened new doors for me," Veintimilla said. "It showed me how valuable it is to go abroad and learn about a new culture. Being abroad teaches you to not be afraid to leave your comfort zone and grow as an individual."
Amanda Thiele, a junior psychology major, knew she was interested in attending medical school.  A trip to Ghana and shadowing at a local hospital confirmed that.
As a Brave Companions scholar, she spent this past summer getting medical experience and working on comparative healthcare research between the United States and Ghana.
"This trip just reminded me of why I want to go into medicine and reignited my passion for my goals," Thiele said.
Daryl Bright, a senior in the drama department, traveled to Tanzania. She studied with theater artists and learned about social issues, like the effect of HIV/AIDS on the population, gender disparity, child homelessness and discrimination. One of the highlights was working with orphaned children to write and produce their own plays.
"My experience in Tanzania helped broaden my perspective of the world and the human experience in so many ways," Bright said. "Not only traveling and engaging in an unfamiliar culture, but learning how to collaborate and create art based on those experiences, has truly influenced me not only as an artist, but as a human being."