May 17, 2017
Hill Worked To Support Students, Promote Inclusion
"She was a proponent for diversity before the word became popular"
By Bruce Gerson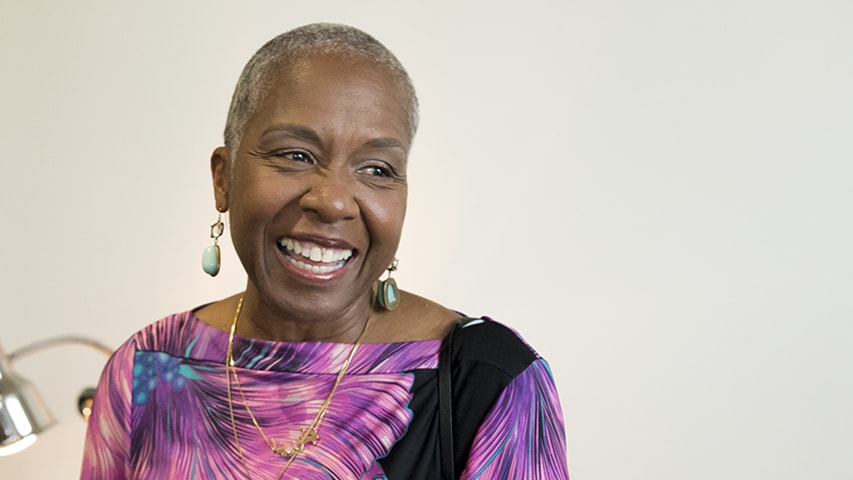 Gloria Hill, an adviser and mentor to thousands of students at Carnegie Mellon University for more than three decades, and a champion for diversity and inclusion at the university, died on Wednesday, May 3. She was 70.
Hill's many devoted contributions to CMU were aimed at supporting students and student life, and promoting an inclusive university community.
Hill joined CMU in 1972 as an academic adviser and her rapport with students combined with her endearing personality led her to build a stellar reputation among students, faculty and staff across campus. She became director of the Carnegie Mellon Action Project (CMAP), an academic support center for under-represented minority students, and then assistant vice provost for education. From 2004-2008 she was the liaison between CMU in Pittsburgh and its newly launched campus in Doha, Qatar.
"Gloria Hill's legacy is one that will be felt for decades as we chart the meaningful connection countless alumni have to their alma mater," said Vice President for Student Affairs and Dean of Students Gina Casalegno. "Her influence on students was instrumental in cultivating a sense of belonging and mentoring student success. Gloria was one of the pillars of this community who brought her great intellect, grace and heart to the work for 35 years. She is deeply missed by all who knew and loved her."
Vice Provost for Education Amy Burkert remembers Hill as a passionate educator and tireless student advocate who taught many key lessons to her students and colleagues.
"She recognized the important role of connections and community, and served as a bridge between people, programs, cultures and campuses. Perhaps most importantly, she taught us we all have a role to play in making the community better and she challenged and partnered with all she met to do just that," Burkert said.
Professor and Vice Provost Emeritus Indira Nair said students loved Hill, and learned and thrived from her sound counsel.
"I first came to know of Gloria as students spoke of her with immense respect and love, but with a clear understanding that 'Dr. Hill' will expect the best from them," Nair said. "Gloria's advice was pragmatic — about attending class, asking questions, going to office hours, and making sure to get tutoring as needed.
"The famed Summer Boot Camp — six weeks of authentic college experience for admitted minority students was a national model, and one she adapted with great success at CMU-Qatar. Gloria trained and mentored her staff, too, to give the best, and to get the best from students. Her smile, grace and generosity will stay with me always," Nair said.
Ty Walton worked under Hill as assistant director of CMAP, and is now director of the Carnegie Mellon Advising Resource Center, CMAP's successor.
"I worked with her for over 30 years. I knew her as a student advocate and a person who made pathways for student success," Walton said. "She was a proponent for diversity before the word became popular."
Damian Dourado, director of pre-college programs at CMU-Qatar, said Hill was a "mother figure" to students and her staff.
"She was willing to celebrate the success and also have the tough conversations when necessary," said Dourado, who worked under Hill at CMAP. "She truly cared about their growth, development and overall well-being.
"I also came to find out that this was not just her approach to students, but to her staff as well. On the CMAP staff I felt like I was part of a family. Her investment in me went far beyond my job responsibilities," he said.
Bob Patterson, a 1989 CMU graduate in mechanical engineering, reaped the benefits of Hill's work. A chief strategist for IoT Data and Analytics for Hewlett Packard Enterprise, he said Hill made students feel special.
"Every single student walked away feeling that they were her favorite. That's the level of impact she had over 35 years," said Patterson, deputy director of Carnegie Mellon's Black Alumni Association.
Joseph E. Devine, associate dean for undergraduate studies in the Dietrich College, said Hill lifted him up personally and professionally.
"Gloria epitomized style, refinement, grace, wit and the unwavering dedication to the well-being of students in her charge that only the finest educators exhibit. Every day was a better day when it included Gloria. I miss her greatly and am a better person and educator for having known and worked with her," Devine said.
In 2008, Hill rose to the rank of assistant dean of the Dietrich College of Humanities and Social Sciences and director of its Academic Advisory Center (AAC), which provides information, advice and counsel for students who have yet to declare a major course of study. 
Hill helped to mold the AAC into a haven, where students can turn to during their transition into college life. She encouraged students and aided them in developing realistic goals and objectives. Former Dietrich College Dean John Lehoczky said Hill transformed the center to provide excellent advising and mentorship to first- and second-year students and created a sense of unity among Dietrich students.
Eric Grotzinger, senior adviser for student success, said Hill helped him see things from the students' perspective.
"Gloria's intelligence, enthusiasm, charm, and dynamic personality made her a most treasured colleague. She was my go-to-person in helping underrepresented students achieve their maximum potential at Carnegie Mellon," said Grotzinger, former associate dean for undergraduate affairs at the Mellon College of Science. "Working with Gloria helped me to better understand some of the complex issues that students face and that in turn made me not only a better mentor but also a better person."
Hill retired from CMU in July 2015.
A university celebration honoring Hill's legacy is being planned for the fall.