Moments@Work: Advancing Sensitivity to Diversity Through Experiential Learning
The social climate is an important component of our dynamic work environment. Women and people from minority groups have historically had the greatest difficulty gaining a foothold at the workplace, as indicated by low rates of recruitment and high rates of dropout and turnover from these groups.
Using socio-cognitive theories we offer a game called Moments@Work which is played among a group of participants; we use the card game to raise awareness and increase sensitivity to Diversity and Inclusion (D&I) issues at the work place, and the computer game to conduct formal experimental studies regarding experiential learning and sensitization to these issues.
Thus far, the game has been played by deans, search committees, and other faculty groups interested in diversity, equity and inclusion. Sponsored by the Vice Provost for Faculty and the Faculty Committee on Diversity, Equity and Inlcusion, this game is available for use with any faculty group. To request a free copy of the game contact Courtney Bryant, Director VPF office.
Special thanks go to Coty Gonzalez and Geoffrey Kaufmann, for their continued work on developing this important training and development tool. 
INDICATOR and Equitable Service Loads Guidelines
These guidelines allow for increased opportunities for women and underrepresented faculty to engage in high-level opportunities on campus, ensuring our diverse community see people like themselves represented in prestigious settings.
Members of the CMU community who are concerned about activities, events, and opportunities for which there is insufficient diversity should report their concerns via the INDICATOR hotline @ 412-268-2272 or by emailing the Vice Provost for Faculty VPFaculty@andrew.cmu.edu. All inquiries are handled confidentially.
Read the INDICATOR Guidelines.
The objective of the Guidelines for More Equitable Service Loads is to complement the INDICATOR Guidelines by ensuring a more even distribution of service work, particularly for women and underrepresented faculty members. 
Frequently Asked Questions: 
The Vice Provost for Faculty oversees:
President's Postdoctoral Fellowship Program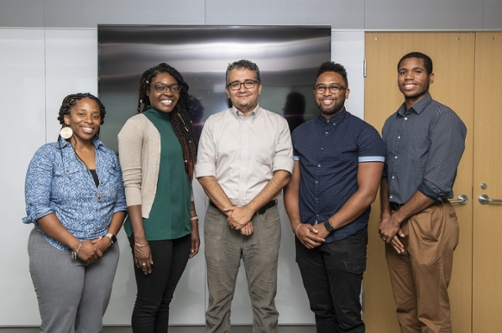 Advancing excellence through faculty diversity.
In 2017, we joined in a collaborative partnership with the University of California to offer postdoctoral fellowship opportunities at CMU in order to encourage outstanding women and minority Ph.D. recipients to pursue academic careers at Carnegie Mellon. We offer the potential for postdoctoral research fellowships in all fields represented at the university, coupled with faculty mentoring, professional development, and academic networking opportunities. 
News and Articles