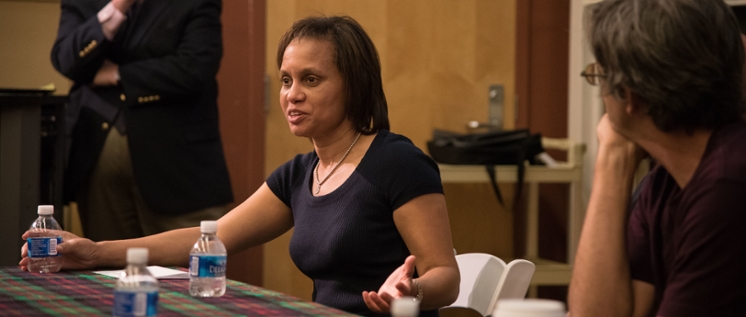 Recommended Steps and Resources for Faculty Recruitment 
To sustain and strengthen the university's commitment to an open, fair process consistent with excellence and inclusion, we have provided recommended steps and resources to help carry out diverse and equitable searches.
While many factors can contribute to the underrepresentation of women and under represented minorities in faculty positions (e.g. degree of encouragement toward academia, mentoring, access to role models, issues of climate), this web site emphasizes the role of implicit bias. The ideas are consistent with best practices to increase equity and inclusion that draw heavily on the work of several NSF ADVANCE programs. 
The recommendations described here were originally developed in the Mellon College of Science and were adapted for this website.  
The checklist provides a guide to best practices.
Recommended Resources
Bertrand, M. & Mullainathan, S. Are Emily and Greg More Employable than Lakisha and Jamal? A Field Experiment on Labor Market Discrimination. NBER Working Paper No. 9873, July 2003.
Bilimoria, D. K. and Buch, K.M. The Search is On: Engendering Faculty Diversity Through More Effective Search and Recruitment. [.pdf] Change, July/August 2010, pp. 27–32.
Diversity Best Practices — Faculty Members, Produced by the Trustee Ad Hoc Committee on Diversity Princeton University, Princeton, New Jersey September 2013
Fine, E., Sheridan, J., Carnes, M., Handelsman, J., Pribbenow, C., Savoy, J. and Wendt, A. "Minimizing the Influence of Gender Bias on the Faculty Search Process" in Gender Transformation in the Academy. Published online: 07 Oct 2014; 267–289.
Heilman, M.E. The Impact of Situational Factors on personnel decisions concerning women: Varying the sex composition of the applicant pool. Organizational Behavior and Human Performance, 1980, 26m 386–395.
Moody, J. (2011). Faculty Diversity: Removing the Barriers. New York: Routledge.
Moody, J. (2010). Rising Above Cognitive Errors: Guidelines to Improve Faculty Searches, Evaluations, and Decision-Making. (Resources for Medical, Law, & Business Schools and Colleges & Universities).
Moss-Racusin, C.A., Dovidio, J.F. Brescoll, V.L. Graham, M.J. and Handelsman, J. Science faculty's subtle gender biases favor male students. Proceedings of the National Academy of Sciences, 2012, 104 (41), 16474–16479, doi: 10.1073/pnas.1211286109
Nelson, D. (2007). A National Analysis of Minorities in Science and Engineering Faculties at Research Universities. [.pdf] In C. N. Brammer & H. Rhoads (Eds.).
Schmader, T., Whitehead, J. and Wysocki, V.H. A Linguistic Comparison of Letters of Recommendation for Male and Female Chemistry and Biochemistry Job Applicants. Sex Roles 2007; 57(7-8): 509–514. doi:10.1007/s11199-007-9291-4.
Trix, F. & Pesenka, C. Exploring the Color of Glass: Letters Of Recommendation for Male and Female Medical Faculty. doi: 10.1177/0957926503014002277 Discourse & Society March 2003 vol. 14 no. 2 191–220
University of Wisconsin-Madison, Women in Science & Engineering Leadership Institute, Reviewing Applicants: Research on Bias and Assumptions [.pdf]
Valian, V. (1999). Why So Slow? The Advancement of Women. Cambridge, MA: The MIT Press.
Van Ommeren J., de Vries, R.E., Russo, G & Van Ommeren, M. Context in Selection of Men and Women in Hiring Decisions: Gender Composition of the Applicant Pool. Psychological Reports, 2005, 96, 349–360.