Dr. Adam W. Feinberg
Professor, Biomedical Engineering and Materials Science & Engineering
Contact
Address
Scott Hall 4N109
Carnegie Mellon University
5000 Forbes Avenue
Pittsburgh, PA 15213
Education
B.S., Materials Science and Engineering, Option in Bioengineering, Cornell University, 1999
Ph.D., Biomedical Engineering, University of Florida, 2004
Postdoctoral Research Assoc., Department of Chemical Engineering, University of Florida, 2005
Postdoctoral Fellow, School of Engineering and Applied Sciences, Harvard University, 2010
Bio
Dr. Feinberg is the principal investigator of the Regenerative Biomaterials and Therapeutics Group, founded at Carnegie Mellon University in 2010.  He earned his BS in Materials Science and Engineering from Cornell University in 1999 with co-op experience at Abiomed, Inc., working on total artificial hearts. This was followed by MS and Ph.D. degrees in Biomedical Engineering from the University of Florida, where his doctoral work focused on engineering cell-material interactions to prevent and enhance adhesion.  Dr. Feinberg then moved to Harvard University as a Postdoctoral Fellow working on developing new biomaterials and cardiac tissue engineering strategies for 3-dimensional myocardial regeneration, with a focus on stem cell-based approaches (and two publications in Science). He subsequently joined CMU in the fall of 2010 as an Assistant Professor with joint appointments in Biomedical Engineering and Materials Science and Engineering.  Throughout his career, Dr. Feinberg has co-authored over 15 peer-reviewed publications and holds 10 US patents and patent applications.  As an Assistant Professor, Dr. Feinberg has received the NIH Director's 2012 New Innovator Award and the 2013 Ladd Research Award from the Carnegie Institute of Technology at CMU.
Research
Professor Feinberg's lab is developing materials-based engineering strategies to encode information in the 3-D environment of the cell. They are currently investigating the basic properties of engineered ECM and using this to build cardiac, skeletal and corneal tissues. On the basic science side, they are exploring the biomechanics and mechanobiology of engineered fibronectin, laminin and collagen nanofibers. On the applied side, they are merging developmental biology and materials science to build 2-D and 3-D scaffolds that drive stem cells to differentiate and form functional tissues.
Professor Feinberg holds a joint appointment in Materials Science & Engineering. He has published over 20 papers on cardiac tissue engineering and cell-material interfaces in journals such as Science, Nature Biotechnology, and Biomaterials. He is also a recipient of the prestigious NIH Director's New Innovator Award. 
Research Interests: tissue regeneration in neuromuscular and cardiovascular systems; self-assembly and multi-scale coupling in biological systems; cell-material interactions; protein-based materials; bioprosthetics; stem cell differentiation and engineered morphogenesis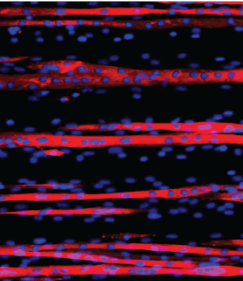 Awards and Recognition
Fellow, American Institute for Medical and Biological Engineering (AIMBE)

NIH Director's New Innovator Award

Ladd Faculty Research Award, College of Engineering, CMU
NSF CAREER Award
Arthur Hamerschlag Career Development Professorship, CMUTissue Engineering Track Co-Chair, Biomedical Engineering Society, 2016