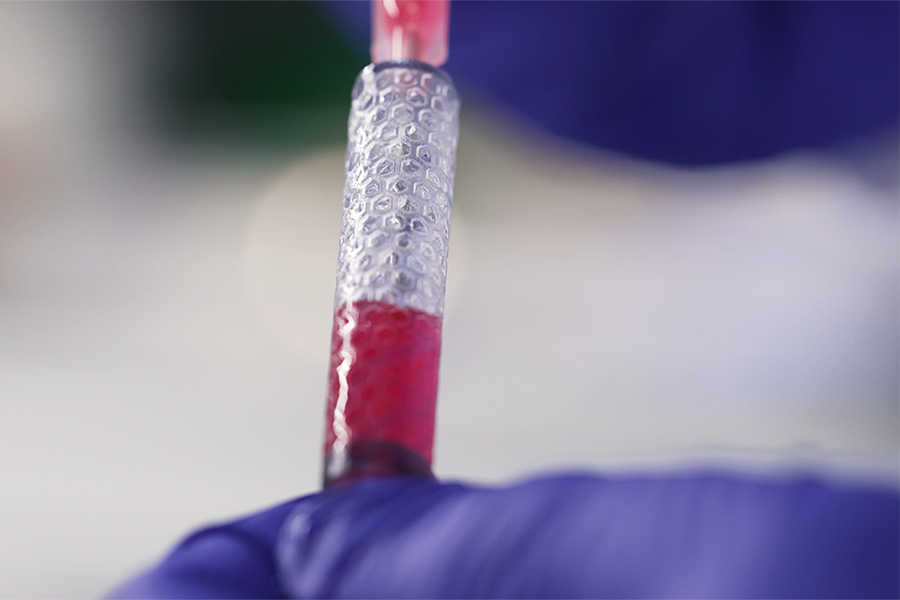 September 26, 2023
ARPA-H fast tracks development of new cancer implant tech
The Advanced Research Projects Agency for Health (ARPA-H) has awarded $45 million to rapidly develop sense-and-respond implant technology that could slash U.S. cancer-related deaths by more than 50%.
Announced today, the award to a multi-institutional team of researchers, including Carnegie Mellon University, will fast-track development and testing of a new approach to cancer treatment that aims to dramatically improve immunotherapy outcomes for patients with ovarian, pancreatic, and other difficult-to-treat cancers.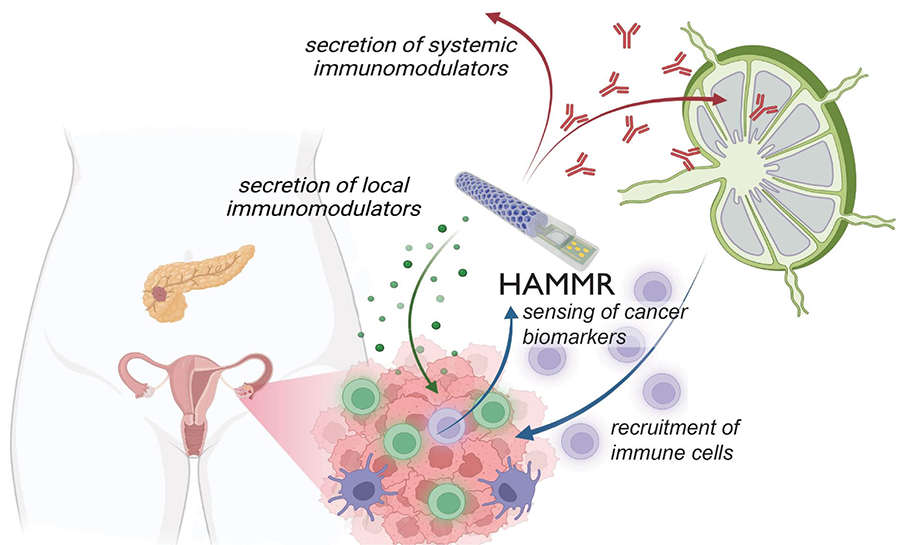 Source: Brandon Martin/Rice University. The "hybrid advanced molecular manufacturing regulator," or HAMMR, a "closed-loop," drug-producing implant smaller than an adult's finger is being developed to treat ovarian, pancreatic, and other difficult-to-treat cancers. The implant, which is small enough to be implanted with minimally-invasive surgery, will be able to continuously monitor a patient's cancer and adjust their immunotherapy dose in real time.
"The team includes engineers, physicians, and multidisciplinary specialists in synthetic biology, materials science, immunology, oncology, electrical engineering, artificial intelligence, and other fields spanning 20 different research labs. The project and team are named THOR, an acronym for "targeted hybrid oncotherapeutic regulation." THOR's implant, or "hybrid advanced molecular manufacturing regulator," goes by the acronym HAMMR."
"Using the key advantages of bioelectronics, we are focused on tackling one of the grand challenges of our time, the intense burden associated with cancer treatment," said Carnegie Mellon University materials scientist and bioengineer Tzahi Cohen-Karni, who serves as co-investigator and bioelectronics lead on the ARPA-H project. "With this project, our aim is to develop a minimally-invasive procedure to deploy a smart device that will monitor the state of the cancer and adjust the immunotherapy accordingly."
Co-PIs on the project hail from Rice University, MD Anderson, Georgia Institute of Technology, Stanford University, Carnegie Mellon University, Northwestern University, the University of Houston, Johns Hopkins University, the Chicago-based startup CellTrans, and New York City-based Bruder Consulting and Venture Group.
The THOR cooperative agreement includes funding for a first-phase clinical trial of HAMMR for the treatment of recurrent ovarian cancer. The trial is slated to begin in the fourth year of THOR's five-and-a-half-year project.
"The technology is broadly applicable for peritoneal cancers that affect the pancreas, liver, lungs, and other organs," said Rice University bioengineer Omid Veiseh, principal investigator on the ARPA-H cooperative agreement. "This kind of 'closed-loop therapy' has been used for managing diabetes, where you have a glucose monitor that continuously talks to an insulin pump. But for cancer immunotherapy, it's revolutionary."
THOR is the second program funded under ARPA-H's inaugural Open Broad Agency Announcement solicitation for research proposals. The first is a $24 million project to boost immune cell function led by Emory University that was awarded Aug. 23.
Additional researchers on this project include Carnegie Mellon faculty members Doug Weber and Rahul Panat. Read the APRA-H announcement.
Header image: The "hybrid advanced molecular manufacturing regulator," or HAMMR, a "closed-loop," drug-producing implant.