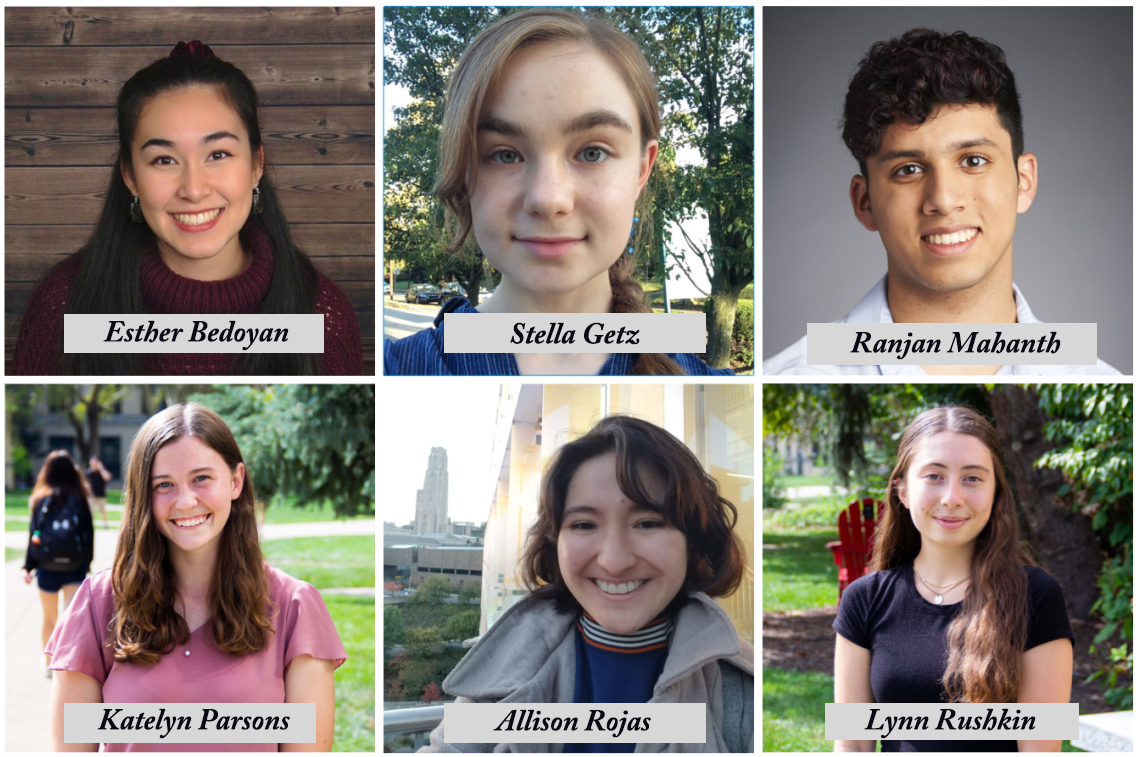 October 11, 2021
Six BME Undergraduate Students Named ACS Scholars for 2021-2022 Academic Year
By Karina Shevchenko kshevche(through)andrew.cmu.edu
ACS (Andrew Carnegie Society) Scholars are undergraduate seniors who embody Carnegie Mellon University's high standards of academic excellence, volunteerism, leadership and involvement in student organizations, athletics or the arts. They are selected each year by their deans and department heads to represent their class in service and leadership.
The ACS Scholars Program was launched in 1975 and has recognized almost 1,300 students to date. Each scholar receives a monetary award — made possible by the generosity of ACS members — to support their academic and personal growth.
This year is very special for the Department of Biomedical Engineering as six out of ten CIT ACS Scholars are connected with BME. In the 2018-2019 academic year, BME also had six ACS Scholars.
Esther BedoyanSenior, Biomedical Engineering/Electrical and Computer Engineering Minor in Chinese
Esther is currently the Mentoring Co-chair of the Society of Women Engineers, Freshman First Co-chair of the Society of Women Engineers (SWE), Member of Engineering Student Council, Vice President of CIT First-year Advisory Board, Vice President of Women in Electrical and Computer Engineering, Residential Education Ambassador, a Goldwater Scholar, and Residential Assistant. "I'm very grateful to have received this scholarship. CMU has grown to be like a second home for me, and each of the extracurriculars I've been a part of have made me feel closer to the CMU community and has allowed me to contribute to a larger organization. This school and community has given me the opportunity to explore ideas and fields that I knew almost nothing about coming into it, and has helped make me a, hopefully, better person leaving it," says Esther. Since her sophomore year, Esther has been conducting research in Dr. Maysam Chamanzar's lab focusing on developing an adaptive frequency domain filtering technique that removes electrical interference from electrophysiology data. She plans on pursuing a PhD in Electrical and Computer Engineering, specifically in the area of Hardware/Digital Design.
Stella GetzSenior, Biomedical Engineering/Electrical and Computer Engineering
Stella is the President of CMU Institute of Electrical and Electronics Engineers and a Former Internal Relations Chair. She is also active in Women in ECE and SWE.  She is currently doing research in neural signal processing in Dr. Chamanzar's lab. She has been working on a system to classify neural spikes in real-time as part of a neural signal processing pipeline that the lab is developing. Stella also did research in Dr. Cohen-Karni's on peptide modification of graphene.  Stella currently plans to complete her master's degree in ECE and then pursue a Ph.D degree. Eventually, she aims to work in medical industry.
Ranjan MahanthSenior, Biomedical Engineering/ Materials Science and Engineering
Ranjan currently serves as the President of CMU PRISM (LGBTQ+ organization), Orientation Leader, Peer Tutor, Co-President of MSE Student Advisory Council, Treasurer for Tau Beta Pi. "This award means a lot to me because it signifies the hard work and dedication that I have put into my work here at CMU, whether that be through academics or through extracurricular activities and social causes that I care a lot about. I'm proud of the impact I've been able to create with my work and I'm extremely honored that CIT has chosen me to represent the college. Most importantly, I am so excited to be able to connect with other CMU students who are equally, if not more, passionate about important causes and projects. I have no doubt that these connections will give me some interesting new perspectives and ideas," says Ranjan. After graduation Ranjan plans on working full-time at Merck's Vaccine Process Development & Commercialization Department.
Katelyn ParsonsSenior, Biomedical Engineering/Chemical Engineering
Minor in Chemistry
Katelyn serves as the Emergency Medical Technician for CMU Emergency Medical Service. She is also a diver for the CMU Women's Varsity Swimming and Diving team, Vice President of CMU American Institute of Chemical Engineers, Peer Supporter for CMU Lean On Me, Secretary for CMU Tau Beta Pi Engineering Honor Society, Member of CMU Mortar Board National Honor Society, and Tartan Ambassador. Katelyn previously served as a member of CMU Global Medical Brigades. "Coming into CMU, I didn't think I could be a strong engineering student or reach all of my goals because I had so many. These last four years have taught me the confidence and work ethic I need to start making the impact that I want to in all aspects of my life. This award proves to me that I'm moving in the right direction," says Katelyn. She is planning on pursuing medical school after graduation with an interest in conducting research into treatments for substance use disorders.
Allison Rojas Senior, Mechanical EngineeringMinor in Biomedical Engineering
Allison currently serves as a Research Chair for Biomedical Engineering Society. Her previous roles are a Co-Chair, Mechanical Engineering Department Diversity, Equity & Inclusion Taskforce; Member, Mechanical Engineering DEI Subcommittee on Education and Training; Co-Founder, Co-Coordinator, Road to Research: Meet the Researcher; Co-Coordinator, Road to Research - Science Fair Project Program; Community Outreach Chair for Society of Hispanic Professional Engineers. "During my time at CMU, I've shared my passion for research through contributing to the local community and encouraging the youth to learn about STEM and academia. I am incredibly fortunate to be part of such a vibrant community and feel grateful that my efforts have made an impact. I appreciate all my mentors, fellow students, and collaborators during my time at CMU," says Allison. Currently, Allison is working under the guidance of Dr. Yu-Li Wang and Dr. Pamela Moalli in the Biomedical Engineering Department on creating a new generation of mesh biomaterials to potentially help treat pelvic organ prolapse. Moving forward, she is intent on pursuing a future career where she can contribute to the wellbeing of individuals through the development of medical technology.
Lynn RushkinSenior, Biomedical Engineering/Chemical Engineering
Lynn is currently the Vice President of CMU Triathlon Club and Tartan Ambassador. Lynn says that being an ACS scholar is an amazing opportunity for her to get more involved in philanthropy and give back to CMU as a senior. Lynn also conducts the artificial organ research in Dr. Keith Cook's Lab. Last year, she worked remotely on a project to mathematically model blood filtration in an artificial kidney that the lab was designing. Currently, she is working on animal studies to assess the function of artificial lungs in sheep. After graduation Lynn plans to go to a medical school.