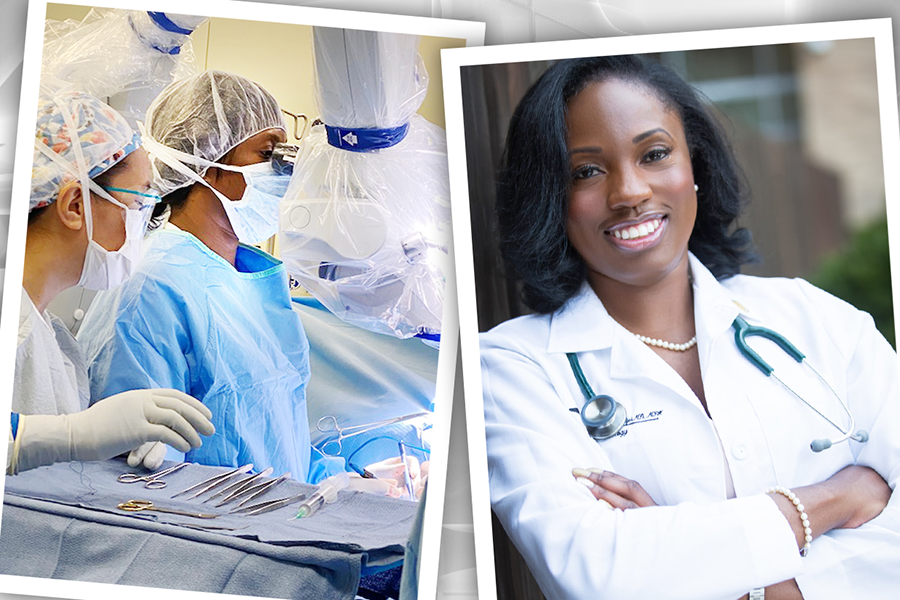 October 02, 2020
In Network
Alumna Denise Asafu-Adjei is reframing the doctor-patient relationship and helping to diversify the field
Dr. Denise Asafu-Adjei believes a great bedside manner is her most useful tool.
For this urologist with a subspeciality in andrology (male infertility and sexual dysfunction), building rapport with patients is absolutely critical to her work. Denise cultivates relationships with patients to help them open up and talk to her about incredibly personal and sensitive issues and medical conditions that may be affecting everything from their personal relationships to job performances.
"Urology is unique in that we deal with a lot of very sensitive quality-of-life issues that a lot of people either don't know who to go to for or are just uncomfortable dealing with," Denise says. "When you put people at ease, you also demonstrate that you're confident about what you do and that you can do it well. People really resonate with that, especially in a very male-dominated field."
"That's usually my approach. Killing them with kindness and excellence in what you do."
Pre-Med
A native of the Bronx, New York, Denise wanted to be a doctor for as long as she can remember. She recalls being inspired by her mother, a nurse, and her engagement with her patients. Her father encouraged her to attend CMU's Mellon College of Science for a solid scientific foundation on which to build her medical career. She was less than enthusiastic about the idea.
"My sister went to Pitt and my parents were very comfortable with Pittsburgh; he thought it was a great college town," she recalls. "I begrudgingly went to Carnegie Mellon initially, but after the first month, I was like 'Oh my God, I love it here!'"
As an MCS undergraduate studying biological sciences, Denise felt very supported as a pre-med student — and as a woman and minority student — and enjoyed the abundance of research opportunities. She especially appreciated the mentorship she received from Dr. Amy Burkert, professor of biological sciences and current vice provost for education, and Dr. Eric Grotzinger, professor emeritus of biological sciences.
After graduating in 2008, Denise went onto to the University of Michigan Medical School and earned a Master of Public Health from the Harvard University T.H. Chan School of Public Health. She later joined the urology residency program at Columbia University Irving Medical Center, which is one of the oldest and most accomplished urology programs in the nation and accepts only three residents each year. In June 2020, she became the first Black woman to complete the program.
"It was certainly an honor, but it was also a wake-up call," she says. "It's 2020 and there are population sectors that are still breaking the glass ceiling. It's encouraged me to continue to mentor people that want to go into medicine, to continue lifting as I climb because I think we still have work to do."
Medical Practice
Currently, Denise studies issues affecting the sexual cycle, primarily in men, and male infertility. In July, she started a fellowship at the University of California, Los Angeles. In addition to her clinical work, she has a prestigious one-year grant from the American Urological Association to study "Disparities in Access to Care for Erectile Dysfunction Services."
"I gravitated to that subspeciality during residency because I find those issues in particular really do affect the family dynamic outside of the patient himself," she says. "Someone may not come in because of their hypertension, but they'll come in because they can't have sex. So when you really engage and fix that aspect of their life, you can see how it's really life-changing for people. For me, it's extremely rewarding to help people feel like they have a second wind, so to speak."
Denise sees her future in academia, collaborating with different thought leaders and continuing her clinical research. It also appeals to her that in an academic center she can continue to influence and mentor the next generation of doctors.
"I want to help keep the pipeline going to get great people into medicine," she says.
While an undergraduate, Denise minored in health policy and management. Along with her interest in clinical work and surgery, she found that she was interested in broader policies regarding health care, including access and equity in the system.
"It's a long-term goal of mine to take that to the next level and see how we can get more people healthier and engaged with good physicians," she says. "I would love for everyone to get great, high-quality, equitable care. Someone from a lower-income area should have the same high-quality care as someone living on Fifth Avenue in Manhattan. How can we build a system that allows that to happen?"