August 24, 2018
Department Graduate Students Make Their Voices Heard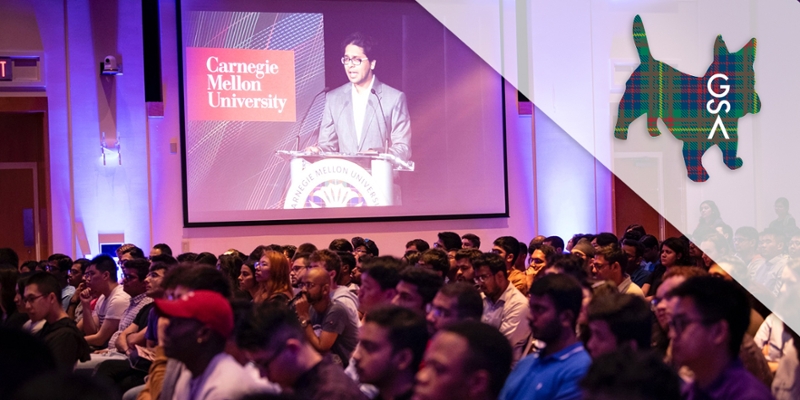 Student government gives an opportunity for students to take charge of their academic experience and make their voices heard in matters that are important to them. Graduate students in the Department of Biological Sciences have been taking full advantage of this chance, becoming active members in the CMU community and as part of the Graduate Student Assembly (GSA).
The GSA represents all graduate students at CMU as advocates on important student issues, organizes social events throughout the year, and provides funding for graduate organizations and professional development.
This year, the university welcomes over 2,700 incoming graduate students from 64 countries, further strengthening our intellectually diverse community. CMU President Farnam Jahanian welcomed incoming students this month to an exciting time in CMU history.
"CMU is at the center of a societal transformation. And, of course, this societal transformation is catalyzed by the digitization of information, automation, the democratization of knowledge and unprecedented access to data and analytics," Jahanian said. "But thanks to our excellence in computation and data, and our reputation for interdisciplinary problem-solving and relentless creativity, Carnegie Mellon is exceptionally well-positioned to write the story of this century."
Our very own Surya Aggarwal, a fifth-year Ph.D. candidate, also addressed the incoming students during orientation week in his inaugural address as Graduate Student Assembly President.
"If there is one thing I can tell you, it is that you do belong here," Aggarwal said. "Carnegie Mellon is an exceptional place, and you have been handpicked by your respective programs to attend this prestigious institution because they believe in your abilities — we believe in your potential to change the world."
Along with Aggarwal, Ph.D. students Teresa Spix, Alyssa Lawler, and Max Cravener are involved as GSA reps for the department. Amanda Willard was previously GSA Vice President of Campus Affairs, and MSCB student Brendan Wee is also a rep for our Computational Biology master's program.
Willard, who recently successfully defended her thesis and is graduating this year, saw her time in GSA as one of the best decisions she made for herself during graduate school.
"I gained an incredible group of friends and a sense of belonging here at CMU. I got to network with administrators, faculty, and staff and advocate for a better graduate student experience," Willard said. "Helping other struggling students succeed made it easier to persevere through my own failed experiments in the lab. Serving on GSA gave me a sense of accomplishment and fulfillment outside of science that was essential to my personal well-being. I took on this leadership role to push me beyond my comfort zone, and in the process I learned how to make time for myself, how to be more productive in the lab, and not only what I am good at, but what I truly enjoy."
Wee is a second-year M.S. in Computational Biology Program student, which is joint program with the Computational Biology Department. He joined GSA to become more involved in the campus community and connect with classmates as a bridge between them and the administration.
"Being a part of GSA has not only strengthened relationships within my department but has also opened up a much larger social network," Wee said. "Thanks to GSA, I not only feel more connected with the students and faculty in every department."
Starting out as a department rep in 2015, Aggarwal was elected as GSA President for the 2018–2018 academic year. He said that he was volunteered to be a representative of the department at the start, but witnessing how the initiatives carried out by GSA first-hand led him to continue and advance his involvement in student government.
"Being the GSA President is an enormous responsibility for one hopes to justly represent the voices and concerns of all 7000+ graduate students at the university." Aggarwal said. "Over the next year, I hope to be able to lead the implementation of a significant portion of the vision laid down by the GSA Strategic Plan 2015-2025, and strive towards improving the graduate student experience."
"Toward that end, we will be rolling out numerous initiatives this year including free legal consultation for students," Aggarwal continued. "Something we'll be working towards is exploring solutions to address affordability issues - ranging from rising heath insurance costs to food insecurity issues. Finally, one major focus for us this year will be on improving the advising and mentoring experience for both doctoral and masters students."