March 07, 2018
Alumnus Willie Mays Chats with Ph.D. Students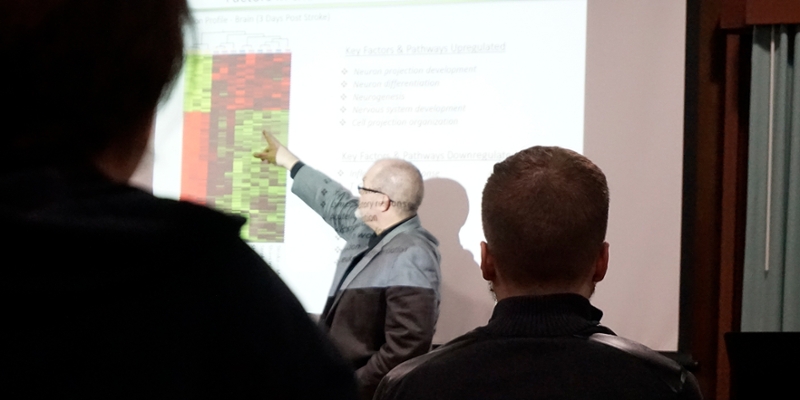 On Thursday, February 8th, Ph.D. students in the Department of Biological Sciences had the chance to take part in a lunch and career chat with Robert (Willie) Mays, CMU alumnus and co-founder of Athersys, Inc.
Mays, Vice President of Regenerative Medicine and Head of Neuroscience Programs at Athersys, Inc., spoke to the group about his career path and current work being done in the company. His main focus is the company's novel adult stem cell product, MultiStem®, and its applications in regenerative medicine and drug discovery, with a specific focus on injuries and diseases affecting the central nervous system.
"Dr. Mays gave us a clear and honest picture of his career, and we were able to chat with him in a casual atmosphere that made it very easy to ask questions and have a discussion," said Dan Ackerman, a fourth-year Ph.D. candidate in the Jarvik lab.
Graduating from CMU in 1987 with a B.S. in Cell and Developmental Biology, Mays then received his Ph.D. in Molecular and Cellular Physiology at Stanford University. After several post-doctoral positions that took him around the world, he co-founded Athersys, Inc.
Visits such as these by our alumni demonstrate the strong core of the CMU community, as current students can learn about not only the successes of our alumni, but discuss the dedication and fortitude necessary to strive in a particular career.
"I learned a lot about the commitment and creativity you need to succeed as an entrepreneur," Ackerman said, "and some of the ways in which our Ph.D. training is preparing us for these kinds of career paths."