Wednesday, January 27, 2016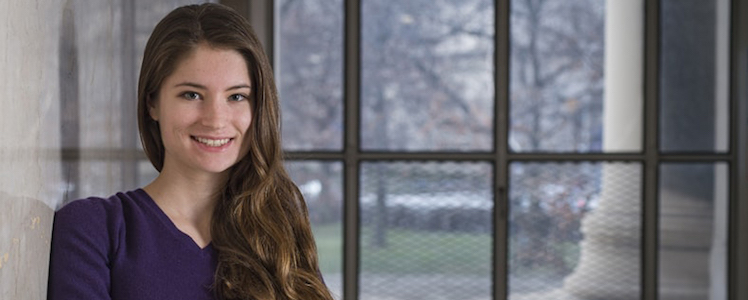 Biological Sciences Student Jillian Jaycox Wins Churchill Scholarship
Senior To Join Autoimmune Disease Research Group at University of Cambridge
Senior biological sciences major Jillian Jaycox is going the distance.
The student-athlete from West Chester, Pa., is one of 15 individuals nationwide to receive a 2016 Churchill Scholarship, one of the most prestigious awards for study abroad in the United Kingdom.
Jaycox is the 12th CMU student to receive the scholarship, which funds a year of postgraduate study at the University of Cambridge.
"Jillian maintains an extraordinary level of academic achievement balanced with many hours spent in the laboratory and on the track as a long-distance runner," said Fred Gilman, dean of the Mellon College of Science. "She has immense potential."
Jaycox will pursue a Master of Philosophy in Medical Science as a member of Dr. Ken Smith's research group at Cambridge's Department of Medicine, which is investigating a new prognostic biomarker for autoimmune diseases.
"This work will increase our ability to study and guide treatment for certain autoimmune diseases, such as lupus, which are complex and heterogeneous. Two patients with the same diagnosis can have two very different outcomes, and it is important to understand exactly why this occurs and how we can predict it," Jaycox said.
Staff members at CMU's Fellowships and Scholarships Office (FSO) guided Jaycox through the application and interviewing process.
"Jill is exactly the kind of student you hope receives a highly competitive award like the Churchill Scholarship. She's smart and talented, and she welcomes the chance to stretch herself personally and academically. That kind of intellectual nimbleness and breadth of interests sets her apart. She has been delightful to work with," said Stephanie Wallach, FSO director and assistant vice provost for undergraduate education.
Following her Churchill experience, Jaycox plans to apply to Doctorate of Medicine and of Philosophy (M.D.-Ph.D) programs and pursue a career as a physician-scientist in immunology.
"Jill has a genuine curiosity in scientific questions of biomedical and social relevance," said Jason D'Antonio, director of CMU's Health Professions Program and Jaycox's adviser. "She is highly capable of drawing immediate connections of her research to clinical implications for patients. I am extremely confident that Jill will accomplish much of what she sets out to achieve."
Jaycox, an Andrew Carnegie Society Scholar, has been involved with undergraduate research since her freshman year, first working with Subha R. Das, associate professor of chemistry, as part of the CMU-Howard Hughes Medical Institute Summer Research Program.
"Jill has a genuine curiosity in scientific questions of biomedical and social relevance." — Jason D'Antonio
She took advantage of CMU's collaborations with the University of Pittsburgh by working as a member of Pitt research groups directed by the Department of Immunology's Dr. Mark Shlomchik and the Department of Rheumatology's Sarah Gaffen, a CMU Mellon College of Science alumna. As a result of this work, Jaycox is listed as a co-author on three peer-reviewed journal articles.
At CMU, Jaycox complemented her major focus in the biological sciences with several classes in computational biology.
"I knew my academic path at Carnegie Mellon should include both depth in the biological sciences and exposure to topics in emerging information technologies," she said.
She also has served as supplemental instructor for physiology courses through Academic Development.
The Churchill Scholarship is Jaycox's first international award. She received two national awards in 2015 — the Barry M. Goldwater Scholarship and the Lupus Foundation of America's Gina M. Finzi Memorial Student Fellowship, which helped to fund her work with Dr. Shlomchik.
Jaycox has been running competitively since her early teens, an experience that sparked her desire to achieve academically and athletically.
"Running has played an important formative role in my life by demonstrating the connections between hard work, resilience and achievement," Jaycox said. "These lessons prepared me for Carnegie Mellon and the challenges of research."
The support she received from her peers on the cross country and track and field teams has been key to her success.
"I have been surrounded by a community of really great and hard-working friends," Jaycox said.
By: Jocelyn Duffy, jhduffy@andrew.cmu.edu, 412-268-9982
and Abby Simmons, abbysimmons@cmu.edu, 412-268-4290