Thursday, July 22, 2010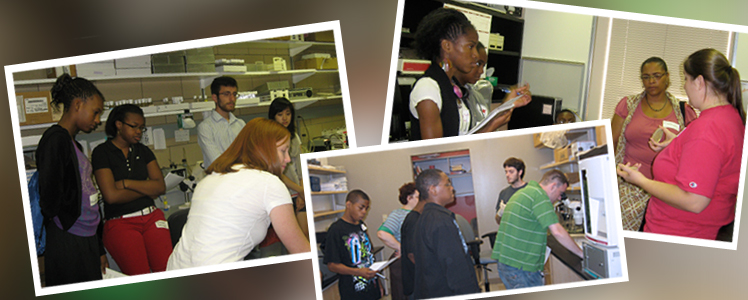 Scavenger Hunt Outreach Event with High School Students
On July 21, thirteen ninth-grade students and four teachers from Westinghouse High School, located in Pittsburgh's Homewood community, participated in a science scavenger hunt hosted by the Department of Biological Sciences.
During the hunt, the group toured nine laboratories, which conduct research in various areas of biology. At each stop, departmental staff, graduate students and undergraduate researchers gave demonstrations of experiments and techniques. Each demonstration contained an answer in the scavenger hunt.
At Macbeth Lab, the students met with Andre Hersan, a Howard Hughes Medical Institute (HHMI) undergraduate researcher, who showed them 3D X-ray crystal structures of proteins and tools used to generate them. The group learned about Western Blotting, a technique used to analyze and detect specific proteins using antibodies, when visiting undergraduate, Mike Khan, in the Rule Lab. Over in the Minden Lab, fifth-year graduate student Melissa Krajcovic discussed the different stages of the life cycle of the fruit fly.
Teaching Professor Carrie Doonan coordinated the visit and four other HHMI undergraduate researchers gave demonstrations, Lynley Doonan (Woolford Lab), David Huang (Mitchell Lab), Sefa Kploanyi (Macbeth Lab), Shriya Venkatesh (McCartney Lab). In addition, staff researcher Andrea Zonneveld (Lopez Lab) and students in the Summer Research Institute program helped out with the event.
Contact
Megha Kapur