Friday, July 9, 2010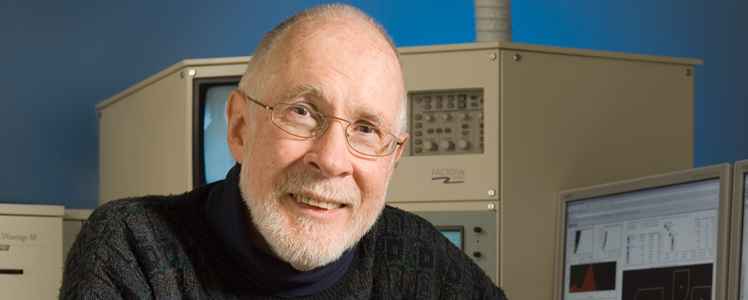 Alan Waggoner Receives ISAC Distinguished Service Award
The International Society for Advancement of Cytometry (ISAC) presented Biological Sciences professor Alan Waggoner with the Distinguished Service Award at its 25th annual conference held in Seattle, Washington this spring. Waggoner is one of six eminent scientists to receive the honor, which acknowledges his significant contributions to both the advancement of flow cytometry and ISAC.
Flow cytometry, a technique utilizing the light scattering, excitation and emission properties of fluorescent molecules to examine microscopic particles flowing through a stream of fluid, specifically benefitted from Waggoner's research and subsequent development of novel fluorescence-based dyes, particularly cyanine-based dyes. These dyes make up a labeling system that utilizes fluorescence to detect macromolecules such as proteins and nucleic acids in various cells and tissues. The vast use of these compounds through flow cytometry both by academic and clinical researchers has resulted in an expanded understanding of how different biological processes are regulated in a variety of cells and tissues.
His detection technology has driven Carnegie Mellon's Molecular Biosensor and Imaging Center (MBIC), for which he serves as director. The diverse research team at MBIC engineers and develops biosensors that work as tools for understanding various regulatory processes in living cells and tissues.
Contact
Megha Kapur