Wednesday, December 8, 2010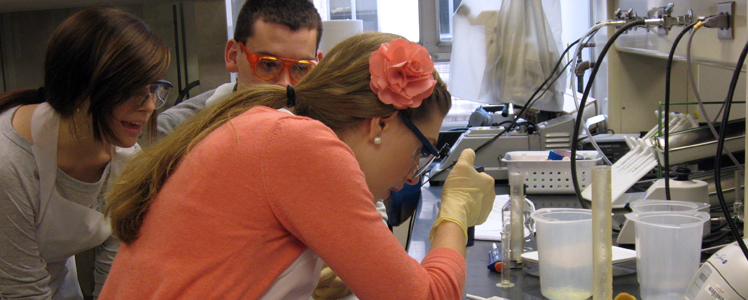 Undergraduates Teach a DNA Lab to High School Students
On December 7th, the Department of Biological Sciences hosted 55 advanced placement (AP) biology students from three local high schools for an outreach event that was truly unique -- it was taught completely by undergraduate students.
The biological sciences undergraduate instructors and mentors lead the high school students through the AP biology curriculum-required lab, DNA analysis using restriction enzymes and agarose gel electrophoresis. The day began with lectures from the undergraduate instructors on micropipetting, performing DNA restriction enzyme digests and agarose gel electrophoresis. Then, the high school students were placed into groups to complete the lab, which taught biology principles by working to solve a DNA murder mystery. Each group was overseen by an undergraduate mentor, resulting in more individualized attention.
"Our students can relate to these undergraduates, and as a result, learn more. [The high school students] have the unique opportunity to not only learn the biology, but also ask questions about college," stated one of the high school teachers.
Dr. Carrie Doonan together with Drs. Maggie Braun and Nina DiPrimio coordinated the event.
The participating schools were Ringgold High School with AP biology teacher Barry Harris, Peabody High School with AP biology teacher Ronni Rossman and Serra Catholic with AP biology teacher Cara DeSalvo.
The undergraduate instructors were Jeff Dahlen, Lynley Doonan, Amy Fuller and Sang Ah Roh. The undergraduate mentors were Sarah Ackermann, Katherine Bonnington, Ian Campbell, Lianne Cohen, Trisha Dant, Alexandra Doonan, Siping He, Kellie Kravarik, Derek Lee, Yanting Liu, Kelsey Murray, Josh Plotnik, Shriya Venkatesh and Amy Wang.