Friday, June 25, 2010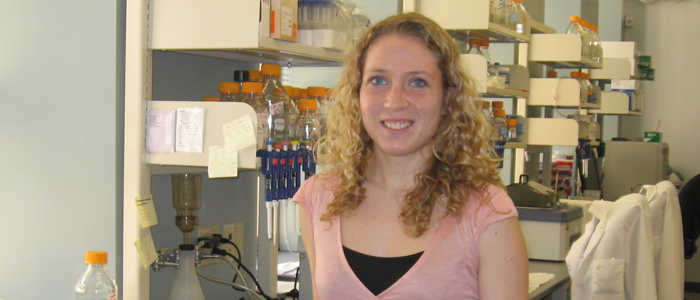 2010 NSF Graduate Research Fellowships
The department proudly recognizes six students and alumni who were awarded a 2010 National Science Foundation (NSF) Graduate Research Fellowship or Honorable Mention.
Alys Cheatle, a graduate student pursuing a Ph.D. in Biological Sciences, received a Graduate Research Fellowship Honorable Mention.
Cheatle, a member of Assistant Professor Veronica Hinman's laboratory, studies the evolution of developmental mechanisms. While the rest of the lab compares the organization of gene regulatory networks to understand properties within echinoderm development, Cheatle analyzes changes on a molecular level. For instance, she questions if changes occur in regulatory proteins or in regulatory DNA sequences. Cheatle is currently purifying a group of transcription factors and studying their DNA binding properties. When Cheatle isn't in the lab, she can be found volunteering her time to the Student-invited Seminar Series Committee (SISS), serving as a departmental representative on the Graduate Student Assembly (GSA) and training for marathons.
Additionally, three 2009 alumni, Lauren Krogh, Gregory Newby and Steven Reilly, were awarded NSF Graduate Research Fellowships. Krogh is currently enrolled in UCLA's Developmental Psychology graduate program. Newby recently completed a Fulbright grant at the University of Zürich and now attends graduate school at the Massachusetts Institute of Technology. Reilly is enrolled in graduate school at Yale University, where he is studying genetics.
Two other alumnae, Charlotte Jennings and Jennifer Wig, received Honorable Mentions. Also a 2009 B.S. in Biological Sciences graduate, Jennings now attends the University of California, Berkeley's Integrative Biology Ph.D. program. Wig is a 2009 B.S.A. in Environmental Biology and Art graduate currently pursuing graduate training in Forestry, Ecosystems and Society at Oregon State University.
NSF Graduate Research Fellowships are very prestigious awards that provide awardees with a stipend, travel allowances and tuition for three years.