Wednesday, July 28, 2010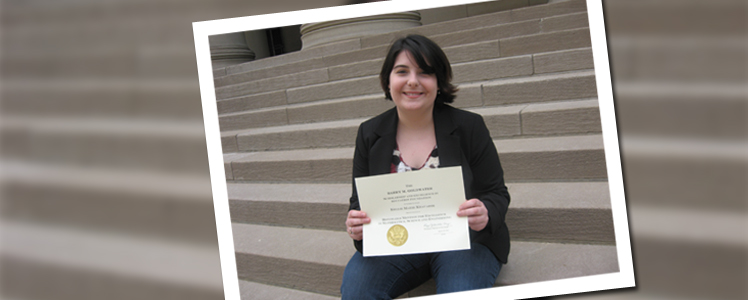 Kellie Kravarik Receives Goldwater Honorable Mention
Kellie Kravarik, a third-year undergraduate in Biological Sciences, received an Honorable Mention for her Barry M. Goldwater Scholarship application. She is one of 437 applicants nationwide that received the scholarship or an honorable mention.
A native of Newtown, Connecticut, Kravarik pursued her degree to prepare for a career in biological research. "I really wanted to have an undergraduate experience that challenged me to take initiative and develop important research skills through independent research in the lab. The biological sciences curriculum at Carnegie Mellon University is focused on that. It arms you with the conceptual knowledge and research tools that you need to be able to succeed in the field," said Kravarik. She enrolled in 2007 and started introductory coursework in genetics, cell and developmental biology.
Kravarik immediately took advantage of the university's research opportunities and became a lab aide in the McCartney lab during the fall semester of her first-year. The following summer, she participated in the Howard Hughes Medical Institute (HHMI) Summer Research Institute where she learned a variety of molecular and biochemical laboratory techniques to study proteins and enzymes.
During her sophomore year, she began research in the McCartney Lab studying the loss of Adenomatous Polyposis Coli (APC), a tumor suppressor, on the morphology of the developing Drosophila melanogaster wing. "APC loss has been implicated in 60-80% of human colon cancers. But the mechanisms that initiate APCinduced tumor development are not well understood. The cellular changes that occur in epithelial cells when APC is lost need to be better identified. To this end, I am trying to characterize the phenotypic changes that take place as an effect of APC loss in the developing wing as a model epithelial tissue," explained Kravarik. She has since continued her work in the lab throughout the year as an HHMI undergraduate researcher and 2009 summer Scholar.
This summer, however, Kravarik is an Amgen Scholar at the University of California, Berkeley. Researching in Professor Gary Firestone's laboratory in the Department of Molecular and Cell Biology, she is characterizing a Her-2 growth factor signaling induced stem cell like phenotype in mammary breast cancer cells, as a novel model for understanding and better targeting breast cancer stem cells.
In addition to research, Kravarik has participated in an NSF-funded outreach program tutoring biology to students at the Frick Intermediate School in Pittsburgh. She played the violin in the All University Orchestra during her first year, and is an active member of ALLIES, an organization supporting the LGBTQ community and promoting gay-straight alliance on campus.
After graduation, Kravarik wants to pursue a Ph.D. in Cell and Developmental Biology and eventually establish her own research laboratory. "The program in Biological Sciences at Carnegie Mellon prepares you well to become a successful scientist. I think the courses and hands-on research training I received here have prepared me for graduate school. It has allowed me to discover what I want to do and who I really am intellectually," said Kravarik.
Since its establishment in 1986, the Goldwater scholarship supports 278 sophomores and juniors nationwide annually. A highly prestigious honor, the scholarship provides funds in the maximum amount of $7,500 a year for tuition, fees, books and housing. The goal of the program is to encourage and develop exceptional students in the sciences.
Contact
Megha Kapur