Thursday, May 20, 2010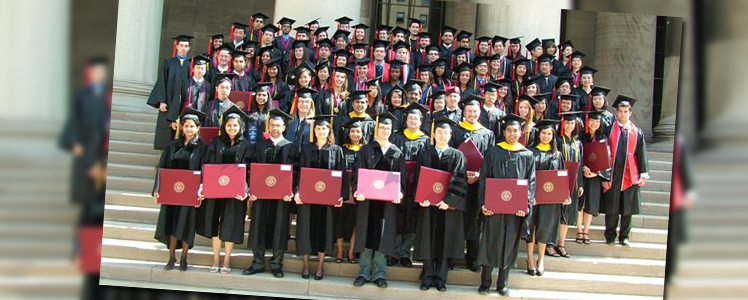 Congratulations Biological Sciences Graduates
Six doctoral, 17 masters and 83 bachelors degrees were conferred at the Department of Biological Sciences diploma ceremony on Saturday, May 15. Department Head Nathan Urban, Assistant Head for Undergraduate Affairs Maggie Braun and Assistant Head for Departmental Affairs Emily Stark presided over the ceremony.
The diversity of the degrees awarded to the 83 graduating seniors included:
50 B.S. in Biological Sciences,
21 B.S. in Biological Sciences and Psychology,
four B.S. in Biological Sciences/Neuroscience Track,
three B.S. in Computational Biology,
three B.A. in Biological Sciences,
and two B.S.A. in Biological Sciences and Art.
The additional majors and minors of these students, including Chemistry, Business Administration, Technical Writing, Biomedical Engineering, Music Performance, Anthropology and History, International Relations and Politics, and Computer Science, showcased the interdisciplinary nature of Carnegie Mellon University.
"Outstanding Academic Achievement," "Outstanding Undergraduate Research," and "Student Advisory Council Service Awards" honors were bestowed upon 39 undergraduate students. Sharon Briggs, Katherine Chen, Lilyanne Chen, Benjamin Ely, Jessica Levy, Shih-Dun Liu, Priya Mukherjee, Natalie Straight and Naomi Yudamin were recognized for honors in research biology.
Future plans for the students are just as varied as their bachelors' degrees. Many of the students are pursuing graduate degrees at institutions such as the University of California at Berkeley, Stanford University, MIT and Washington University in St. Louis, within fields such as Immunology, Neuroscience, Computational Biology, Genetics, and Healthcare Policy and Management. Students are also entering medical, dental and pharmacy schools, or research positions at places such as the University of Pennsylvania, Columbia University, National Institutes of Health, Boston University, and the University of Pittsburgh.
Additionally, the doctoral and masters students have varying post graduation plans.
Dr. Sonal Shruti will be starting a postdoctoral fellowship at Brandeis University in the lab of Dr. Eve Marder, working on the development and stability of neuronal networks.
Dr. Aarti Sahasranaman is a postdoctoral fellow within Dr. John Woolford's laboratory at Carnegie Mellon.
Dr. Panagiotis Papasaikas is pursuing postdoctoral work in Europe.
Dr. Kaustubh Sinha is a postdoctoral fellow at the University of Pittsburgh in the lab of Dr. Linda Jen-Jacobson. He is working on structural studies of EcoR5 using NMR.
Dr. Sandra Zimmerman plans to accept a postdoctoral position at the University of Washington in the lab of Celeste Berge, working on patterning and morphogenesis of epithelial tubes using Drosophila dorsal appendage development as a model.
Arshi Arora is a Health Sciences Fellow in the Faeder lab at the University of Pittsburgh.
Joshua Earl has been named Director of Bioinformatics at the Center for Genomic Sciences at Allegheny General Hospital.
Rupinder Khandpur is a Research Programmer in the Schwartz lab at Carnegie Mellon.
Major Joseph King is heading for the West Point Military Academy to teach life sciences.
In the fall, Shannon Quinn will be joining the Carnegie Mellon/University of Pittsburgh Ph.D. in Computational Biology program.
Balamuruganand Selvaraj has accepted a position as a computational biology analyst in the Flybase group at Indiana University, Bloomington, designing systems to allow interoperability of high-throughput data.
Rohini Sinha is working as a Bioinformatician at the University of Pennsylvania.
Shreedharan Sriram is a computational biologist at Dow Agrosciences.
Congratulations to all of the graduates!
View photos from the Diploma Ceremony on Flickr.
View the 2010 Diploma Ceremony Video