Wednesday, April 28, 2010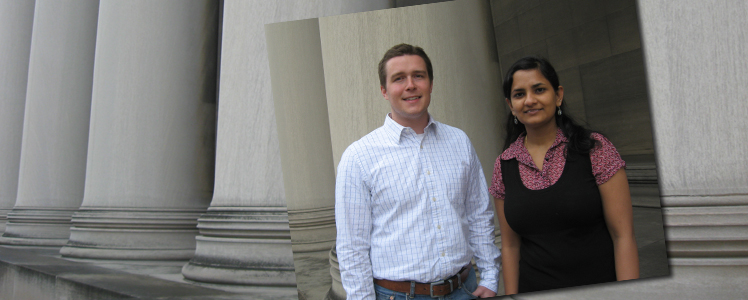 Biological Sciences Presents at TCNP Meeting
Earlier this spring, Biological Sciences alumna and current postdoctoral fellow Dr. Sonal Shruti and graduate student John Holleran presented their work at the National Technology Centers for Networks and Pathways (TCNP) "All Hands Meeting" held at the National Library of Medicine in Bethesda, Maryland.
Their presentations highlighted the application of fluorogen-activating protein (FAP) biosensors, which are genetically encoded tags that have the unique ability to make certain soluble molecules fluoresce upon binding. Carnegie Mellon's Molecular Biosensor and Imaging Center (MBIC), a TCNP-funded center directed by Dr. Alan Waggoner, developed the FAP biosensors.
Shruti, working in Dr. Alison Barth's lab, used FAP biosensors to image living cells and view the trafficking of large conductance potassium ion channels, known as BK channels, to the cell surface. These channels are known to increase in circuit activity after a seizure, and this increased activity is thought to heighten the probability of future seizures or epilepsy. Using FAP biosensors, Shruti demonstrated that the increased circuit activity was the result of more channels reaching the cell surface.
Holleran, a senior graduate student in Dr. Jon Jarvik's lab, applies FAP biosensor technology to cystic fibrosis research in collaboration with the Frizzell lab at the University of Pittsburgh. His project focuses on the chloride ion channel, CFTR. The most common cause of cystic fibrosis is the result of a mutation in CFTR, ∆F508. This mutation prohibits CFTR from folding correctly and reaching the cell surface. Through temperature correction and small molecule correctors the mutation can be rescued, thus allowing CFTR to reach the cell surface and function normally. FAP biosensors are used to detect when CFTR finally makes it to the cell surface.
"I had a great experience presenting at the TCNP "All Hands Meeting." I had an opportunity to talk with another NIH investigator working on cystic fibrosis. The discussions with other students and TCNP investigators were helpful for possible future collaborations," said Holleran.