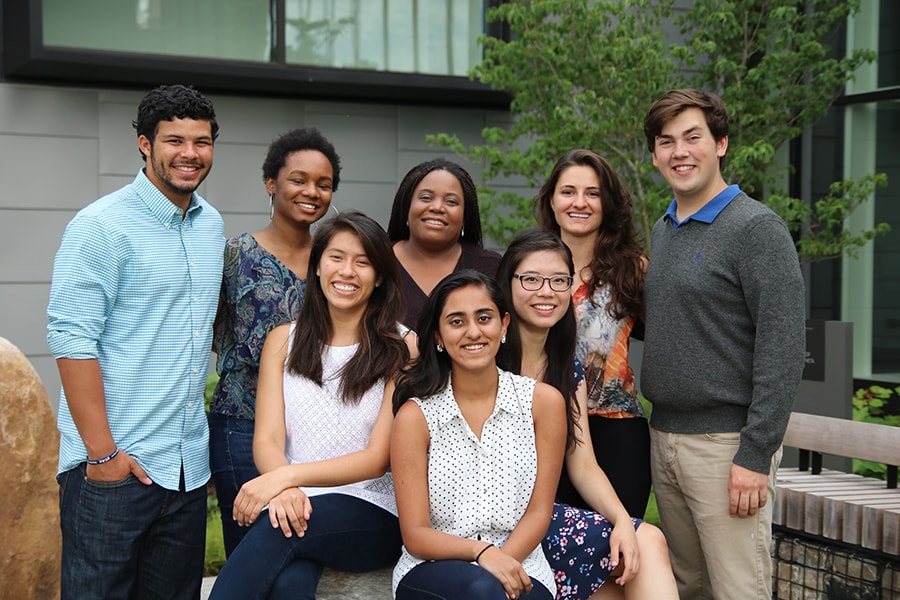 October 08, 2018
Smith Honored with 2018 Women of Excellence Award
The New Pittsburgh Courier is honoring M. Shernell Smith, associate director for community engagement in the Center for Student Diversity and Inclusion and housefellow at Carnegie Mellon University, with a 2018 Women of Excellence Award. Shernell is being recognized alongside 49 other African-American women from the Pittsburgh region who have made significant contributions to the community and business world.
"We are so proud of this recognition for a colleague who models for us all what it means to truly serve your community. Shernell's influence and impact is in the one-to-one mentoring relationships she cultivates with students and likewise in university-wide programs she curates such as our annual Martin Luther King, Jr. series that engages diverse voices and perspectives as we strive to live up to Dr. King's legacy. Service to others is at the heart of Shernell's work," says Vice President for Student Affairs Gina Casalegno.
As a member of the inaugural leadership team for CMU's Center for Student Diversity and Inclusion, Shernell works to expand campus initiatives through collaborations with academic departments, administration, faculty, students and the broader community.
In 2014, she was a founding convener of the Greater Pittsburgh Higher Education Diversity Consortium (GPHEDC), which works to resolve the critical issues impacting diversity and inclusion in higher education throughout the Pittsburgh region.
"Everyone has a story and I am committed to ensuring that, at Carnegie Mellon and in the Pittsburgh community, we are fostering environments for authentic and meaningful exchange," shares Shernell. "I believe that diverse and transformative dialogue can inspire and empower action toward social change."
Having started her career at Carnegie Mellon focusing on first-year students, Smith immersed herself in service-learning, sustainability and community empowerment projects. Her involvement with Sustainable Pittsburgh propelled her into the heart of the environmental renaissance of the city. Smith has also supported and advised a number of student-led initiatives regarding environmental and sustainability efforts.
"As a transplant to Pittsburgh from the south, serving on the board of directors for Sustainable Pittsburgh for a number of years helped solidify my love of this city, but also my commitment to the vision for social and economic prosperity in the Pittsburgh region," says Shernell.
Within higher education, Shernell has served as the national chair for the Sustainability Knowledge Community for NASPA (Student Affairs Administrators in Higher Education) and has presented for the Association for the Advancement of Sustainability in Higher Education (AASHE), focusing on university partnerships for sustainable change and peer-to-peer sustainability outreach programs.
As a housefellow for the Intersection communities, Shernell mentors students in countless ways, including offering professional networking opportunities, participating in community service projects, and working side by side with SPIRIT, Carnegie Mellon's black student organization. Shernell is also a student affairs liaison for departments in the College of Engineering, a member of Carnegie Mellon's Staff Council, and serves as an adviser for the Asian Student Association.
Shernell's generous spirit and community outreach extend beyond the campus community. She serves on the boards of the Thomas Merton Center and Pennsylvania Women Work. She's also affiliated with numerous city organizations including Black Girls Equity Alliance, Junior League of Pittsburgh, Delta Sigma Theta Sorority, Inc., Strong Women/Strong Girls, Urban League Young Professionals of Greater Pittsburgh and the Higher Education Climate Consortium. In 2013, she was named 40 under 40 by Pittsburgh Magazine and, in 2016, the Pittsburgh Courier recognized her as a member of the Fab40 for emerging African-American leaders in the region. She was recently elected to the Pittsburgh 4th Ward Democratic Committee.
"Shernell's passion for peace and social justice is at the core of her desire to cultivate experiences in our communities that ignite social change," reflects Angela Campbell, executive director for the Center for Student Diversity and Inclusion.
The Women of Excellence Awards Luncheon will take place at 12 p.m. on Friday, October 12, 2018, at the Wyndham Grand Pittsburgh Awards Luncheon.