September 28, 2022
News Briefs
ICYMI: Tartans Enjoyed CMU Day With the Pirates
Members of the Carnegie Mellon community enjoyed CMU Day with the Pirates last Sunday, when the Pirates hosted the Chicago Cubs at PNC Park. Student Dormitory Council leaders Alex White and Catherine Cai were the pitcher and catcher for the first pitch, and junior voice major Solomon Onyukwu sang the National Anthem.
See more images from last Sunday.
Sustainability Studio, De Fer Coffee & Tea Grand Opening Set for Friday
Join the festivities from 1 - 2:30 p.m. this Friday, September 30, in Hunt Library for the Grand Opening Celebration of De Fer Coffee & Tea and the new Sustainability Studio at CMU. This joint grand opening marks a significant milestone in sustainability efforts across the university. It introduces the first-of-its-kind physical space to connect, discuss and collaborate across disciplines about CMU's Sustainability Initiative and brings sustainably sourced specialty coffees, blended teas and tasty house-made foods from local Pittsburgh entrepreneurs to the Maggie Murph Café in Hunt Library.  
The Sustainability Initiative fuels CMU's collective commitment to sustainability — in all forms — in the pursuit of a more equitable future for all. Launched in 2019 by Provost Jim Garrett, the initiative formalized the university's commitment to the Sustainable Development Goals (SDGs), also known as the Global Goals.  
"Through focus groups and surveys, the top suggestion from students, faculty and staff was to establish a place to connect across the range of Global Goals," said Director of Sustainability Initiatives Alexandra Hiniker. "Over the past two years, I've engaged with so many people throughout the university who are energized by the opportunities to collaborate with others who share a commitment to sustainability, and now we're creating a space to make it happen."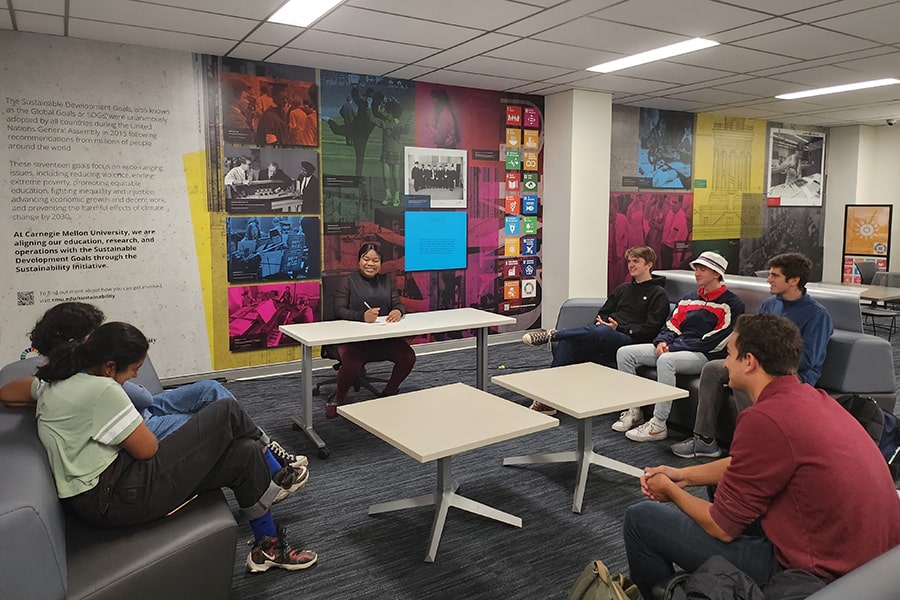 The Sustainability Studio is on the first floor of Hunt Library, where students, faculty and staff can connect to discuss and collaborate about ways to support CMU's Sustainability Initiative.
The Sustainability Studio is a convening space and resource to learn more about current and potential programming, check out resources, share ideas, connect with others and use the space for your own activities. Open houses, office hours and other events will be introduced and organized throughout the year.
The archival photographs featured in the Sustainability Studio are a reminder of how CMU has addressed the broad range of sustainability topics outlined in the Global Goals since its founding. The images were curated by University Archivist Julia Corrin, and the design was created by University Libraries Interim Director of Marketing Heidi Wiren Bartlett.  
Stop by the 1st floor of Hunt Library for delicious treats from De Fer and visit the new Sustainability Studio to learn how you can get involved in sustainability activities across campus. You'll be able to enter into a drawing for a chance to win gift baskets. Provost Jim Garrett, Keith Webster, dean of CMU Libraries, and Gina Casalegno, vice president for Student Affairs and dean of Students, will provide brief opening remarks beginning at 1 p.m.
Five Graduate Students Named Siebel Scholars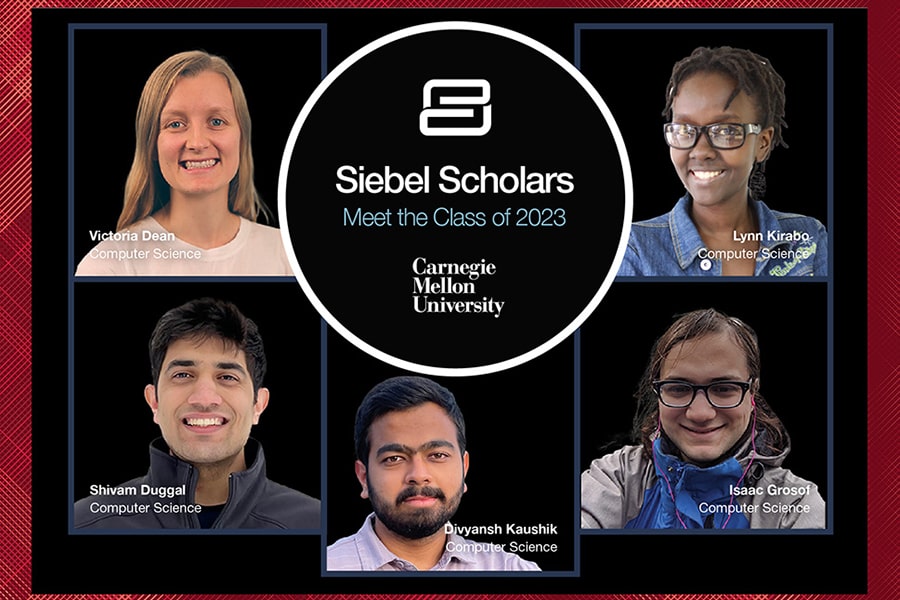 Five graduate students in the School of Computer Science have been named Siebel Scholars for 2023. Victoria Dean, Shivam Duggal, Isaac Grosof, Divyansh Kaushik and Lynn Kirabo will each receive $35,000 as part of the program. The Siebel Scholars program recognizes nearly 100 students each year whose work influences the technologies, policies, and economic and social decisions that shape the future.
Learn more about the Siebel Scholars.
CMU's Fix-It Fair Wins Zero Waste Case Study Competition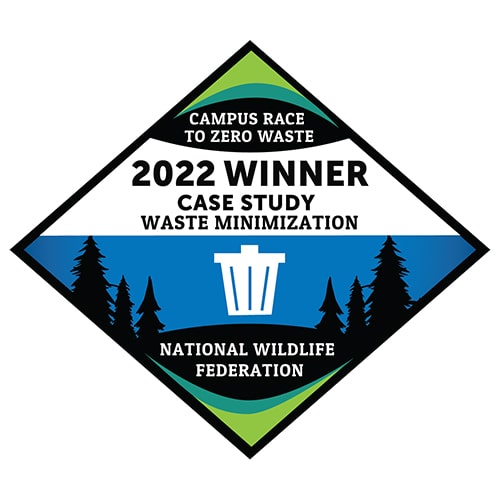 Carnegie Mellon's Fix-It Fair Mending Workshop last spring was named the winner of the 2022 Campus Race to Zero Waste case study competition in the Waste Minimization category.  
The Fix-It Fair, a collaboration between the CMU Green Practices program and the Staff Council Sustainability Committee, provided a way to reduce the waste in landfills beyond the traditional recycling and composting efforts. Volunteers staffed the fair for three hours repairing such items as neckties, dresses, suit coats, pants, sweaters and bookbags. Volunteers also taught attendees the basics of how to repair their own clothes in the future.
During the 2022 Campus Race to Zero Waste competition, colleges and universities donated, composted and recycled 27.9 million pounds of waste, keeping more than 200 million single-use plastic containers out of the landfill. As part of the annual competition, each year the Campus Race to Zero Waste program calls for best practice case studies from campuses across the U.S. and Canada to showcase programs and strategies in waste minimization, food waste reduction, and education and awareness. The case study resource is an opportunity to gain recognition for campus efforts to reduce waste and to share helpful information for campuses that are working on similar efforts. 
Learn more about green practices at CMU.
Attention Staff: Learn About CMU's Master in Professional Writing Program
The English Department's master's degree in professional writing program will be holding a hybrid information session at 1 p.m., Friday, October 14, for CMU staff who are seeking to become more effective communicators.
The Master in Professional Writing program teaches professional students to create and execute verbal and visual information strategies (including for print, online, social media and multimedia) and develops their skills for careers as writers, communication specialists and information designers. The first and preferred master's degree application deadline is Wednesday, January 11, 2023. The English Department is waiving the GRE requirement for all applications submitted for fall 2023.

Please RSVP here by Tuesday, October 11. Find out more about the MAPW program.
Join the CMWA;  Fall Reception is October 18

The Carnegie Mellon Women's Association (CMWA) will hold its Fall Membership Reception from 4:30-6 p.m. Tuesday, October 18 in the PNC Foundation Room on the second floor of the Tepper Quad. The reception will be an opportunity to connect with members across the university, ideate the future of the CMWA and enjoy a social event back on campus. Members must register by October 11.
If you are interested in becoming a member of the CMWA, or renewing your membership, please do so online. The CMWA celebrates the diversity and achievements of women at Carnegie Mellon while building a greater sense of community life on campus. The CMWA connects and supports members through networking opportunities, social gatherings and educational programming throughout the year.
CMWA membership contributions directly support the CMWA annual scholarships awarded to outstanding graduating seniors who demonstrate a commitment to their communities. Last academic year, the CMWA awarded scholarships to seven deserving students representing all CMU schools and colleges.
EHS Offers CPR/AED Training
Environmental Health and Safety (EHS) is offering several CPR/AED training classes this semester. Participants will learn how to recognize the signs of a sudden cardiac arrest, when to activate the EMS system, and how to do CPR.
Hands-on training will enable those who attend this class to become familiar with an AED and to successfully operate it in an emergency. Participants who complete the training will receive a two-year certification from the American Heart Association.
Training sessions will be held:
Saturday, October 1
10 a.m. - Noon
Porter Hall - 107E
Register through SciShield (formally BioRaft)  
Wednesday, October 12
10 a.m.  – Noon
Facilities Management Services Building, EHS Conference room 307
Register through SciShield (formally BioRaft)
Thursday, November 10
10 a.m. – Noon
Facilities Management Services Building, EHS Conference room 307
Register through SciShield (formally BioRaft)
Reminder: Fall Break is October 17 - 21
As posted on the 2022-23 Academic Calendar, Fall Break is October 17- 21. This break was implemented as a result of the Calendar Innovation Committee's 14-week semester pilot. 
The intention of the break is to give students and faculty a week of respite to relax, catch up on work, or explore research or professional development opportunities. Additionally, it offers symmetry between the fall and spring semesters, a benefit of the 14-week semester pilot.
While we all value hard work, it's also important to spend time for yourself. Students, faculty and staff are encouraged to use this time for rest and restoration, to travel, relax, catch up on work, pursue career opportunities, conduct research, or simply enjoy your free time! Instructors are asked to avoid assignments, large projects, or other activities that would interfere with the intention of this week-long break.
Who's New at CMU?
Carnegie Mellon welcomes the following new staff members this week.
Mel Andrews, Research Associate, Machine Learning Department;

Regan McCarty, Program Coordinator, Community Standards & Diversity Initiatives;

Rishabh Ranjan, Research Associate, Machine Learning Department;

Filip Relander, Research Associate, Biomedical Engineering;

Kristen Bayley, Director of Communications, Provost Office Operations;

Megan Murray, Assistant Director, Foreign Student and Scholar Advisor, International Education;

Nicole Shannon, Associate Director Admissions Central, Undergraduate Admissions;

Rebecca Gaidrich, Emergency Preparedness and Response Specialist, Enterprise Risk Management Services;

Sumer Ziady, Research Manager, Psychology Department; and

Zachary Trunzo, Campus Police Officer, University Police.
Did You Know?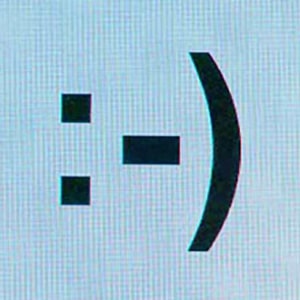 This CMU original turned 40 last week, :-).
The Smiley emoticon, :-), was created by CMU's Scott Fahlman on September 19, 1982, when he suggested in an online message board that one should add :-) to online messages intended to be funny.  And the rest is history.
Birthday wishes came last week from CNN Business and The Late Show with Stephen Colbert (fast forward to the 3:40 timestamp).