Welcome to campus new students and welcome back to returning students, faculty, and staff!  These pages will provide the information on campus sustainability services, ways to get involved, and resources to help you make sustainable choices around campus.  These are also outlined in this handout: Sustainability Resource Guide [pdf]
We are excited to announce that we are an official Host Institution of AASHE's Global Conference on Sustainability in Higher Education (GCSHE)! We invite you to join us virtually from Oct. 12 – 14 at the world's largest platform for advancing sustainability in higher education and beyond. As a Host Institution, our students, faculty, staff and administrators can all attend for free!
Visit the Environment at CMU - Events page for registration instructions and CMU's promotional code.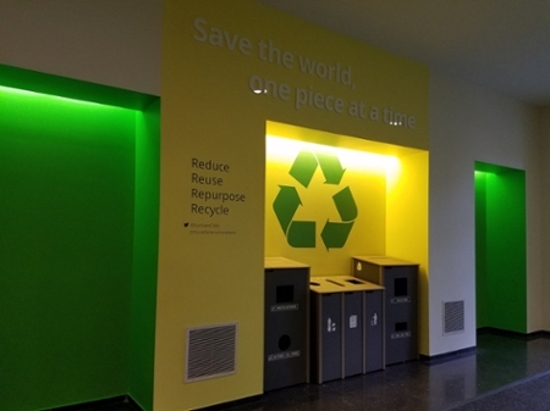 Adopt the 5 R's when working from home. Most of us have been working remotely at home for a while now.  Here are some helpful tips to learn about and adopt the 5 R's; Reduce, Reuse, Recycle, Repurpose and Refuse.   Adopt the 5 R's when working from home [pdf]
As a frontrunner, the University's Green Practices Committee has been in place since 1999 and is comprised of administrators, staff, faculty members, and students having the common goal to "develop university practices that improve environmental quality."
Environmental innovation is an integral part of Carnegie Mellon's culture, curriculum and practice.  In demonstration of this commitment, Carnegie Mellon formed the Steinbrenner Institute for Environmental Education and Research in 2004 to coordinate and advance the efforts at the intersection of research, education and practice.