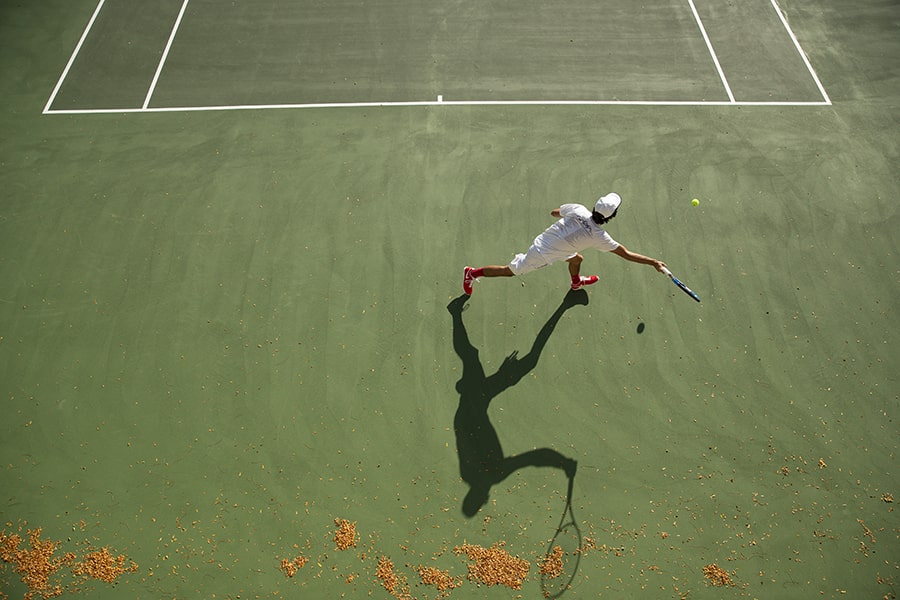 September 02, 2020
News Briefs
Recreational Facilities Reopen with Restrictions
As Carnegie Mellon welcomes students, faculty and staff to campus for the fall semester, indoor and outdoor recreational and athletic facilities are reopening with a staggered and phased approach.
Both indoor and outdoor facilities have set hours and are being monitored by Athletics Department staff when open. All users must present their Carnegie Mellon ID at specified check-in points at each facility, and your information will be logged for contact tracing purposes. All facility users are expected to have completed the university's daily self-assessment prior to arrival. University Police will monitor outdoor facilities when they are closed.
Hand sanitizing stations have been installed throughout athletics facilities and everyone is expected to use them upon entry and exit of each facility. Physical distancing protocols and the wearing of facial coverings will be enforced.
Close-contact activities, such as soccer, basketball and touch football, are not permitted in outdoor facilities. Indoor facilities have capacity limits and other COVID-related protocols pertaining to facial coverings, personal distancing requirements and equipment usage. Find out more.
CMU Named NSF Planning Institute for AI in Physics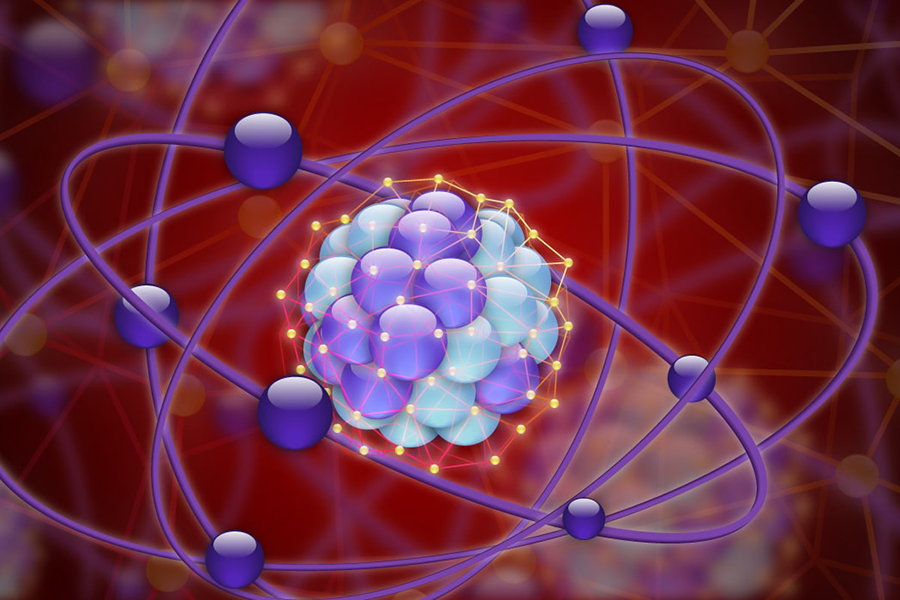 Carnegie Mellon has received a $500,000 planning grant from the National Science Foundation (NSF) to work toward creating a National Artificial Intelligence Research Institute in Physics. The NSF announced grants to create five full institutes and 10 planning institutes that will focus on advancing foundational artificial intelligence (AI) research, accelerating innovation in scientific fields using AI, building the next generation of talent and bringing together scientists from a wide range of fields for interdisciplinary collaboration.
As a recipient of one of the planning institute grants, Carnegie Mellon will work over the next two years to develop the capacity to become a full institute. They will focus on applying AI to astrophysics, subatomic physics and biophysics.

"So much of physics is data rich, whether we are collecting data from the entire night sky, advanced particle detectors like the Large Hadron Collider or modeling individual proteins in a cell," said Scott Dodelson, professor and head of the Department of Physics and principal investigator of the NSF grant. "The partnership between AI and physics will be synergistic. AI will accelerate physics discovery for the future. In turn, what we learn can be fed back into foundational AI research." Find out more.
Purnell, Hunt Go Red in Support of Entertainment Industry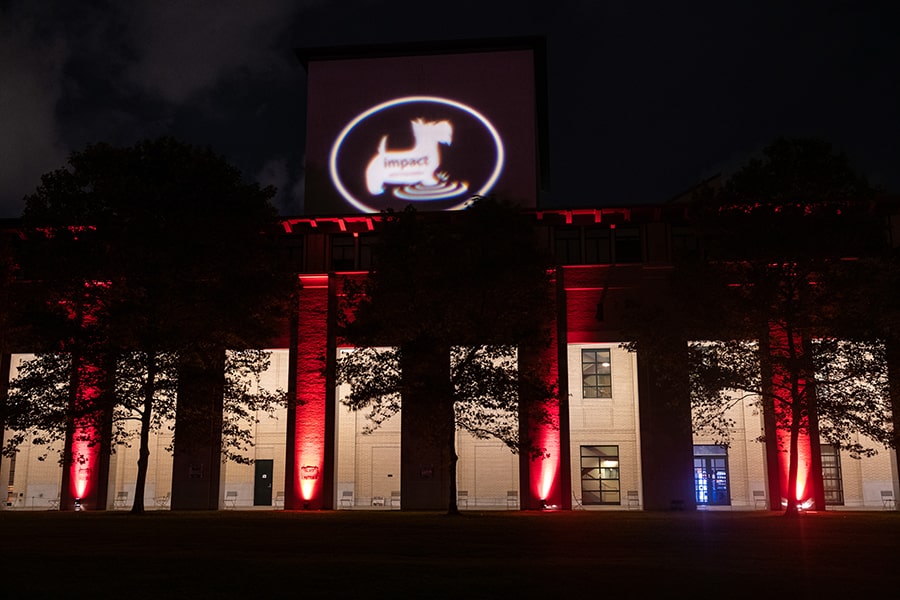 The School of Drama and University Libraries lit the Purnell Center for the Arts and Hunt Library in red on Sept. 1 to participate in a national call to action to raise public and media awareness of the pandemic's impact on the live entertainment industry. The national movement, which included more than 1,500 venues across the country, was organized by We Make Events, a coalition of trade bodies, businesses, unions and live events workers, to draw attention to the RESTART Act before Congress, which aims to provide aid to the industry. The entertainment industry employs over 12 million people with a combined economic impact of over $1 trillion. 
Joining the Purnell Center for the Arts and Hunt Library in Pittsburgh were more than 30 venues, including the August Wilson African American Cultural Center, the Carnegie Science Center, the David L. Lawrence Convention Center, the Downtown Cultural District, Heinz Field, Heinz Hall, PPG Paints Arena and Stage AE.  
See This Year's Class Photo
Each year, the incoming class at Carnegie Mellon gathers during First-Year Orientation for a class photo. CMU is continuing this tradition with a twist this year by creating a class photo mosaic.  Photos were provided by first-year students through Student Information Online or uploaded via social media. See this year's photo.
Four Doctoral Students Receive Steinbrenner Fellowships to Advance Environmental Research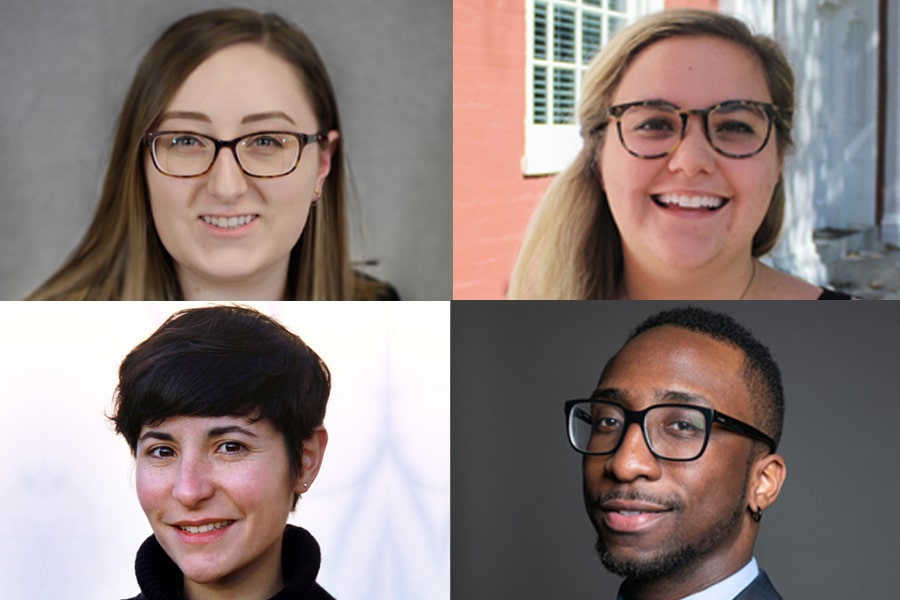 Clockwise from top left, Riley Weatherholt, Sarah Troise, Andrew Jones, Jr. and Silvana Juri.
The Steinbrenner Institute for Environmental Education and Research has selected Andrew Jones, Jr., Silvana Juri, Sarah Troise and Riley Weatherholt as Steinbrenner Research Fellows to pursue their environmental research. 
"The fellowship allows doctoral students early in their careers more freedom to set a solid course in their graduate research," said Steinbrenner Director Neil Donahue. "Fellows have gone on to a variety of faculty and industry careers."
Since 2007, 53 Ph.D. students from across the university have been recognized as Steinbrenner Doctoral Fellows. Researchers receive up to $50,000 and present their findings during a poster session at the annual Steinbrenner Institute Environmental Colloquium, held during the spring semester.
Find out more about this year's fellows.
INTERSECT@CMU to Focus on Pandemic's Long-Term Effects on Health, Sustainability, Economy, Education
Carnegie Mellon will host its third-annual INTERSECT@CMU Conference as a virtual series beginning on Thursday, September 10. The 2020 INTERSECT@CMU Virtual Conference Series will consider the pandemic's long-term global effects on four foundational elements of society: health, sustainability, the economy and education.
Sessions will be held on September 10-13, 18, 25 and October 2 and include afternoon keynote lectures and panel discussions, student-led programming and opportunities for interdisciplinary discussion. 
A university-wide effort supported by all seven colleges, this timely conference gathers thought leaders of disparate disciplines and perspectives from within CMU and beyond to explore the impact of COVID-19 on the future of business, technology and humanity. Join us as we discuss how our decisions today can help build a better, more robust and more equitable society.
New Parking Permit Options Announced; Squirrel Hill Shuttle Route Added
Parking & Transportation Services is offering new three-month and three-day parking permits. You can purchase a three-month pass in the East Campus, Dithridge and Gates garages for $333, which must be paid in full at the time of purchase. The three-month pass is for new permit holders only. 
New permit holders can purchase a three-day/week permit in the East Campus, Dithridge and Gates garages, and the Morewood Lot for $250, which also must be paid in full at the time of purchase. 
Parking & Transportation also has added a new shuttle route to Squirrel Hill, which operates from 7:15 a.m. – 9:30 p.m. Visit the Parking & Transportation website for information and remember to download the Ride Systems app for tracking and push notifications regarding the shuttle.
Join or Renew Your Membership to the Carnegie Mellon Women's Association
Join the Carnegie Mellon Women's Association (CMWA) to celebrate the diversity and achievements of women at Carnegie Mellon and to build a greater sense of community life on campus. Membership in the CMWA is open to all women associated with the university, including faculty, administrators, trustees and staff, or wives/partners and friends of faculty, administrators, trustees and staff. The CMWA is gearing up for a year of creative events and programming to connect our community during this time of social distancing.
As a reminder, 100% of your membership contribution goes to the CMWA scholarship fund. Thanks to the generosity of members last year, the CMWA awarded seven high-achieving students with a $1,500 scholarship to support their future endeavors. Learn more about the 2020 award recipients by visiting the CMWA's special showcase webpage. 
In the 2020-21 membership year, the CMWA is committed to increasing the diversity and inclusivity of the organization. One aspect of this commitment will be educational programs and resources focused on anti-racism. The CMWA hopes you will join in this important effort.
For more information regarding upcoming programs and events, please visit the CMWA events page.
Join or renew your membership for 2020-21 today.
Call for Honorary Degree Nominations
President Farnam Jahanian has put out the call for honorary degree nominations. The CMU honorary degree is one of the highest distinctions the university bestows on an individual, Nominees must be distinguished individuals who meet at least one of the following criteria:
Achieved pre-eminent levels of distinction in their fields and demonstrated extraordinary achievements, with a preference for those with a clear affiliation or connection to CMU;
Established record of exemplary service to the world, to our nation, to our region, or to society; or
Displayed an extraordinary commitment of service to Carnegie Mellon University, with a demonstrable positive impact on the university and its community.
Recipients serve as an inspiration to the Carnegie Mellon community, especially to members of the graduating class. Recognizing them reinforces the significant scope of the university and enhances the commencement ceremony by highlighting the importance of the university in the world.
Please submit nominations no later than September 11, using the online form. If you have any questions, please contact Cathy Light, secretary of the corporation and adviser to the president, at 412-268-5345 or via email at calight@andrew.cmu.edu.
Andy Awards Nomination Deadline Extended to Sept. 11
Nominations for the Andy Awards, the university's staff recognition program, are now being accepted through Sept. 11. Now more than ever, we encourage you to take the time to nominate your colleagues whose outstanding work is deserving of this special recognition.

Award recipients will be announced and recognized this fall. The Andy Awards planning committee is currently exploring alternative options for the award ceremony, including hosting the event virtually.

For more information, including details about the nomination process, award category descriptions and criteria and past winners, visit the Andy Awards website.
Who's New at CMU?
Carnegie Mellon welcomes one new staff member this week.
Gillian Stoner, Recruiter, HR Operations.