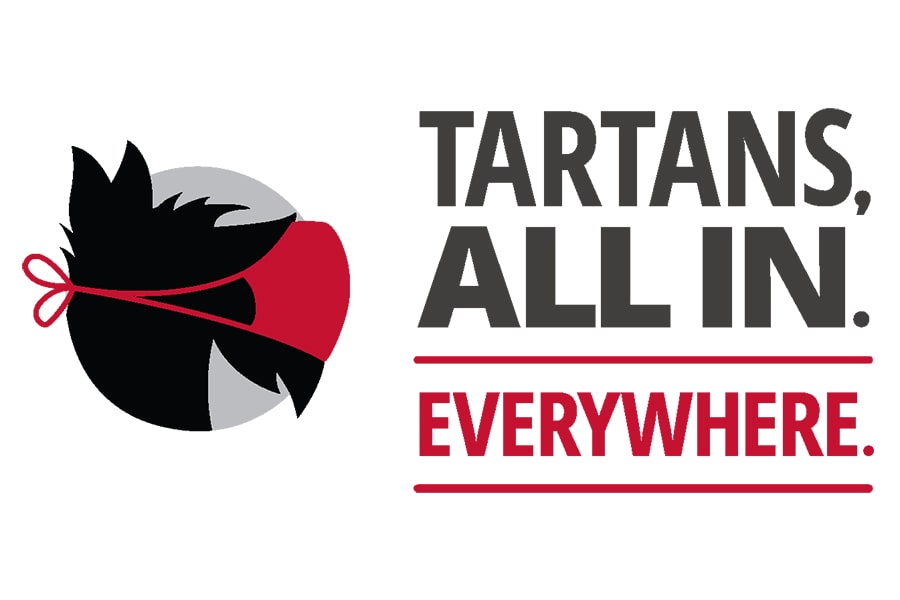 October 07, 2020
News Briefs
Download "Tartans, All In" Scotty Posters & Digital Wallpaper
Show your commitment to mitigating the spread of COVID-19 by downloading and displaying fun, new "Tartans, All In. Everywhere" posters, digital wallpaper and graphics.
Show you're all in, everywhere! #AllTartans.
Rest Up — Tartan Community Day is Friday, Oct. 16 
The second annual Tartan Community Day, a time set aside for students, faculty and staff to take a break from the normal routine, is next Friday, Oct. 16. This year's theme is the power of rest.
To align with this year's theme, the morning schedule has been left open for you to pause, rejuvenate and perhaps get a few more hours of sleep. The afternoon schedule kicks off at noon with "A Conversation with Eliza Bishop" via Zoom, titled "The Permission to Rest." A 2004 graduate of the Dietrich College, Bishop is a certified lyengar Yoga instructor and meditation guide.
At 1 p.m., you can choose your own adventure, from a virtual Miller Institute for Contemporary Art tour and a Q&A on meditation, to a Zoom session on expressive writing and an asynchronous panel session on wellness.
At 4 p.m. tune in to a discussion titled "Black Lives Matter vs. All Lives Matter," in which alumni across racial intersections weigh in and share their perspectives on the BLM movement and how they are seeing its impact on campus. 
The day concludes with a 7 p.m. fireside chat with Tom Freeman, Headspace's director of global engagement, an 8 p.m. performance by Scotch 'n' Soda and Drag Bingo at 9 p.m.
Tartan Community Day kicks off Homecoming Weekend.
Register for Tartan Community Day and learn more about the day's activities.
CMU Scientists Solve 90-Year-Old Geometry Problem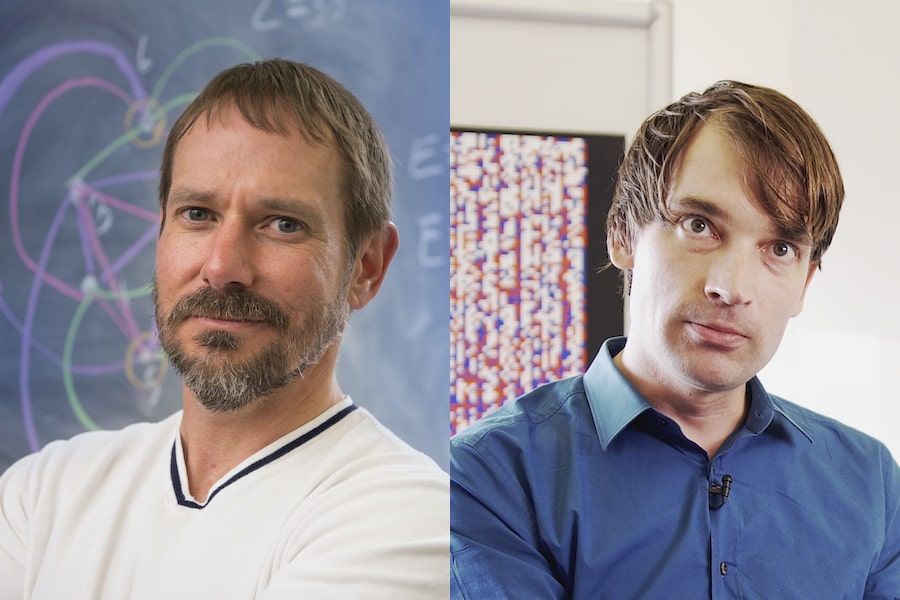 John Mackey and Marijn Heule
Carnegie Mellon computer scientists and mathematicians have resolved the last, stubborn piece of Keller's conjecture, a geometry problem that scientists have puzzled over for 90 years.
By structuring the puzzle as what computer scientists call a satisfiability problem, the researchers put the problem to rest with four months of frenzied computer programming and just 30 minutes of computation using a cluster of computers.
"I was really happy when we solved it, but then I was a little sad that the problem was gone," said John Mackey, a teaching professor in the Computer Science Department (CSD) and Department of Mathematical Sciences who had pursued Keller's conjecture since he was a graduate student 30 years ago. "But then I felt happy again. There's just this feeling of satisfaction."
The solution was yet another success for an approach pioneered by Marijn Heule, an associate professor of computer science who joined CSD last August. Heule has used an SAT solver — a computer program that uses propositional logic to solve satisifiability (SAT) problems — to conquer several hoary math challenges, including the Pythagorean triples problem and Schur number 5.
"The problem has intrigued many people for decades, almost a century," Heule said of Keller's conjecture. "This is really a showcase for what can be done now that was not possible previously."
Learn how they solved the problem.
Children's School Adapts to Pandemic; Celebrates Campus Children's Center Week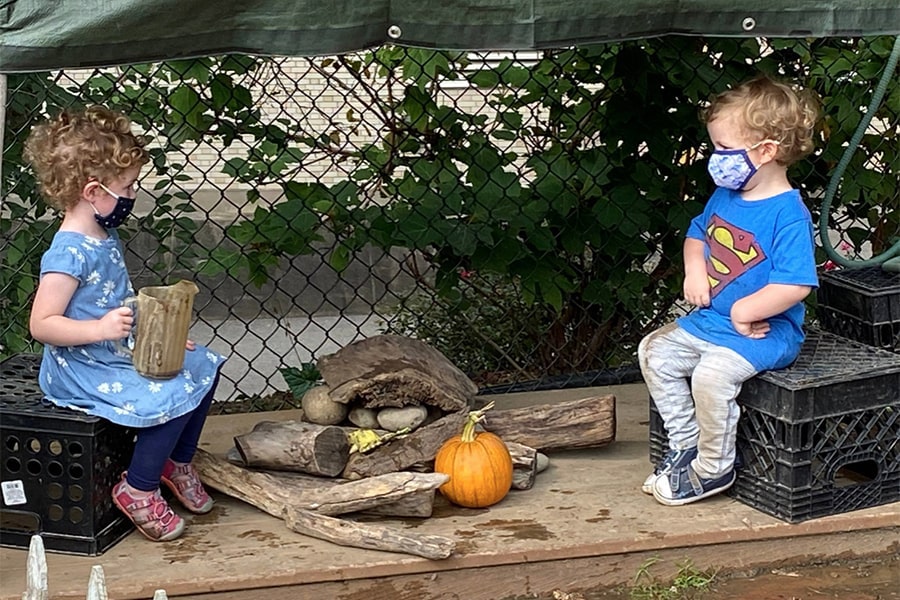 Like everyone else, CMU's Children's School is celebrating things differently these days. Part of the National Coalition for Campus Children's Centers, the Children's School has set aside the first week of October to celebrate similar centers around the country.
"This week provides us the opportunity to highlight our excellence in early childhood education, as well as the ways we support developmental research and undergraduate education," said Sharon Carver, director of the Children's School and associate dean for Educational Affairs in the Dietrich College of Humanities and Social Sciences. "We use this week to illustrate the importance of a high-quality learning environment across generations of our young children, undergraduates, families, staff and researchers."
After following the university shutdown in March 2020, the Children's School reopened its doors in September. With university guidelines in place, the school has amended cleaning practices and the learning structure to provide a safe space for the children and staff. With borrowed space from the School of Design, the Children's School is accommodating two-thirds of its enrolled children with one group learning remotely. While the students no longer interact in common spaces, the children and educators are taking advantage of outdoor spaces, moving into the adjacent playground and reflection garden.
"The children have really risen to the occasion and by doing all the things they need to do with handwashing and mask wearing," said Linda Hancock of the Children's School. "Despite all the adaptations with spacing and materials, we still have all the learning and laughter while children get to know each other, mold playdough, build with blocks, paint, pretend and run."
Read more about the Children's School.
Get Your Flu Shot Today
This year more than ever, getting a flu shot is an important contribution we can all make to help keep our community safe.
All Pittsburgh-based students are required to get a flu shot this year as part of A Tartan's Responsibility. University Health Services (UHS) has already begun providing flu vaccinations for students. Student vaccine appointments and clinic times are plentiful and vary over the fall semester to allow for maximum access to vaccination services. To make a flu shot appointment online, simply log onto your SIO and go to the HealthConnect link to schedule. You may also call UHS at 412-268-2157 to learn more about available vaccination times.
Faculty and staff can get their flu shot at any participating Giant Eagle pharmacy. The university is covering the cost of the vaccine for faculty and staff. As an added incentive, employees who are vaccinated at a Giant Eagle Pharmacy location are eligible to receive $5 off their next visit to Giant Eagle. You must present your Giant Eagle Advantage Card at the pharmacy to receive the $5 credit.
#BeCyberSmart: ISO Celebrates Cyber Security Month
October is National Cyber Security Awareness Month (NCSAM) and CMU's Information Security Office (ISO) is celebrating with an action-packed month full of interactive games, contests and events designed to help you stay safe and secure online.   
With many of us not on campus to benefit from CMU's network-based protections and with cyber attackers trying hard to catch us off guard during these stressful times, it is more important than ever to stay informed and report concerns. Please report concerns by emailing iso-ir@andrew.cmu.edu or by calling the ISO hotline at 412-268-2044. 
While the ISO and technology providers monitor campus systems and networks around the clock, we have no visibility on home networks and personally managed computers. That's where you need to identify and report concerns.
This year's NCSAM theme is "Do Your Part.  #BeCyberSmart."  Join the ISO celebration and learn about the different ways you can participate.
Survey Measures Usage of Shuttle, Escort Services; Win a Chance at One of Three Prizes
Undergraduate Student Senate is surveying the campus community regarding how often CMU's Shuttle and Escort services are being used, and also seeking feedback on how the services can be improved. Participants taking the survey are eligible to win a power bank, Bluetooth headphones or a Bluetooth speaker.
Share your thoughts in a short survey to help Parking and Transportation Services better serve you. Take the survey.
Master's Degree in Professional Writing a Popular Choice Among Staff
The English Department's master's degree in professional writing has been a popular choice for many CMU staff seeking to become more effective communicators. The English Department will host a Masters in Professional Writing (MAPW) Information Session on Thursday, October 15, when you can learn about pursuing this degree as a CMU employee.
The MAPW teaches professional students to create and execute verbal and visual information strategies (including for print, online, and social and multimedia) and develops their skills for careers as writers, communication specialists and information designers.
The deadline to apply for fall 2021 is January 6, 2021. The Department of English will be waiving the GRE requirement for applications submitted for fall 2021. RSVP by Monday, Oct. 12.
Learn more about the MAPW program. 
Open Enrollment for 2021 Benefits is Oct. 26 - Nov. 16
Open Enrollment is the annual opportunity for faculty and staff to review their benefit coverage options and make selections for the upcoming calendar year. Enrollment changes can be submitted online through Workday beginning Monday, October 26 and ending at 5 p.m. ET Monday, November 16. Benefit elections become effective on January 1, 2021, and remain in effect for the calendar year. After the enrollment period, you cannot change your benefit elections unless you experience a qualifying status change.
Additional information on 2021 benefits, including rates and the 2021 Benefits Guide, will be available closer to the start of Open Enrollment. For questions regarding Open Enrollment, please contact the HR Service Center at 412-268-4600 or hr-help@andrew.cmu.edu. 
Group X Classes Have Restarted
Carnegie Mellon's Athletics, Physical Education and Recreation Department has restarted its live, in-person Group X classes. Group X classes are free for CMU undergraduate and graduate students, faculty and staff.  All participants must pre-register to participate.
Information on how to pre-register and the class schedule are available online.  An archive of virtual Group X classes also is available.
Who's New at CMU?
Carnegie Mellon welcomes the following new staff members this week.
Trevor Schrecengost, Integrated Security Technician, Integrated Security Service;
Alexander Lammers, Research Associate I, Biological Sciences; and
Aliza Legg, Research Associate II, Psychology.