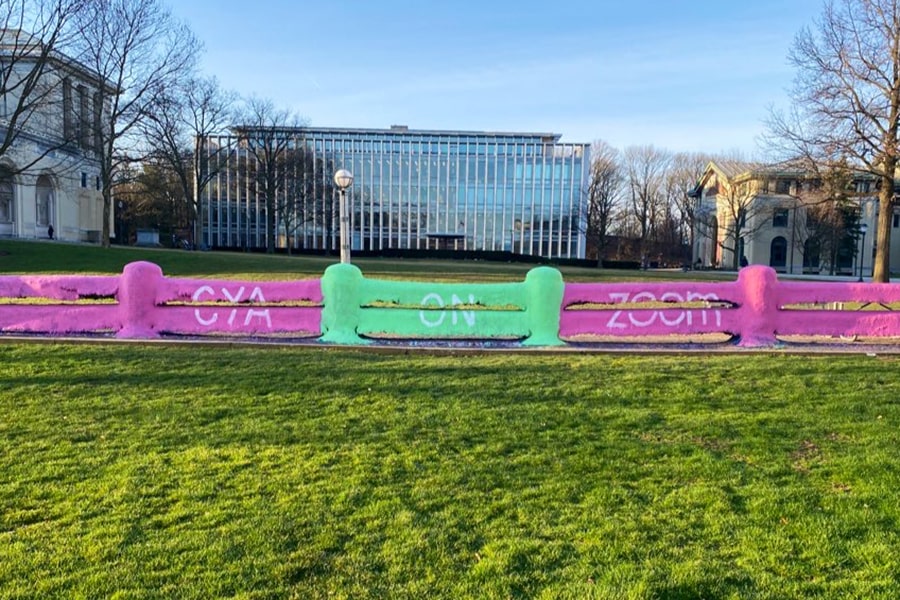 March 18, 2020
News Briefs
CMU Transitions 3,000+ Courses to Remote Instruction
Students returned to class yesterday, virtually, as more than 3,000 courses across all CMU locations transitioned to a remote format due to the coronavirus pandemic. The Eberly Center and Computing Services have collaborated to make many resources available to assist students, faculty and staff with remote instruction and learning.
In a message to the campus community, President Farnam Jahanian expressed his appreciation to the people who have been working diligently to prepare for this transition, including countless faculty, staff and student leaders.
"I ask every member of this global community to join me in facing these unprecedented challenges with equal parts patience and cooperation," Jahanian wrote.  "By doing so, we can demonstrate to the world our exceptional innovation and collaboration, which are both the qualities that this moment demands and the values that have always defined the Carnegie Mellon University community."
Get the most up-to-date information on the university's response to COVID-19 at CMU's coronavirus website.

Find out more about faculty resources for remote instruction.
HR Sets Guidelines for Working Remotely
Although the university has decided to conduct classes remotely, CMU remains open and is encouraging people to engage in social distancing practices wherever they may be. At the same time, CMU recognizes that some university work can be performed remotely.
All exempt, non-exempt, non-union staff members and hourly student workers who wish to work remotely and believe their job functions can be performed away from campus should work with their supervisors to determine whether such an arrangement is practicable. Supervisors who need assistance should contact their HR business partners.
Full information about these guidelines, including time off and sick leave options, are available on the Office of Human Resources website.
See CMU's coronavirus website for more on working remotely.
Campus Police Adds Staffing; Focus on Service, Support
Carnegie Mellon University Police has added staffing this week to assist students moving out of their residence halls and to increase patrols of campus buildings. CMU Police Chief Tom Ogden said emphasis is being placed on service and support.
"Our officers are now tasked with checking every building each hour to ensure things are safe and in working order," Ogden said. "This is very similar to how we handle things during holiday break." 
Ogden said their police presence appears to be calming.
"Everyone is conducting themselves in a most appropriate way," he said.  
FMCS Is Making the Moves for Social Distancing
Facilities Management and Campus Services (FMCS) is working to help members of the university community adhere to social distancing guidelines — keeping six feet (2 meters) of distance between you and others.
FMCS crews have removed and reorganized furniture in public spaces across campus, such as in the Cohon Center in Gates Hillman, Newell Simon, the Tepper Quad and Hunt Library. Social distancing signs and guidance have been sent to more than 80 facility coordinators on campus, and notices have been posted in buildings with health care tips and temporary occupancy limits.
If you're looking to rearrange office furniture in your workplaces to follow social distancing guidelines, FMCS can help.
FMCS has announced that an outside moving company will be available to assist you. If you're looking for moving help, contact FMCS at fixit@andrew.cmu.edu. Find out more about social distancing.
Exterior Building Doors Going to Card-Key Access
With fewer people on campus, FMCS also is enhancing security measures.
Effective today, Thursday, March 19, exterior doors to CMU buildings will be transitioning to card-key access, where possible. You will need to swipe your CMU ID to enter the building. To enter buildings not capable of making the card-key change you will need to show your CMU ID to a campus police officer stationed at the door. Please have your CMU ID when entering campus buildings to ensure access.
Online Appreciation Sale at University Store
Carnegie Mellon's University Store is having an online Faculty and Staff Appreciation Sale on Apple products. You can save $75 off a MacBook Air, Pro & iMac, and $25 off an iPad Pro. Order today and pick it up on April 17. Custom configured items must be ordered by March 27.
Questions? Email ps00@andrew.cmu.edu or go online.  
Team Explorer Places Second in DARPA Challenge
Team Explorer from Carnegie Mellon and Oregon State battled to the end in the DARPA Subterranean Challenge's Urban Circuit competition, ultimately finishing second.
Explorer was tied with CoSTAR — a team led by the Jet Propulsion Laboratory and including MIT, CalTech and South Korea's KAIST — going into the last run on the last day of the competition. CoSTAR located and identified more artifacts during its final run to win 16-11.
The Subterranean Challenge, sponsored by the Defense Advanced Research Projects Agency (DARPA), is a multi-year competition in which autonomous robots map underground environments and look for objects, such as simulated human survivors, backpacks and emergency equipment, much as a first responder might during an emergency response.
Explorer deployed various combinations of its three ground robots and four drones during its runs. The CMU Robotics Institute's Sebastian Scherer, who co-leads the team with Matt Travers, a systems scientist, said the performance of the team's drones was a highlight of the competition. Find out more.
Who's New at CMU? 
Carnegie Mellon welcomes the following new staff members.
Eugene Hastings, DevSecOps Specialist, The Simon Initiative;
Samuel Lemley, Librarian, University Libraries;
Annika Horgan, Associate Software Developer, SEI ETC Leadership;
Christopher Russo, Laborer I, FMS Operations;
Daniel Gongaware, Financial Coordinator, Language Technologies Institute;
Eleni Andrulonis, Accounting Assistant I, FMS Operations; and
Brendan Hart, Senior Accountant, Investment Office.
Vanguard Participants: Important Update Regarding the Transition to TIAA
As communicated in February, Carnegie Mellon University will be consolidating administration of the retirement plans to one recordkeeper relationship with TIAA. Due to market volatility concerns stemming from the coronavirus, CMU has decided to postpone the transfer of balances from Vanguard to TIAA and therefore there will be no blackout period at this time.
For those with balances in Vanguard, your balance will remain with Vanguard for the near-term. Until we set a new date to transfer balances, you should direct any questions about your current Vanguard account or requests for assistance to the existing Vanguard phone number and/or website. 
Other parts of the transition are proceeding according to the original timeline and as previously communicated in the Transition Guide [pdf]:
New Retirement Choice/Retirement Choice Plus accounts with TIAA will be set up on March 23 for participants who are currently contributing and/or hold a mutual fund balance. Once your account is set up, you may review your beneficiary designations and adjust your investment allocations.
Vanguard investment options are being added to the TIAA platform as planned.
All future contributions will be directed to your new accounts at TIAA starting March 26. Plan participants with balances in Vanguard will need to log into their accounts through both Vanguard and TIAA to view complete account information: Vanguard for current balances and TIAA for contributions after March 26.
Learn more about the Transition to Single Recordkeeper, including available support resources.
The Fence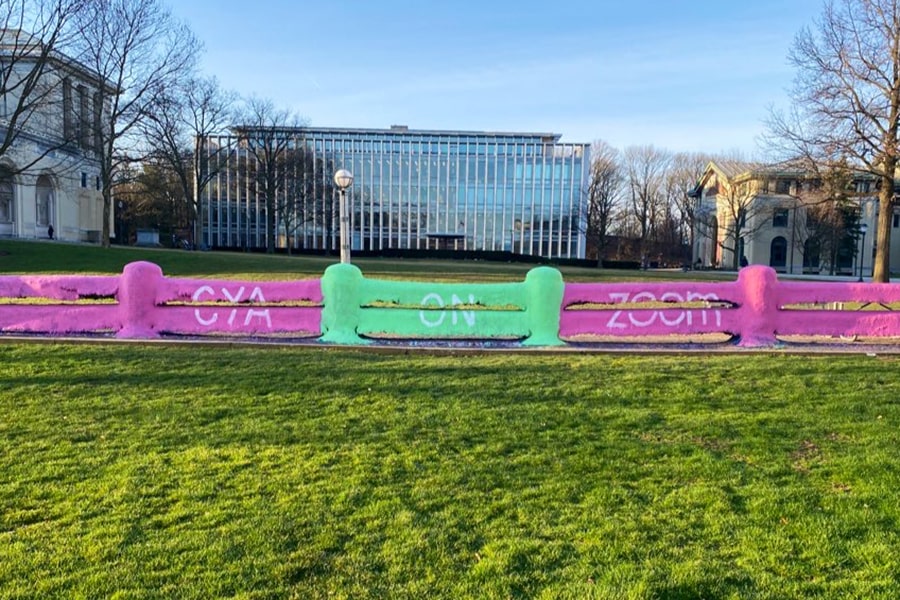 CMU's unofficial university billboard, the Fence is painted between midnight and sunrise by students who then stand guard as long as they want their message to stay. Fun Fact: The original Fence was once the "most painted object in the world" until it collapsed and was replaced by a steel-concrete fence.