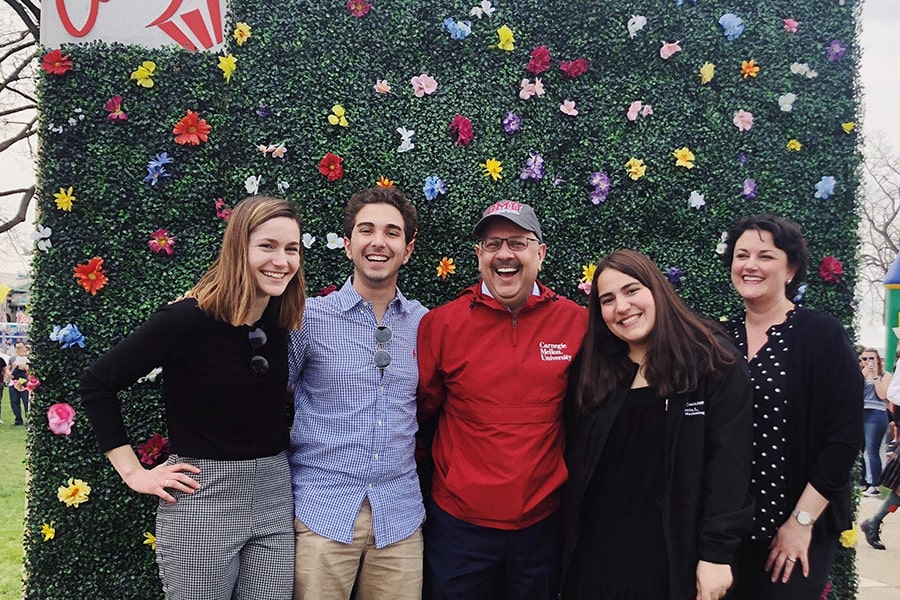 April 14, 2020
Enjoy a Mindful, Virtual Spring Carnival Weekend
Insights from students and staff
By Elaine Zhu, junior professional writing and history major nzhu1(through)andrew.cmu.edu
Tending to our mental health and wellness should be top of mind for all of us during this uncharted time of physical distancing, and part of that is finding ways to honor the celebrations and traditions that bring the community together, like Spring Carnival. 
"As we reflect on what helps us to feel balanced and grounded in unfamiliar circumstances, staying connected to each other allows us to process these changes together and not feel isolated," said Angie Lusk, program director for Student Affairs Wellness Initiatives. "CMU, Student Affairs and partners from across campus have come together to provide a variety of virtual programming for students, faculty and staff that can help to deal with the ambiguity and loss of routine." 
This year as part of Virtual Spring Carnival, CMU is partnering with Headspace, a leading platform for mindfulness and meditation, to provide an online meditation session to guide listeners through difficult times.
Just Breathe, a virtual chat and live meditation with Eve from Headspace, will take place at 4:30 p.m., Friday, April 17. The session will focus on personal wellness and the benefits of taking care of your mind with Eve Lewis, Headspace's content director, female voice and trained meditation teacher. She will speak about collective loss, sadness, anxiety, mental health and the benefits of mindfulness and will guide attendees through a live, 10-minute meditation.
Andy Puddicombe, co-founder of Headspace, will continue the meditation conversation through #TakeTen, an Instagram live series that features daily special guests and allows listeners to come together for a mindful moment.
"The entire Spring Carnival weekend provides opportunities to take a step back and virtually connect with one another," said Laurel Furlow, senior associate director of University Events.
Furlow's team has been working with students and alumni to design virtual activities that are fun, restorative and engaging. 
Victoria Lugo, a junior in global studies and psychology, has spent three years on the Spring Carnival Committee. This year she will be co-chairing Spring Carnival 2020 from her home in Puerto Rico.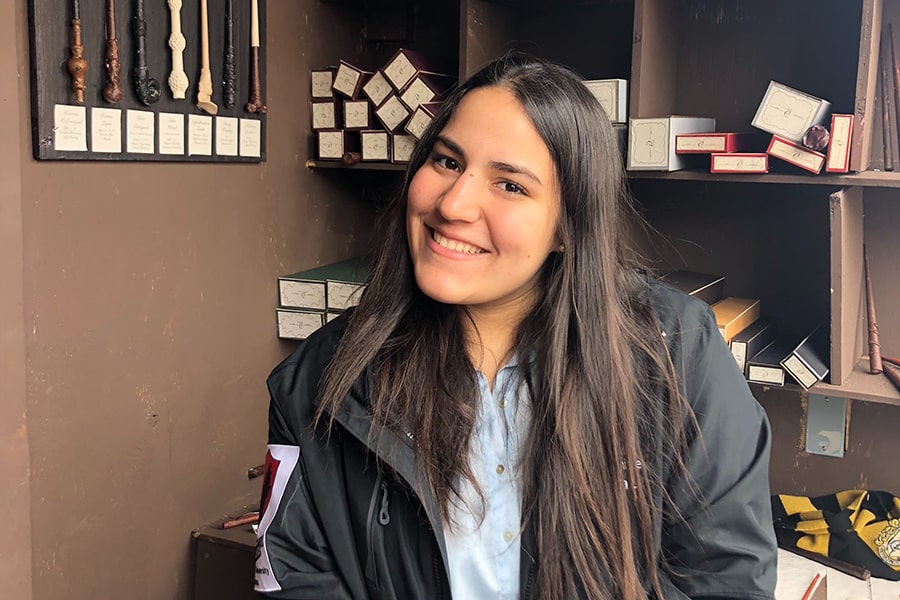 Junior Victoria Lugo has helped to make plans for Spring Carnival weekend from her home in Puerto Rico.
Since returning to Puerto Rico, Lugo and her twin sister have been hosting relaxing wellness activities on Zoom every Thursday. Their friends have joined them for a trivia night or a workshop on mask designs.
"A lot of people just need more person-to-person interaction," she said.
From Puerto Rico, Lugo has helped to make concrete plans for Spring Carnival weekend. Among the many planned events, CMU Dining Services will host a live concession foods cooking class on Instagram, teaching students how to make deep-fried Oreos, a classic recipe from previous Spring Carnivals. 
"We hope students and participants from home will join in with us and enjoy some delicious and traditional carnival food," she said.
The online cooking class will be followed by the Reunion Happy Hour, when students can join breakout rooms based on their class. Another must-attend event is the virtual Tartans Got Talent Showcase. Saturday is virtual race day when previous buggy races and the awards ceremony from last year will be aired.  
"When we had to break the news to the students about traditional Spring Carnival being cancelled, it broke my heart," said Andrew Greenwald, coordinator in the Office of Student Leadership, Involvement and Civic Engagement (SLICE), who works hand-in-hand with the Spring Carnival Committee. "But the students have worked so hard to turn virtual Spring Carnival into a rejuvenating experience that celebrates all things CMU."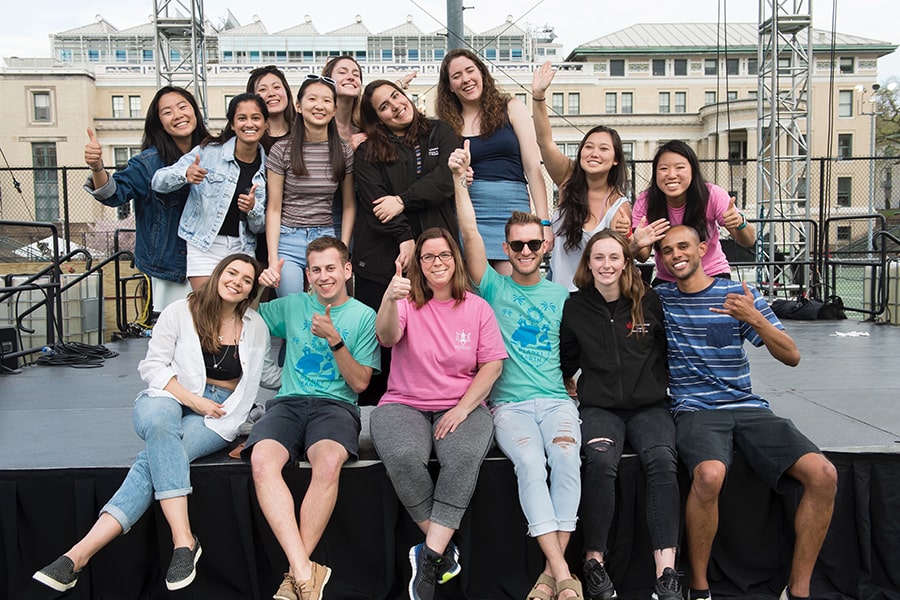 Students and staff give the "thumbs up" at last year's Spring Carnival awards ceremony. In the top row are this year's co-chairs VIctoria Lugo (fourth from right) and Renata Yerzhanova (second from right). In the front row are SLICE coordinators Kaycee Palko (third from left) and Andrew Greenwald (third from right).  
The Spring Carnival Committee and Peer Health Advocates (PHAs) have worked with University Events to plan other activities that will allow students to enjoy the tradition at home. Contests like Design Your Buggy and Build-Your-Booth will activate the CMU community's creative side and inspire self-expression. 
Participants can color, decorate, bedazzle, and make their Buggy amazing in this contest for all ages. Download the Buggy scene designed by College of Fine Arts (CFA) and Heinz College alumna Andrea Shockling, get creative and upload your design before noon on April 18. 
This year, Booth is open to everyone. Construct your own booth with any material you like and submit your entry with photos by noon on April 18.
Grand prize winners of these contests will be announced on April 19 and $500 will be given to the student organization or CMU fund of the winners' choice.
In place of the traditional gatherings on the CFA lawn, multiple online webinars hosted by faculty and staff will take place during the weekend. There is also a Carnival Minecraft competition. 
"I think the virtual Spring Carnival events will show how resilient and innovative the CMU community is," Greenwald said. "It's important now more than ever that we maintain our sense of community. What better way than to come together around the world to celebrate how our hearts are truly in the work."
Author Elaine Zhu is a junior professional writing and history major from Shanghai, China.