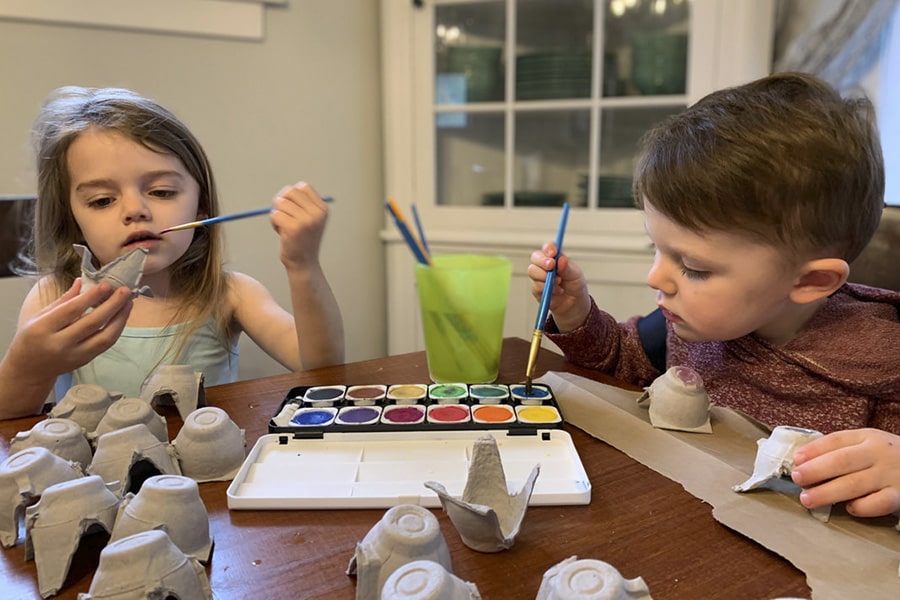 April 29, 2020
News Briefs
Children's School Shares Resources for At-Home Learning
The Carnegie Mellon University Children's School is sharing its resources with the public as a way to help families who are home with preschoolers or kindergarteners, as well as educators who are teaching students from home.

The Children's School and Carnegie Mellon's Cyert Center for Early Education (see below), which is also connecting remotely with its own students, are among the campus children's centers at universities across the country experimenting with different ways to reach students while children, parents and teachers are staying home to reduce the spread of coronavirus.

"There are so many ways for children to learn through play while at home," said Sharon Carver, director of the Children's School, which includes preschool and kindergarten classes for children from 3 to 6 years old. "Since not all preschools have the resources to develop age appropriate support for remote learning, we wanted to make the suggested activities and videos that our teachers are creating available in a central location so that everyone can use them."
As part of the resources, parents have access to daily suggestions by age group, including videos with sing-alongs, readings and exercise routines; arts explorations, and math challenges. Teachers searching for ideas also can peruse various thematic unit resource guides on birds, theater, building, art, games and wellness.
Cyert Center Keeping Families Connected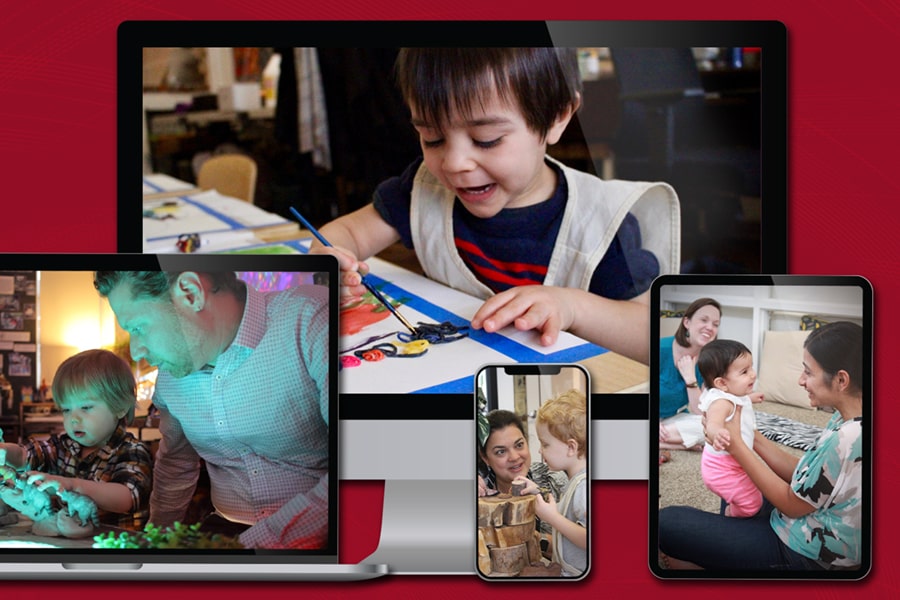 The Cyert Center for Early Education is helping parents manage the stress and chaos of the pandemic with a virtual curriculum for its 187 children, from 12 weeks old through kindergarten.
"Our core has always been relationships," said Carla Freund, director of the Cyert Center. "Right now, our challenge is continuing to build those relationships when we can't physically be in the same place."
The Cyert Center's 54 staff members have developed a growing collection of resources for parents who are caring for children while working from home. Their E-Connections and Curricular Opportunities (ECCO) includes age-appropriate learning activities, a rich video library and opportunities for virtual interaction — all in line with the center's values and philosophy.
Libraries Continue to Help with Resources
A new process recently introduced to support requests for print-only materials is one of the many new activities rolled out by University Libraries since the transition to remote instruction. Under the process, when librarians receive a request for an item that is only available in print, they log the requester's contact information in a secure spreadsheet and order a book from an approved book vendor to ship directly to the user. The user is then responsible for bringing their item to a CMU library location when it reopens so that the resource can be added to the collection.
"The move online due to COVID-19 not only affected classes but the way we obtain items for research as well," wrote Kim Dolan, interim head of Acquisitions in a blog post. "With the library closed and no one here to receive items, we asked ourselves, 'What can we do to accommodate our faculty and get them the resources they need as quickly as possible?'"
Pivoting quickly to scan print materials, move office hours online, and consult on copyright issues — among many other tasks — the Libraries' responsive actions minimized disruptions to the teaching, learning and research mission of the university during this rapidly changing time.
Inaugural 17 Rooms Event Invites You To Join Sustainability Discussions
What are you most passionate about? Chances are you can apply your passion toward helping the world achieve one or more of the 17 Sustainable Development Goals (SDGs).

Join us for Carnegie Mellon's inaugural 17 Rooms event, a series of deep dive discussions into the SDGs that will center around societal issues you are already tackling or hope to address. The 17 topics range from reducing food insecurity and gender empowerment to poverty and climate change.

This online event builds off of work from the Brookings Institution and The Rockefeller Foundation; the global flagship 17 Rooms meeting took place in 2018 in New York City. Carnegie Mellon and other universities are piloting this event and adapting its design.

We look forward to identifying practical steps to accelerate each of the 17 SDGs. Find out more and RSVP.
CMU Spinoff Uses AI to Address COVID-19
Cameras monitor stores, hotels, hospitals, airport terminals, public parks and parking lots. When computer vision technology company Zensors spun out of Carnegie Mellon's Human-Computer Interaction Institute (HCII) two years ago, the founding members created an artificial intelligence (AI) capable of analyzing images and video from those cameras and turning it into actionable data. Now they're offering up that AI to organizations worldwide to be used in response to COVID-19.
As the coronavirus spreads, Zensors' ability to provide real-time space occupancy and social distancing information using existing cameras could potentially help hospitals, grocery stores and other essential businesses decrease the risk of person-to-person transmission.
"We can start giving actionable data today using our clients' existing cameras," said Anuraag Jain, a School of Computer Science and HCII alumnus and creator of the Zensors technology. "It's that straightforward to use. Our product was designed to automate space analytics such as occupancy, crowd flow, wait times and related staffing needs, which can aid the implementation of new social distancing requirements and protect public health."
TIAA, PNC Offer Virtual Financial Counseling
Carnegie Mellon employees have access to virtual financial advice through the university's relationships with TIAA and PNC:
TIAA offers one-on-one counseling sessions online or by phone to help you review your retirement savings and develop a financial plan, assess your investment strategy, manage debt and more. Learn more about TIAA's Virtual Counseling Sessions [pdf].
PNC WorkPlace Banking can assist you with your financial needs. Set up a 30-minute virtual appointment with a PNC representative to discuss any questions or concerns you may have. Learn more about PNC WorkPlace Banking [pdf], including current promotions and contact information.