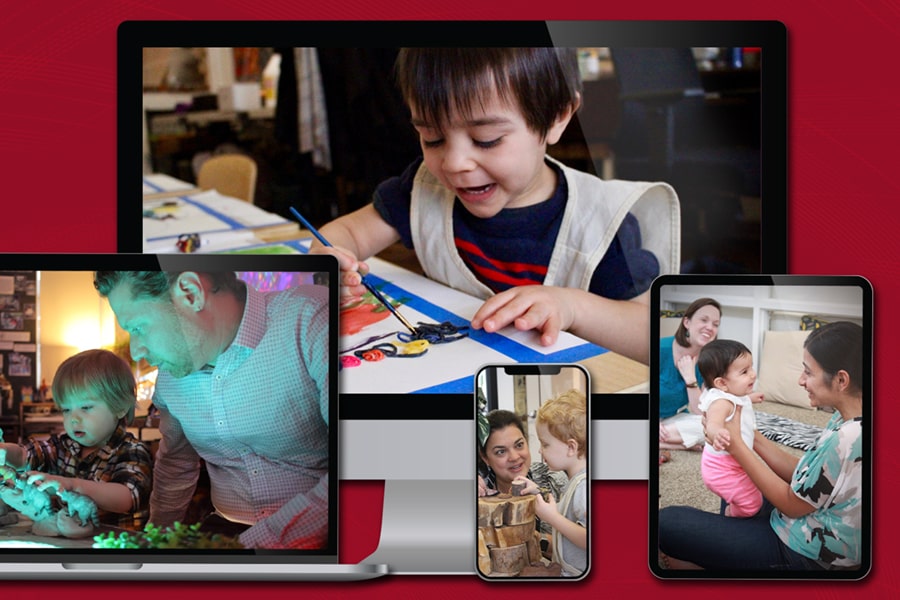 April 27, 2020
Cyert Center Keeping Families Connected
By Sarah Burke sarahbur(through)andrew.cmu.edu
The Cyert Center for Early Education is helping parents manage the stress and chaos of the pandemic with a virtual curriculum for its 187 children, from 12 weeks old through kindergarten.
"Our core has always been relationships," said Carla Freund, director of the Cyert Center. "Right now, our challenge is continuing to build those relationships when we can't physically be in the same place."
The Cyert Center's 54 staff members have developed a growing collection of resources for parents who are caring for children while working from home. Their E-Connections and Curricular Opportunities (ECCO) includes age-appropriate learning activities, a rich video library and opportunities for virtual interaction — all in line with the center's values and philosophy.
Katie Walsh, a senior teaching consultant at CMU's Eberly Center whose two young sons attend the Cyert Center, said the staff's efforts have been a lifeline, and she has always appreciated their commitment to educating parents about their children's development.
"They've been such a comforting presence at an unsettling time," she said. "I've realized how much these people are my family."
Using the Cyert Center's virtual curriculum, Walsh and her sons have made salt dough for sensory play and listened to educators read their favorite books aloud. They've taken a virtual walk, reconnected with classmates through video meetings, and cooked familiar Cyert Center recipes like banana bread. Walsh said her 4-year-old son helped organize a special celebration for her birthday.
Freund said children express stress differently than adults, so the Cyert Center is providing parents with strategies to recognize and respond to their children's emotional cues.
"Children may be clingy or want more cuddles, which can be difficult when parents are managing their own stress," she said. "We want to provide parents with as much knowledge and support as we can." 
Assistant Director Sandy Johns has worked at the Cyert Center for 38 years. She said she has always admired the staff's resiliency, and the current crisis has only reinforced that admiration.
"Our conversations were never if we would continue our work, but how we could continue to support the strong connections we have with parents and children while considering what is developmentally appropriate for each of the age groups that we serve," she said.
Educational Coordinator Brianna Moskal said her team has pulled together to accomplish things she never imagined would be possible.
"It required the minds and the strengths of every single educator and staff member to fit all of the pieces together," she said. "Our strong sense of community continues outside the walls of our school."