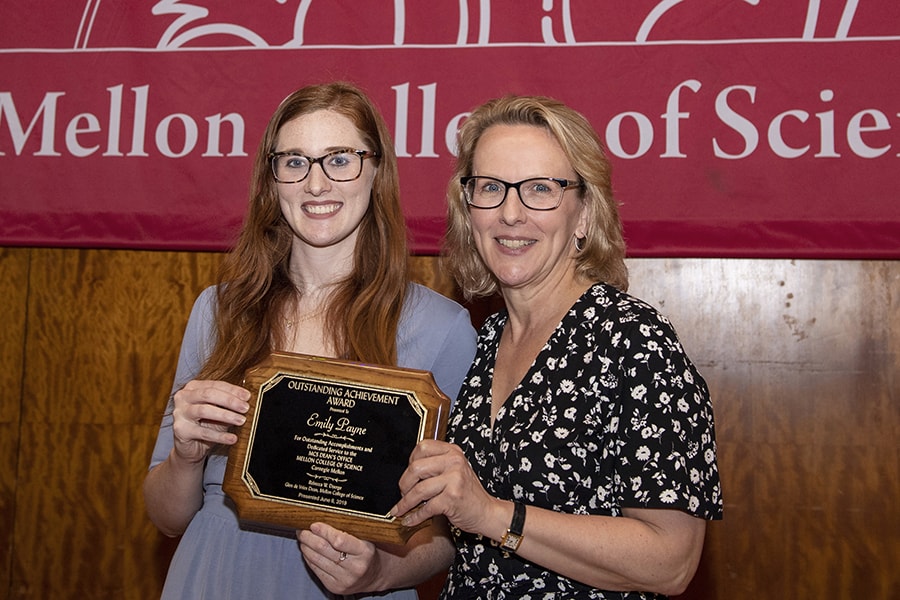 July 10, 2019
News Briefs
MCS Staff Honored at Awards Ceremony
Thirteen staff members in the Mellon College of Science were recently honored for their exceptional job performance. Awards were presented in four categories: Merit, Rookie, Special Service and Outstanding Achievement.  And the winners are:
Merit Award: Michelle Waters, business manager;
Rookie Award: Paola Buitrago, director, Artificial Intelligence and Big Data Group;
Special Service Award: Andrew Lawson, biological and radiation safety officer, Environmental Health & Safety;
Outstanding Achievement Awards:
Collin Bachert, researcher III, Biological Sciences;
Lorna Williams, senior administrative coordinator, Chemistry;
Charles Harper, administrative coordinator, Mathematical Sciences;
Emily Payne, communications manager, Dean's Office;
Eric Day, skilled manual machinist, Physics;
Brain Imaging Library Team, Pittsburgh Supercomputing Center: Kathy Benninger, Greg Hood, Alex Ropelewski, Derek Simmel and Art Wetzel.
Also during the ceremony, 27 staff members were given years-of-service awards, recognizing their five to 35 years with MCS. Learn more.
NSF Funds Bridges-2 Supercomputer at PSC
A $10 million grant from the National Science Foundation (NSF) is funding a new supercomputer at the Pittsburgh Supercomputing Center (PSC), a joint research center of Carnegie Mellon University and the University of Pittsburgh. In partnership with Hewlett Packard Enterprise, PSC will deploy Bridges-2, a system designed to provide researchers in Pennsylvania and the nation with massive computational capacity and the flexibility to adapt to the rapidly evolving field of data- and computation-intensive research. Bridges-2 will be available at no cost for research and education, and at cost-recovery rates for other purposes.
Bridges-2 will accelerate discovery to benefit science, society and the nation. Its unique architecture will catalyze breakthroughs in critically important areas such as understanding the brain, developing new materials for sustainable energy production and quantum computing, assembling genomes of crop species to improve agricultural efficiency, exploring the universe via multimessenger astrophysics and enabling technologies for smart cities.
"Unlocking the power of data will accelerate discovery to advance science, improve our quality of life and enhance national competitiveness," said Nick Nystrom, PSC's chief scientist and principal investigator for Bridges-2. "We designed Bridges-2 to drive discoveries that will come from the rapid evolution of research, which increasingly needs new, scalable ways for combining large, complex data with high-performance simulation and modeling." Find out more.
Forbes Paving Scheduled for July 12-14
PennDOT construction crews are scheduled to mill and pave Forbes Avenue between S. Craig Street and Margaret Morrison Street this weekend, beginning at 8 p.m., Friday, July 12. Weather permitting, the work is expected to be completed on Sunday, July 14.
At least a single lane of traffic will be provided along Forbes Avenue during construction, but motorists should expect traffic delays and detours. Morewood Avenue, S. Craig Street and Bellefield Avenue will be used as detours for the work between Morewood and S. Craig.
This work is part of the Forbes Avenue Improvement Project.
GSIA Building Renamed Hall of the Arts
The GSIA building, formerly a home to the Tepper School of Business, has been renamed Hall of the Arts to reflect its new occupants. With the Tepper School now in the first building on the Tepper Quad, several units from the College of Fine Arts will be moving into the space this fall.
The Hall of the Arts will house classrooms and offices for the School of Music, the School of Art's Master of Fine Arts program and the BXA intercollege degree programs. 
The Master of Computational Finance program, which is currently housed in the Hall of the Arts, will be moving into the new Tata Consultancy Services building on Forbes Avenue once it is completed.  That move will create additional space for the School of Music.
Pop-In at the Summer Outdoor Pop-Ups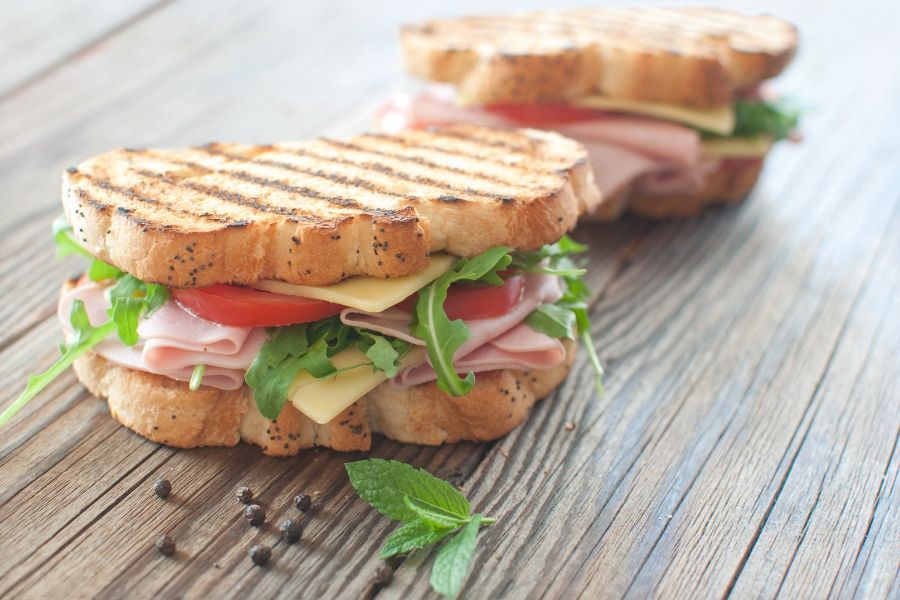 Dining Services is offering delicious pop-up menus from The Exchange and The Underground on the East-West Walkway adjacent to the Cohon Center's Merson Courtyard. Use your Summer DineXtra, cash, credit or debit to enjoy your breakfast, lunch or sweet treats outdoors. Find out more.

Goodbye Lynda, Hello LinkedIn Learning
On July 9, Lynda.com was successfully upgraded to LinkedIn Learning. LinkedIn Learning has the same great online learning content as Lynda.com, offering a continually growing and evolving library of training videos and tutorials covering a wide range of software, technologies and business topics. With LinkedIn Learning users have access to a vast video library of engaging top-quality business, software, technology and creative course offerings taught by recognized industry experts. Now you also can take advantage of enhanced features including intelligent searching, personalized learning recommendations and custom learning paths. And, it's all still free! Find out more.
Program Prepares New Generation of Researchers
A unique opportunity at Carnegie Mellon is connecting undergraduate students from underrepresented groups with graduate school training. The Program in Interdisciplinary Education Research's Research Experience for Undergraduates Program (PIER-REU) makes CMU's resources available to students around the country seeking research opportunities.
Since 2016, PIER-REU has brought undergraduate students from underrepresented groups to spend eight weeks in a CMU research lab during the summer. Each student receives a stipend, housing and opportunity to contribute to a variety of research projects under the mentorship of a PIER faculty member, post-doctoral researcher or advanced graduate student. While PIER provides funding for student stipends, the Department of Psychology and Human-Computer Interaction Institute provide funds for student housing.
"Our efforts in recent years have inspired other colleagues in the learning sciences to secure additional funding for the PIER-REU program, so this year we are able to provide research opportunities to eight students — our biggest cohort to date," said David Klahr, a co-director of PIER and the Walter van Dyke Bingham Emeritus Professor of Cognitive Development and Education Science.  Find out more.
Last Call: Nominate Your Deserving Colleagues for the Andy Awards
Nominations for the Andy Awards, the university's staff recognition program, are now being accepted. Take the time to nominate your colleagues whose outstanding work is deserving of this special recognition. All nomination materials must be submitted by July 12.
For more information on the awards program, including category descriptions and criteria, and how to nominate, visit the Andy Awards website at https://www.cmu.edu/andyawards/.
Questions? Send email to AndyAwards@andrew.cmu.edu. 
Updated Financial Records Retention Policy Went Live July 1
The university's updated Financial Records Retention Policy went into effect on July 1 and replaces the previous version from Jan. 14, 1997. The updated policy reflects expansion to the categories and descriptions of financial records, includes updates to the retention time period requirements, provides clear responsibilities for the administration of the policy to support university compliance with legal and other regulatory retention requirements, and gives guidance on electronic records, disposal of non-official records and archiving financial records. 
Carnegie Mellon is required to retain university financial records as necessary to meet business needs and to comply with legal standards. The university also has an interest in setting appropriate retention periods for financial records to preserve university history, optimize the use of university space and minimize the cost of financial record retention for the university.
The policy applies to all academic and administrative departments, divisions and other business units of Carnegie Mellon creating or receiving university financial records, including faculty, staff, temporary workers, student employees, consultants and agents of the university creating and/or receiving university financial records by or on behalf of the university. This policy does not address the retention records beyond university financial records, such as student academic records. Individuals should consult with the appropriate university office for further information about the retention of these other records.
For additional information, visit www.cmu.edu/finance/news. Questions about the Financial Records Retention Policy can be directed to fin-recordsretention@andrew.cmu.edu.
Building Evacuation Drills Continue
The Environmental Health & Safety Department is continuing evacuation drills in academic and administrative buildings this summer to practice fire safety awareness and preparedness.
If your an occupant in one of the buildings on the schedule below, please follow these directions when the alarm sounds:
Follow the directions of your floor marshal and proceed to the nearest exit.
Floor marshals should notify the nearest emergency official when everyone is accounted for, or if anyone is missing.
Remain with your group until the all-clear is given to return to the building.
Do not leave campus until the exercise has been completed.
Evacuation drills will be conducted between 9 a.m. and 12 p.m. and will follow the schedule below.
Friday, July 12
Integrated Innovation Institute
417 S. Craig St.
205 S. Craig St.
300 S. Craig St.
305 S. Craig St.
311 S. Craig St.
407 S. Craig St.
Tuesday, July 23 (* please note new date)
6555 Penn Ave.
National Robotics Engineering Center
Pittsburgh Technology Center
Questions? Contact Thomas Plietz, fire safety manager, at tplietz@andrew.cmu.edu