July 05, 2019
Program Prepares New Generation of Researchers
By Stefanie Johndrow stef(through)cmu.edu
Media Inquiries
Stefanie Johndrow
Dietrich College of Humanities and Social Sciences
A unique opportunity at Carnegie Mellon University is connecting undergraduate students from underrepresented groups with graduate school training.
The Program in Interdisciplinary Education Research's Research Experience for Undergraduates Program (PIER-REU) makes CMU's resources available to students around the country seeking research opportunities.

"Students from underrepresented groups are often at a disadvantage when applying to graduate schools," said Anna Fisher, a PIER steering committee member and associate professor of psychology in CMU's Dietrich College of Humanities and Social Sciences. "This disadvantage is often due to limited access to research opportunities at their home institutions. PIER-REU aims to provide access to research opportunities and mentoring to students interested in pursuing graduate training in psychology, education or learning sciences."

Since 2016, PIER-REU has brought undergraduate students from underrepresented groups to spend eight weeks in a CMU research lab during summer. Each student receives a stipend, housing and opportunity to contribute to a variety of research projects under the mentorship of a PIER faculty member, post-doctoral researcher or advanced graduate student. While PIER provides funding for student stipends, the Department of Psychology and Human-Computer Interaction Institute provide funds for student housing.

"Our efforts in recent years have inspired other colleagues in the learning sciences to secure additional funding for the PIER-REU program, so this year we are able to provide research opportunities to eight students — our biggest cohort to date," said David Klahr, a co-director of PIER and the Walter van Dyke Bingham Emeritus Professor of Cognitive Development and Education Science.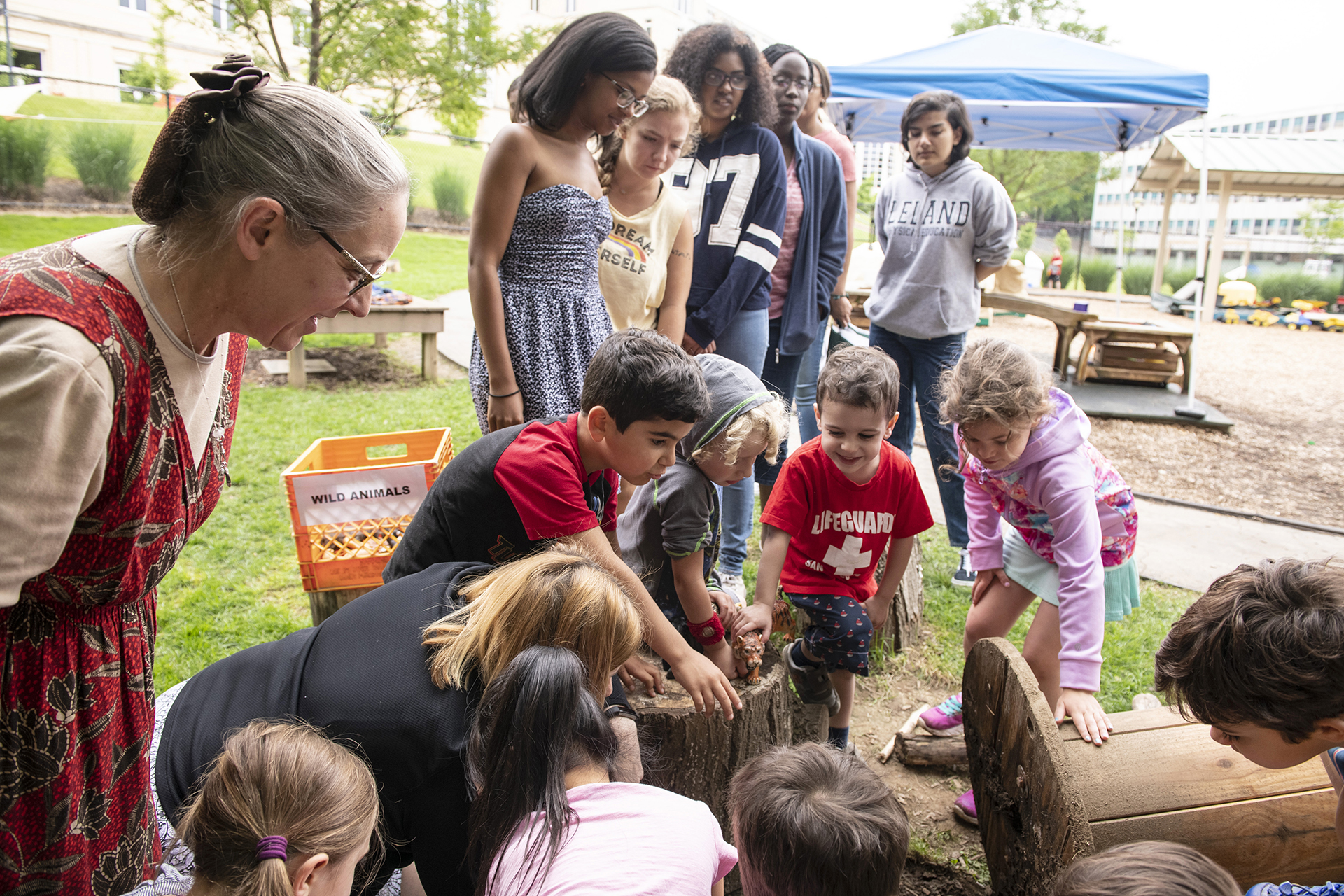 Sharon Carver, director of CMU's Children's School and associate dean for academic affairs in the Dietrich College, gives a tour of the Children's School to the PIER-REU students.

Four alumni of the summer program are currently enrolled in graduate training programs.

"We are looking for ways to secure additional funding so that we can expand this program to more students in the coming years," Fisher said. "My colleagues and I are committed to providing research opportunities to students who are less likely to get these opportunities elsewhere."

Interaction with CMU faculty is one of the reasons why Aria Tsegai-Moore, an undergraduate student at Stony Brook University, applied to PIER-REU.

"What attracted me the most about PIER-REU was the opportunity for hands-on research experience, while also being able to learn about the many disciplines that are intertwined in the idea of learning," Tsegai-Moore said. "I wanted to get the best experience I could working with world-renowned faculty and staff, because I knew that an experience like this would prepare me and give me the exposure I need to help further pursue my studies on a graduate school level."

Taqwa Ramadan, a student at University of Texas at Dallas, is working in Fisher's Cognitive Development Lab this summer with CMU post-doctoral researcher Catarina Vales. They are studying how children's experiences in ecologically valid settings (such as a summer camp at a local botanical garden) promote changes in semantic knowledge organization and how these changes play a role in other cognitive processes, including reading and listening comprehension.

"Carnegie Mellon is one of the few institutions that invests early in the developing minds of diverse undergraduates," Ramadan said. "It is normal to be young and confused, especially with career interests. But here at PIER-REU, we are given a safe place full of opportunities to freely explore with guidance."

One lesson students learn through PIER-REU is that of belonging.

Jonathan Epps participated in the program in 2018 and graduated in the spring as co-valedictorian of Morehouse College. He will soon head to Brazil to teach English as a Fulbright Scholar.

"My PIER-REU experience taught me that I belong in spaces like CMU, that I can excel there, and that when I feel down or out, there is always a support system there to guide me," Epps said.