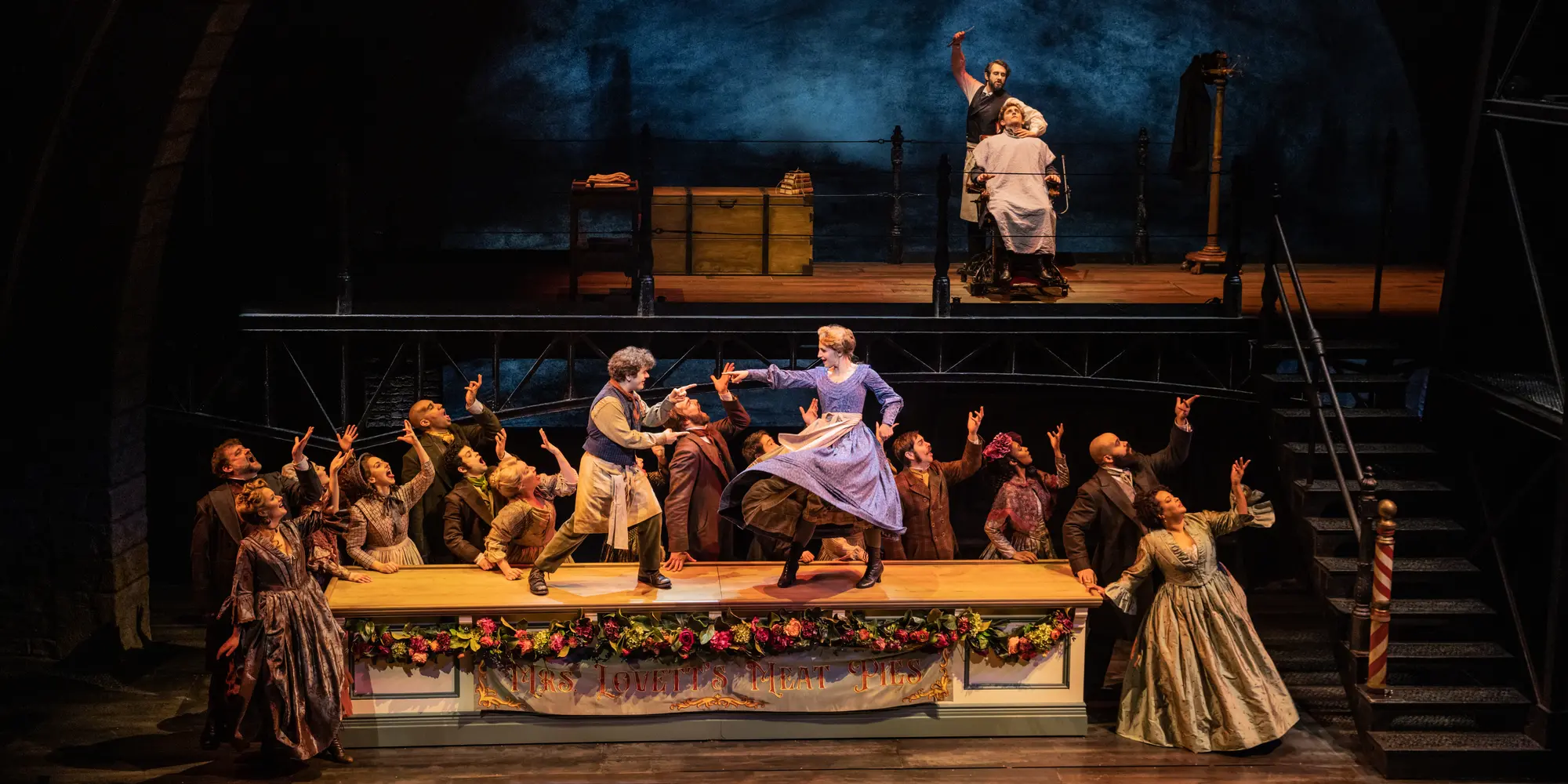 June 9, 2023
Paths to Broadway Converge in 'Sweeney Todd'
Media Inquiries

Name

Pam Wigley

Title

College of Fine Arts

Name

Peter Kerwin

Title

University Communications & Marketing
In her junior year of high school, Patricia Phillips traveled with her Denver theater class to see her first Broadway performance: the original production of "Sweeney Todd." Little did she know then that it may have been a sign about her future. 
Phillips, a 1985 graduate in vocal performance from the Carnegie Mellon University School of Music(opens in new window), now appears in the Broadway revival of the same show, alongside fellow CMU alumni Josh Groban, Nathan Salstone, and newest ensemble cast member Danny Rothman, a 2001 graduate of the School of Drama(opens in new window). On Sunday, June 11, the group will be seen performing nationwide during "The 76th Annual Tony Awards" telecast. 
No stranger to Broadway, Phillips performed in her first musical while an eighth grader in Denver. She had not had training prior to auditioning but was given the lead role of Nancy in "Oliver."
"I remember my teacher, Carla Roberts, who decided that every kid would audition," Phillips said. "That opportunity meant everything to me."
The encouragement continued from her high school drama teacher, Nancy Priest (the teacher who took the group to New York). Ultimately, she and two alumni from George Washington High School in Denver — Kent Gash and Phil Baker — told Phillips about Carnegie Mellon.  
"My first semester was hard, but then I assimilated into the program," Phillips said. "When I think back to my time at Carnegie Mellon, I remember the College of Fine Arts building [where she spent most of her time]."
She went on to perform with the Civic Light Opera and Pittsburgh Opera Chorus after graduating from CMU. A connection from CLO, Susan Schulman, led to Phillips' casting in her first Broadway show, "The Secret Garden." Her long career on Broadway includes stints with "Kinky Boots" and more than 1,000 performances as Carlotta in "Phantom of the Opera." 
She looks forward to the future, continuing on Broadway and, perhaps, landing the "Sweeney Todd" role she would love: Adolfo Pirelli, Sweeney's rival barber, who the title character ultimately slashes with his ever-sharp blade.
Meeting an untimely demise at Sweeney Todd's blade is something fellow CMU alumnus, Nathan Salstone, knows about. The 2017 School of Drama grad is part of the ensemble for the show, and he also takes a turn in the barber's chair under the razor of fellow CMU alum and Tony nominee Josh Groban. For Salstone, a Chicago-area native, it's a great way to be part of the lights of Broadway.
Absent his father, Salstone described growing up in a "house full of women." His mother thought that theater might fill the role of a classic male figure in his life. At age 5, he was enrolled in a children's theater troupe and by 10, he was performing in professional shows. By high school, he knew that he wanted a future in the theater, but his grades weren't helping his cause.
"It's funny to look back now and wonder how I got to Carnegie," he said. "My high school grades were terrible, resulting in rejections from lots of other colleges. The fact that Carnegie took a chance on me was a sign to get my act together. I ate every crumb of every class I was in."
He said that while going to college was a major shift for him, he fell in love with learning. He was inspired by the School of Drama's annual Playground event, during which classes shut down for a week so students can produce and perform their own works. By his senior year, Salstone wrote a one-man show titled, "All Anonymous," depicting his experience with a family member's demons. It was cathartic, but also tough for him to reveal his personal thoughts. 
He found solace through Thomas Douglas, a School of Music faculty member who taught Salstone "Music Skills" as a freshman. He stopped Salstone after class one day.
"He asked me what I had next on my schedule," Salstone said. "I told him I was open. And he said, 'Come with me.'"
Outside the CFA Building, Thomas gave a motorcycle helmet to Salstone, donned his own, and the two took off an open road adventure for the afternoon.
"He cared about what was happening with me inside, and not just about what we as students were producing," Salstone remembered. "He knew I needed to take that break, even when I didn't know it myself."
He found similar inspiration in School of Drama faculty member Catherine Moore, who told her students to "hold on tightly, and let go lightly." Salstone translated: "She meant that we are all just creating moments together, and that we should hold onto them — and let them go when we're ready."
He also gave a nod to Front Porch Theatricals, run by Nancy and the late Leon Zionts. They operated out of New Hazlett Theater in Pittsburgh and became a second family to Salstone. "They cultivated such a positive artistic atmosphere."
Now, six years out of CMU, he said he advises current students and recent alumni to embrace continued learning. When you're working, he said, that education continues. 
He said he is thrilled to be part of "Sweeney Todd" on Broadway, but he knows it's not the end of his journey. In the future, he hopes to focus more on his music, possibly developing new music for a new show. 
"I want to be able to be part of the creation of something from the ground up," he said.