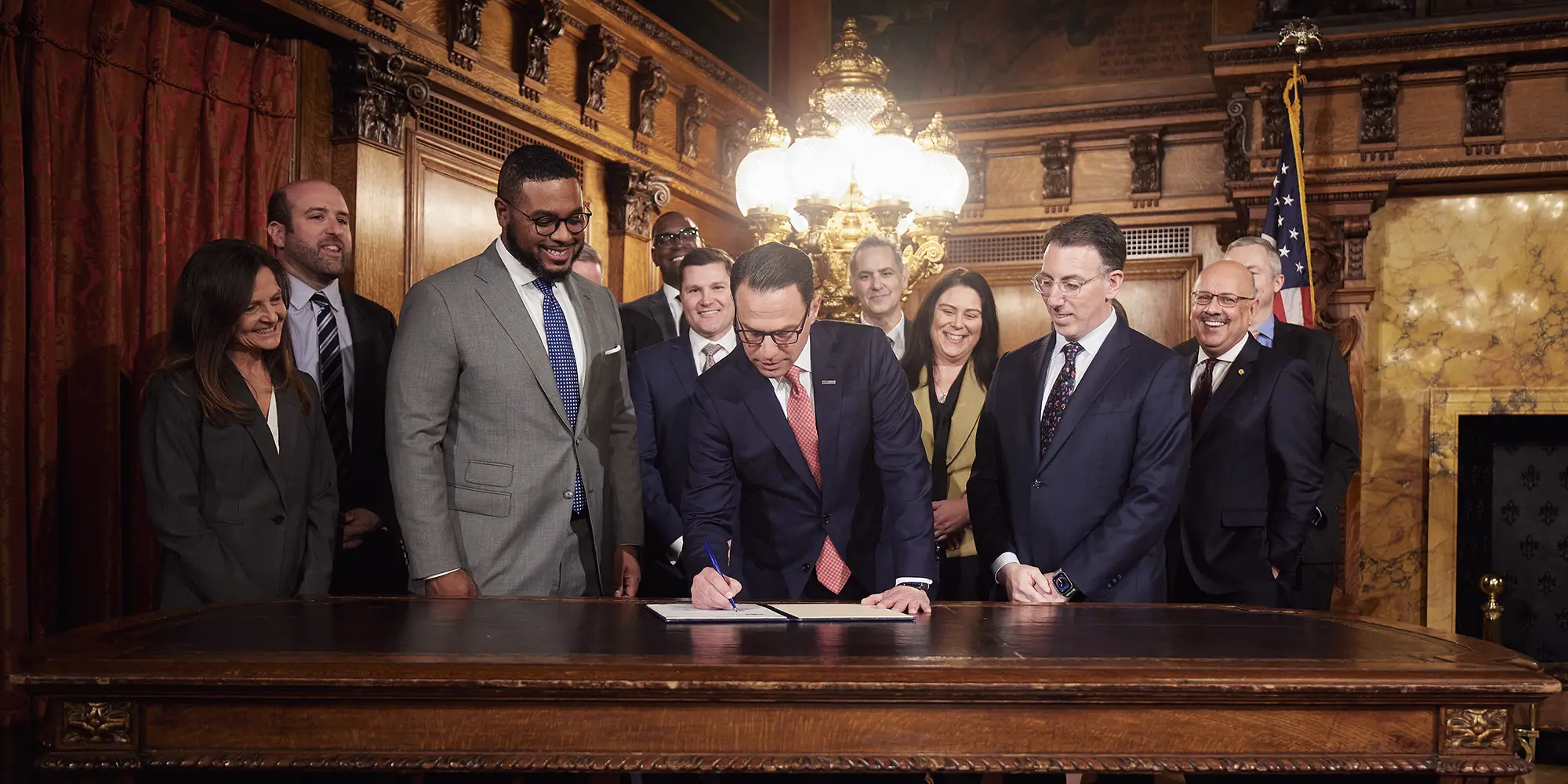 January 26, 2023
CMU President Jahanian Joins Gov. Shapiro at Announcement of New Office
Office of Transformation and Opportunity will lead efforts to recruit and retain businesses and workers in Pennsylvania
Media Inquiries
On Tuesday, Jan. 24, Pennsylvania Gov. Josh Shapiro signed an executive order establishing the Pennsylvania Office of Transformation and Opportunity and the Economic Development Strategy Group. Carnegie Mellon University President Farnam Jahanian(opens in new window), who served on the governor's transition team, joined leaders from the commonwealth's public and private sector as Shapiro announced the creation of the office and the selection of its leadership.
"I've heard from business and labor leaders across the commonwealth — government needs to work more quickly and figure out a way to get to yes. Today, we are making clear that Pennsylvania is open for business, and that we are going to be leaders in economic growth, job creation and innovation,"Shapiro said. "My administration will connect our business, our workforce, our world-class universities and research institutions, and the public sector to spur economic development, particularly in communities that have too often been left behind. By helping businesses that are already here, encouraging new ones to move to Pennsylvania, and investing in our workforce, we can create real opportunity and build an economy that works for everyone."
This newly created office will work to reignite Pennsylvania's economy by fostering innovation, supporting transformational economic development, and creating real opportunity for businesses and workers alike in the commonwealth, particularly in communities that are often left behind. As part of this announcement, Gov. Shapiro named Pennsylvania business leader and entrepreneur Ben Kirshner to the role of chief transformation and opportunity officer.
"At this pivotal moment for society, we are faced with a once in a generation opportunity to carve out a distinctive leadership for Pennsylvania as the frontier for innovation and job creation," said Jahanian. "By launching the Office of Transformation and Opportunity, Gov. Shapiro has underscored his commitment to accelerating Pennsylvania's competitiveness as a destination for businesses and entrepreneurs. Pennsylvania has all of the core assets of a dynamic innovation ecosystem and through the visionary leadership of the Shapiro-Davis administration, we will be better positioned to leverage these resources to expand the geography of innovation and bring opportunities to both urban and rural areas across the state. The higher education community is energized to support the governor's bold vision for shaping Pennsylvania's future."
CMU is continuing its long legacy of contributions to public service. The university's faculty and staff serve as thought leaders and advisers helping to shape the national research and education agenda. They frequently testify before Congress and are also regularly tapped to serve at the highest levels of government.
Recently, on Jan. 12, Rick Siger(opens in new window), former chief of staff and senior adviser to the president at CMU, was nominated to serve in the Shapiro-Davis administration as secretary of Community and Economic Development for the Commonwealth.
To view photos and video from the event, please visit PAcast(opens in new window).
Government needs to work more quickly. My Executive Order makes clear: Pennsylvania is open for business — and we are going to be a leader in economic growth, job creation, and innovation.⁰⁰https://t.co/whLfUoz6Dv

— Governor Josh Shapiro (@GovernorShapiro) January 25, 2023