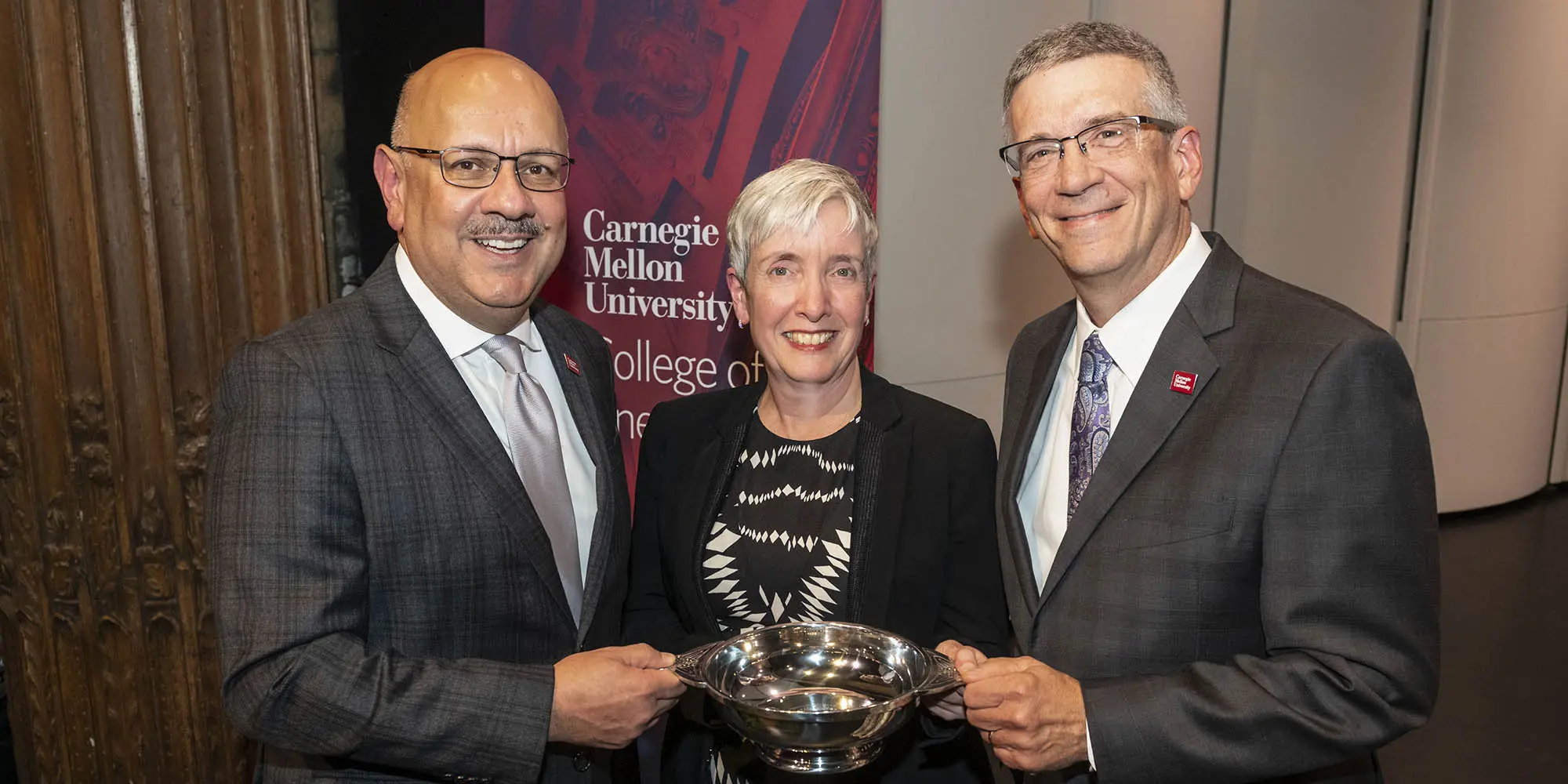 October 3, 2022
Installation Ceremony Officially Welcomes CFA Dean, Heads
Media Inquiries

Name

Pam Wigley

Title

College of Fine Arts
Mary Ellen Poole(opens in new window) was officially installed as Carnegie Mellon University's 13th Stanley and Marcia Gumberg Dean of the College of Fine Arts(opens in new window) (CFA) in Kresge Theatre on Thursday, Sept. 29. CFA also welcomed new heads in the schools of architecture, drama and music at the afternoon ceremony, which was attended by a large crowd of family, friends, colleagues and students.
Provost James H. Garrett Jr.(opens in new window) called the event "a true celebration of the arts" during a week that CFA announced the Miller Institute for Contemporary Art's future move(opens in new window), the dedication of the Jill Watson Studio in the School of Architecture, and the dedication of the Joseph Ballay Center for Design Fusion.
Before her own installation, Poole, who joined the college slightly more than a year ago from the University of Texas at Austin, introduced and welcomed three new heads to the CFA family.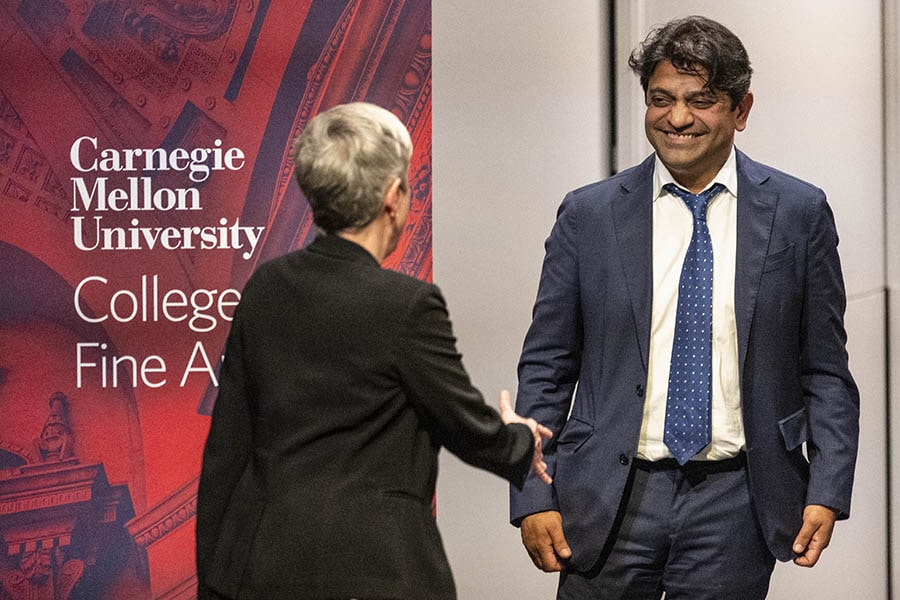 , head of the School of Architecture(opens in new window), joined the college in fall 2020, just as the COVID-19 pandemic was causing restrictions related to in-person classes and events. Khan, who came from the Department of Architecture at the University at Buffalo, The State University of New York, overcame the challenges the pandemic brought and began working on ways to expand research and develop new curricula, among other focal points.
"We in the School of Architecture are always looking to the future, and we have a common mission to ensure our students succeed," he said. "We will continue to build upon the foundation and programming we currently have, and we will increase our focus on three primary areas: climate change, artificial intelligence and social justice."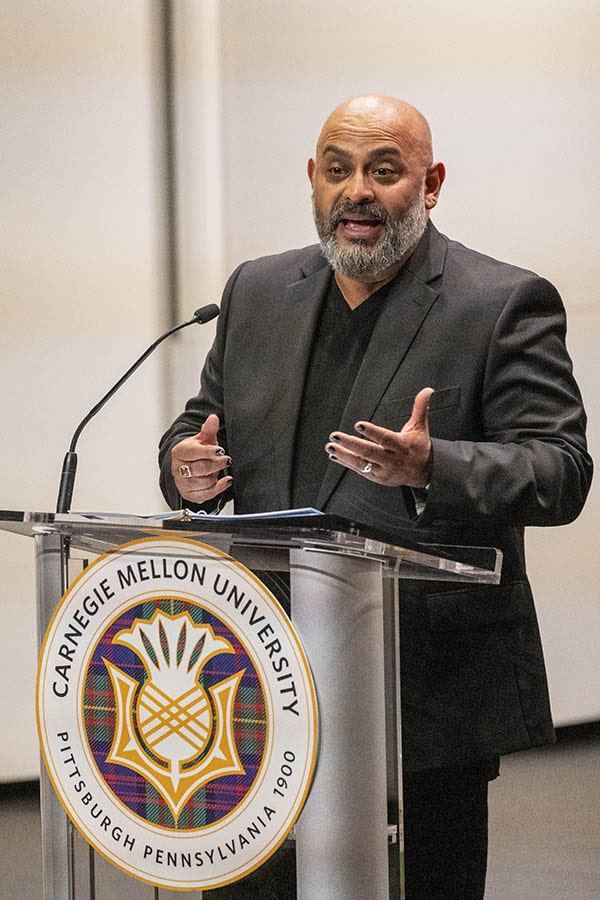 New Head of the School of Drama(opens in new window) Robert Ramirez(opens in new window) in an emotional speech first credited his many teachers for helping him to achieve success in his chosen field. He talked about being a first-generation college student, a Mexican-American growing up in one of Los Angeles' poorest neighborhoods, never imagining he would one day lead the drama department.
"I call my journey to this stage nothing short of miraculous," said Ramirez, who came to CMU from the University of Texas at Austin. When he learned he would be joining the university, one of his first calls was to mentor and teacher at the University of Delaware, Sanford Robbins, himself an alumnus of the CMU School of Drama. "'Robert,' he said, 'I am so proud that you will be teaching young people and leading them into the future,'" Ramirez said, quoting Robbins' response to the news.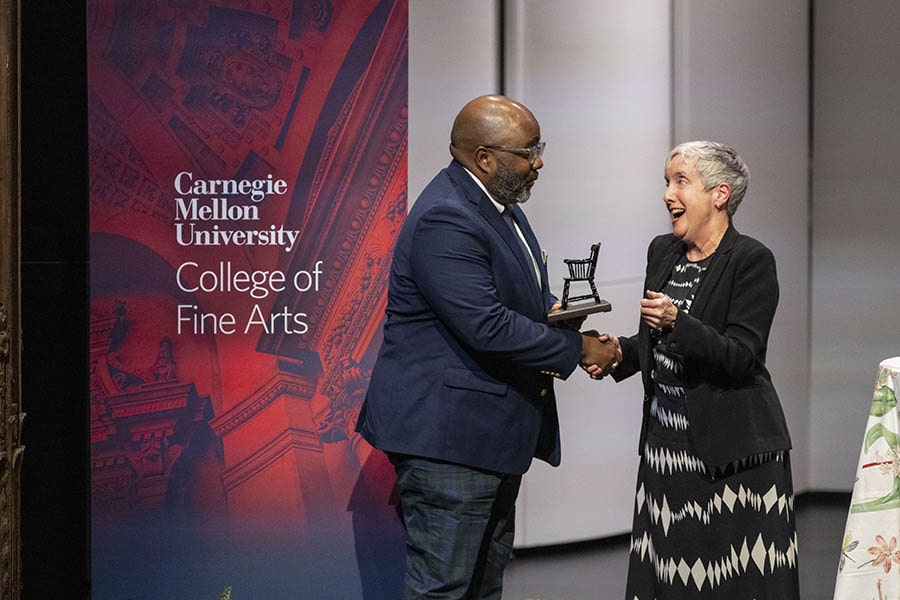 , the Jack G. Buncher Head of the School of Music(opens in new window), joined CFA from Boston Conservatory at Berklee. He took the stage and first thanked the Buncher Foundation for their support of the school and his chair. For Holland, coming to Pittsburgh was something of a return to his roots. His grandfather grew up in Wilkinsburg and graduated from the University of Pittsburgh, later building a dental practice in East Liberty. Holland received his grandfather's baby grand piano (circa 1930), which now sits in the living room of his home.
"I am grateful for the opportunity to join the School of Music, to continue to shepherd the great work of our students and to focus on the inclusivity of all who join us here," he said.
Garrett and Carnegie Mellon President Farnam Jahanian(opens in new window) closed the day's activities by welcoming Poole back to the stage for her own installation. Jahanian presented Poole with a "quaich," (pronounced quake) a Scottish drinking vessel that traditionally signifies welcome. He introduced her to the audience as the 13th CFA dean amid a standing ovation.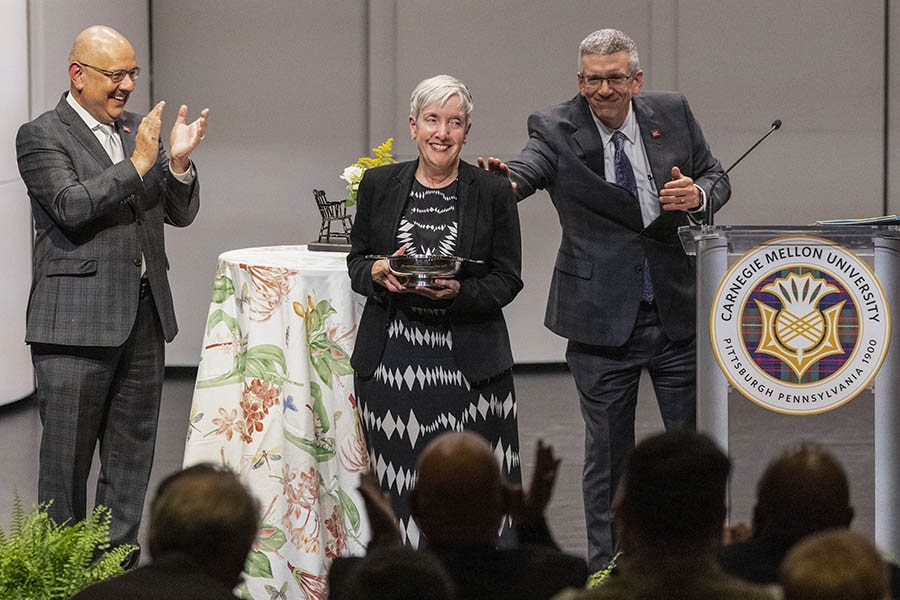 Mary Ellen Poole holds a quaich while receiving a standing ovation, standing with Farnam Jahnian, left, and James H Garrett Jr., right.
"Mary Ellen has already demonstrated her commitment to the critical role that creativity and interdisciplinary collaboration play in the fabric of our campus," he said. "She brings an unwavering commitment to excellence, as well as a dedication to diversity, inclusion and respect. Under Mary Ellen's leadership, I am confident that the College of Fine Arts will continue to set the standard for artistic and creative excellence in both education and research."
Poole in her remarks chose to use the words of legendary dancer Martha Graham when describing the CFA environment and the culture of striving to be better, to move forward and to move with fluidity upon facing change.
"There is no satisfaction whatever at any time. There is only a queer, divine dissatisfaction, a blessed unrest that keeps us marching and makes us more alive than the others."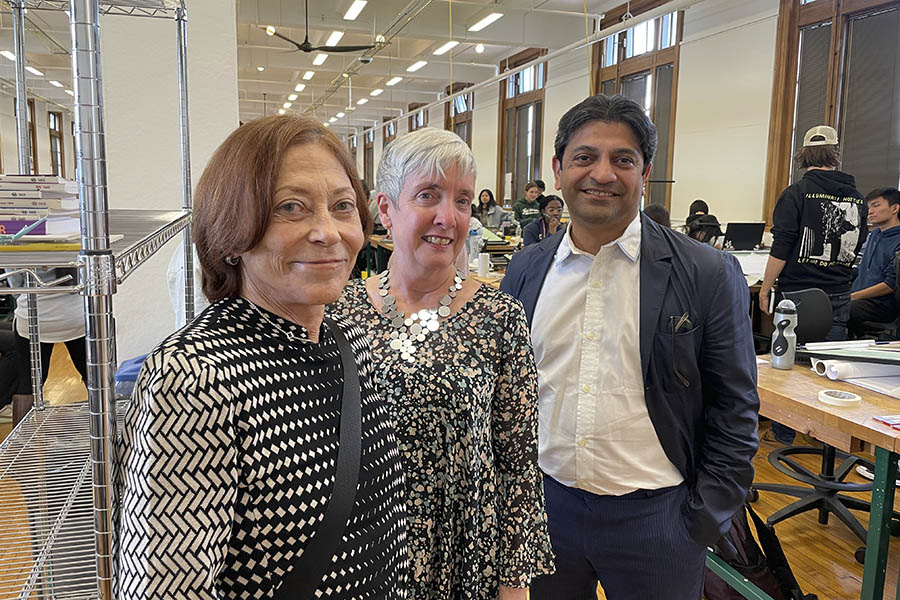 (opens in new window)
The last week of September was filled with several major dedications within CMU's�
College of Fine Arts. Learn more(opens in new window)