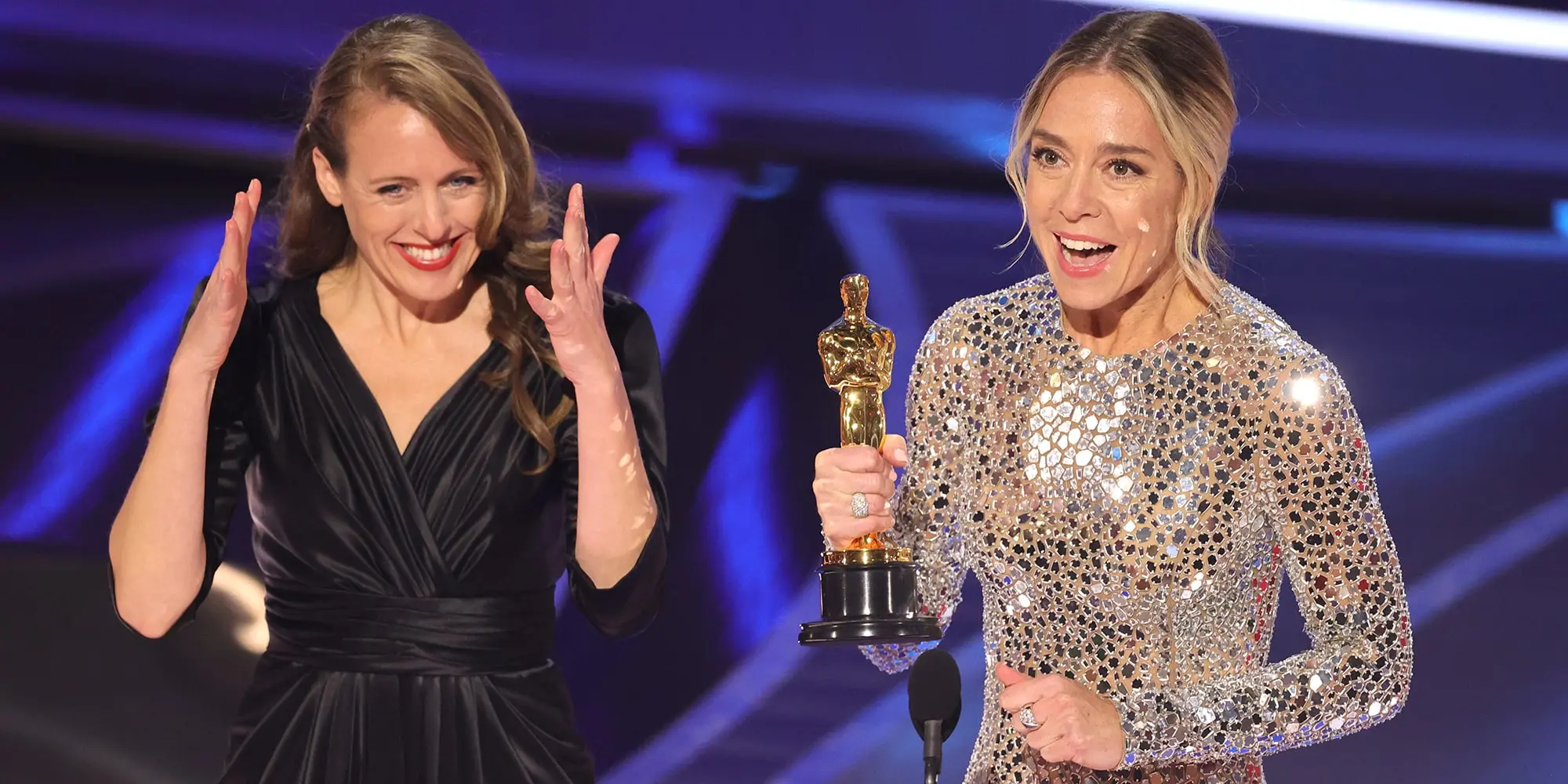 March 28, 2022
CMU Alumna Takes Oscar Gold
Media Inquiries

Name

Pam Wigley

Title

College of Fine Arts
The 94th annual Academy Awards ceremony was a big night for what's been called "the little movie that could." "CODA," written and directed by Carnegie Mellon University School of Drama(opens in new window) alumna Siân Heder, won Best Picture and Heder took home the award for Best Adapted Screenplay.
"Writing and making this movie was truly life-changing as an artist and as a human being," said Heder in her acceptance speech.
And the Oscar for Best Adapted Screenplay goes to Siân Heder for 'CODA.' Congratulations! #Oscars pic.twitter.com/82Ba3nUVfQ

— The Academy (@TheAcademy) March 28, 2022
The film has proved an industry darling since its Sundance Film Festival premiere in 2021, where it was awarded both the U.S. Grand Jury Prize and the U.S. Dramatic Audience Award; and Heder won Best Director in the U.S. Dramatic section. Following a bidding war for the film's rights, it was acquired by Apple for $25 million — a festival record.
Since then, it has received some of the film industry's highest accolades, including Best Picture at the Hollywood Critics Association Awards, Best Feature Film by the Producers Guild of America, and was honored among the year's top films at the AFI Awards. Heder won Best Adapted Screenplay from the Writers Guild of America, Hollywood Critics Association and the British Academy of Film & Television. 
"CODA" (which is the term for "Child of Deaf Adults") is adapted from the 2014 French film "La Famille Bélier," about the hearing daughter of Deaf parents who breaks away from her family to pursue her dreams of singing. 
"My research process was intense," said Heder in a recent interview with her former CMU acting professor Ingrid Sonnichsen. "There was a lot of sensitivity with the Deaf community. As someone who was not inside that community, I felt an enormous responsibility in how to tell the story and do it justice, and present these characters in a loving, respectful way that the community can be proud of."
She continued, "My approach to the project was, because I am an outsider, I have to know what I don't know. I have to surround myself with people who have lived it, and who are equal creative collaborators who have a real voice in the process from the very beginning."
"Writing and making this movie was truly life-changing as an artist and as a human being," — Siân Heder
The company of Deaf artists that worked on "CODA" includes Marlee Matlin, who plays the matriarch, 31-year-old newcomer Daniel Durant as her son, and as her husband, theater veteran Troy Kotsur, who took home the Oscar for Best Actor in a Supporting Role. On set, Heder also worked with Deaf actors Alexandria Wailes and Anne Tomasetti, who served as American Sign Language (ASL) consultants.
The Tony Award-winning Deaf West Theatre recently announced that it will develop a musical adaptation of "CODA" for the stage. Deaf West's mission is to "engage artists and audiences in unparalleled theater and media experiences inspired by Deaf culture and the expressive power of sign language, weaving ASL with spoken English to create a seamless ballet of movement and voice." Deaf West is also where Heder first discovered Kotsur.
In his acceptance speech, which he delivered in ASL, Kotsur referenced Steven Spielberg who said that the best directors are skilled communicators. "Siân Heder," Kotsur signed, "you are the best communicator. And the reason why is you brought the Deaf world and the hearing world together, and you are our bridge."
Sian Heder accepts the Writing (Adapted Screenplay) award for 'CODA' onstage during the 94th Annual Academy Awards on March 27 at the Dolby Theatre in Hollywood, California. (Photo by Neilson Barnard/Getty Images)
Oscar Honors
Members of the Carnegie Mellon University communityhave received 13 Academy Awards to date. They include:
Kiran Bhat, School of Computer Science 2004
Technical Achievement, 2017
For the design and development of the ILM facial performance-capture solving system
Awarded jointly with Michael Koperwas, Brian Cantwell and Paige Warner
Siân Heder, College of Fine Arts 1999
Best Adapted Screenplay, 2022
"CODA"
Holly Hunter, College of Fine Arts 1980
Best Actress in a Leading Role, 1993
"The Piano"
Drew Olbrich, School of Computer Science 1992
Technical Achievement, 2013
For creating the Light system for computer graphics lighting at PDI/Dreamworks
Awarded jointly with Lawrence Kesteloot and Daniel Wexler
Iain Matthews, School of Computer Science Adjunct Faculty
Technical Achievement, 2017
For the design, engineering and development of the FACETS facial performance capture and solving system at Weta Digital
Awarded jointly with Luca Fascione and J.P. Lewis
Ann Roth, College of Fine Arts 1953
Best Costume Design, 2021
"Ma Rainey's Black Bottom"
Best Costume Design, 1996
"The English Patient"
John Schlag, College of Engineering, 1983
Scientific and Engineering Award, 1996
For the development of the Viewpaint 3D Paint System for film production work
Awarded jointly with Brian Knep, Zoran Kacic-Alesic and Thomas Williams

Stephen Schwartz, College of Fine Arts 1968
Best Music, Original Song, 1998
"When You Believe" from "The Prince of Egypt"

Best Music, Original Musical or Comedy Score, 1995
"Pocahontas"

Best Music, Original Song, 1995
"Colors of the Wind" from "Pocohontas"

Richard Shoup, College of Engineering 1965, School of Computer Science 1970
Outstanding Achievement in Engineering Development, 1983
For concept and development of the first electronics graphics creative system
Awarded jointly with A.R. Smith and T. Porter
James R. Swartz, Tepper School of Business 1966
Best Documentary Feature as producer, 2018
"Icarus"
Awarded jointly with Bryan Fogel, Dan Cogan and David Fialkow