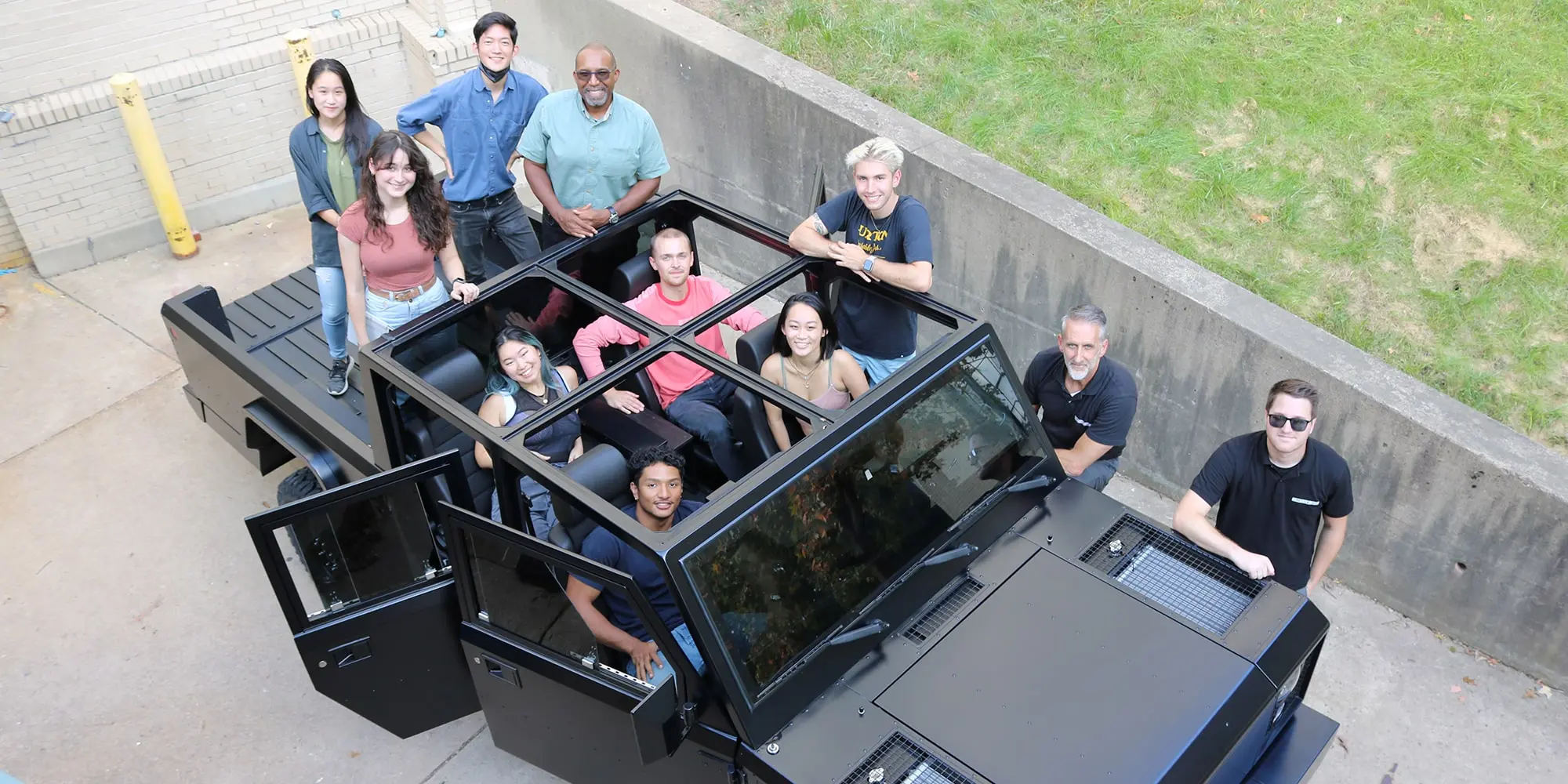 January 21, 2022
Design Students Envision New Ways to Provide Relief in a Water Crisis
The studio teamed with alumnus-run Bollinger Motors on a mobile water-filtration systems project
Media Inquiries

Name

Pam Wigley

Title

College of Fine Arts
Jackson, Mississippi, faced a dire water crisis earlier this year. After two major storms brought freezing temperatures to the state capital, its aging water system couldn't take it and pipes burst. For nearly five weeks of February and March 2021, thousands of residents were under a boil-water advisory.
Eric Anderson(opens in new window), an associate professor in Carnegie Mellon University's School of Design(opens in new window) and a senior associate dean in the College of Fine Arts(opens in new window), wants to inspire new thinking and innovation through design to provide solutions to help cities handle future water crises like this one.
Junior design students checked out a Bollinger B2 truck last fall. The truck was brought to campus by CMU alumnus Robert Bollinger.

Design students teamed up with Bollinger Motors for a course assignment.
"Jackson, Mississippi, Flint, Michigan, and numerous other U.S. 'legacy cities' represent a shrinking and crumbling rust belt or postindustrial cities where water treatment and waste management infrastructure systems were built a century or more ago," Anderson said. "The residents, particularly the poor, regularly experience active water crises that are unaddressed because of political battles and limited resources for infrastructure investment."
Anderson sees an opportunity to complement crisis relief efforts to residents who are stuck in the middle.
In partnership with Bollinger Motors, the eight students in his fall Product Design 3 course worked on envisioning first responder mobile water filtration systems to deliver drinking and cleaning water to residences within the first 48 hours of a crisis — filling the gap until larger emergency response systems and organizations come online. Bollinger Motor's B2 vehicle platform provided an opportunity to think about scenarios where power was not an issue and the unit was not bound by terrain obstacles.
CMU alumnus Robert Bollinger is CEO of the company, based in Oak Park, Michigan, and traveled to Pittsburgh several times to provide mentorship. He said the students worked in the same studio where he pulled all-nighters.
"To come back to this exact spot with something I've done in my professional life and interact with students is really a wonderful opportunity for me," he said. "It brings this all full circle."
The company is working toward releasing its first vehicle to market; an all-electric, on- and off-road truck known as the B2. The truck is essentially a giant battery that can be used to power machines and devices, and the flexibility of the vehicle's design offers modular opportunities for customizable platforms.
"When we were first talking about what kind of project we wanted to do on the truck, it had to do a bigger meaning or better purpose," Bollinger said. "The idea of this water filtration system and the way they fulfilled it, it definitely makes me think: what could we do, how could we integrate this into our trucks?"
Bollinger and other company members brought a B2 truck to CMU in October for a few days so that students could experience it and understand the vehicle's capabilities. Students then built a full-size buck, or model, in the studio to help them conceptualize and develop their water filtration and delivery prototypes properly.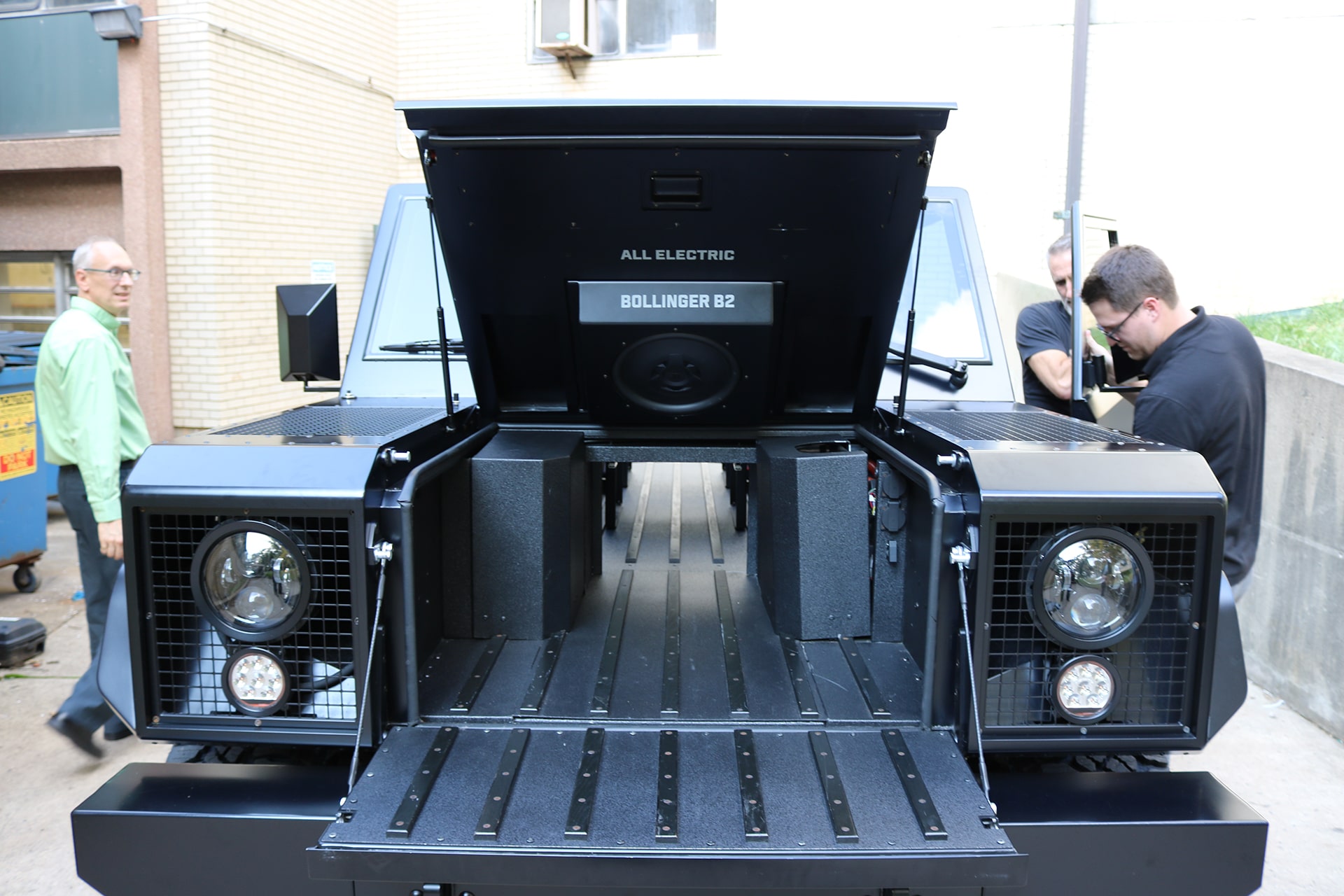 Students took advantage of Bollinger MotorsB2 truck design features such as a patented pass-through channel to create innovate water filtration and delivery systems.
The project scenario conceptualized the Army National Guard would manage, deploy and lead in the operations of five B2 water filtration units stationed in the Jackson area. Each of the two student teams — one focused on drinking water and the other clean water for cleaning and toilet flushing — were challenged to design a system that delivered minimum water needs to 12,000 people within 48 hours. Students selected areas of primary responsibility across the requirements of water collection and filtration, packaging and distribution. As teams, they worked to understand the human and functional needs of the system, integrate them into a cohesive narrative, and design in detail their individual components.
Joseph Kim, a junior in industrial and product design(opens in new window) with a minor in human-computer interaction(opens in new window) said teamwork was an important aspect of the project.
"All of our design decisions informed one another," he said. For example, if one component needed more space, another needed to be scaled back. Kim focused on creating collapsible, reusable containers that could stack easily for storage but still be rigid when full. "The biggest take away for me was learning to embrace ambiguity during the design process. At times, it was challenging to define the scope. But what really helped me was to continuously make, draw and 3D model at the same time. Doing that process over again and again helps you learn so much."
Holly Liu, a junior in industrial design with an IDeATe(opens in new window) concentration in soft technologies(opens in new window), said that this was the first time the students were designing something grounded with real-world considerations, such as researching what kind of plastics are ok to store water in or how to create a system to carry water to individual residents without overtaxing a volunteer's back by carrying too much weight.
"It was really great to dive into doing real world research. It gives you a nice framework to work off of," she said.
She said the truck's modular design provided unexpected benefits.
"You can remove the doors and seats and exchange out parts. Putting a giant filtration system that's 4x4x2 feet into a truck is not a very easy thing," she said. "We were impressed by the size to put it in a truck, and the groups pushed the limits on the amount of water we could provide."
Tate Johnson is a junior in industrial design with an IDeATe minor in physical computing(opens in new window). He came to CMU with an interest in mobility and for the past two years he's been a member of CMU's electric race car team(opens in new window) and has worked as a research assistant in the Morphing Matter Lab(opens in new window) in the Human-Computer Interaction Institute.(opens in new window)
His team was responsible for creating a pumping and filtration system to provide water to homes for uses such as cleaning, bathing and flushing toilets. Their design took advantage of the patented pass-through channel that runs from the front to the back of the truck.
"I knew I wanted to study industrial design and I wanted multidisciplinary opportunities," Johnson said. "There's been lots of different cross-university technology, engineering experiences that are difficult to find anywhere but CMU."
Johnson said the students are very thankful for all of the work Anderson and the Bollinger team put into making the collaboration a success.
"Robert and his team have been very gracious with their time and support coming out to visit. It's been awesome to present to them, and we're all very grateful for the experience," he said.