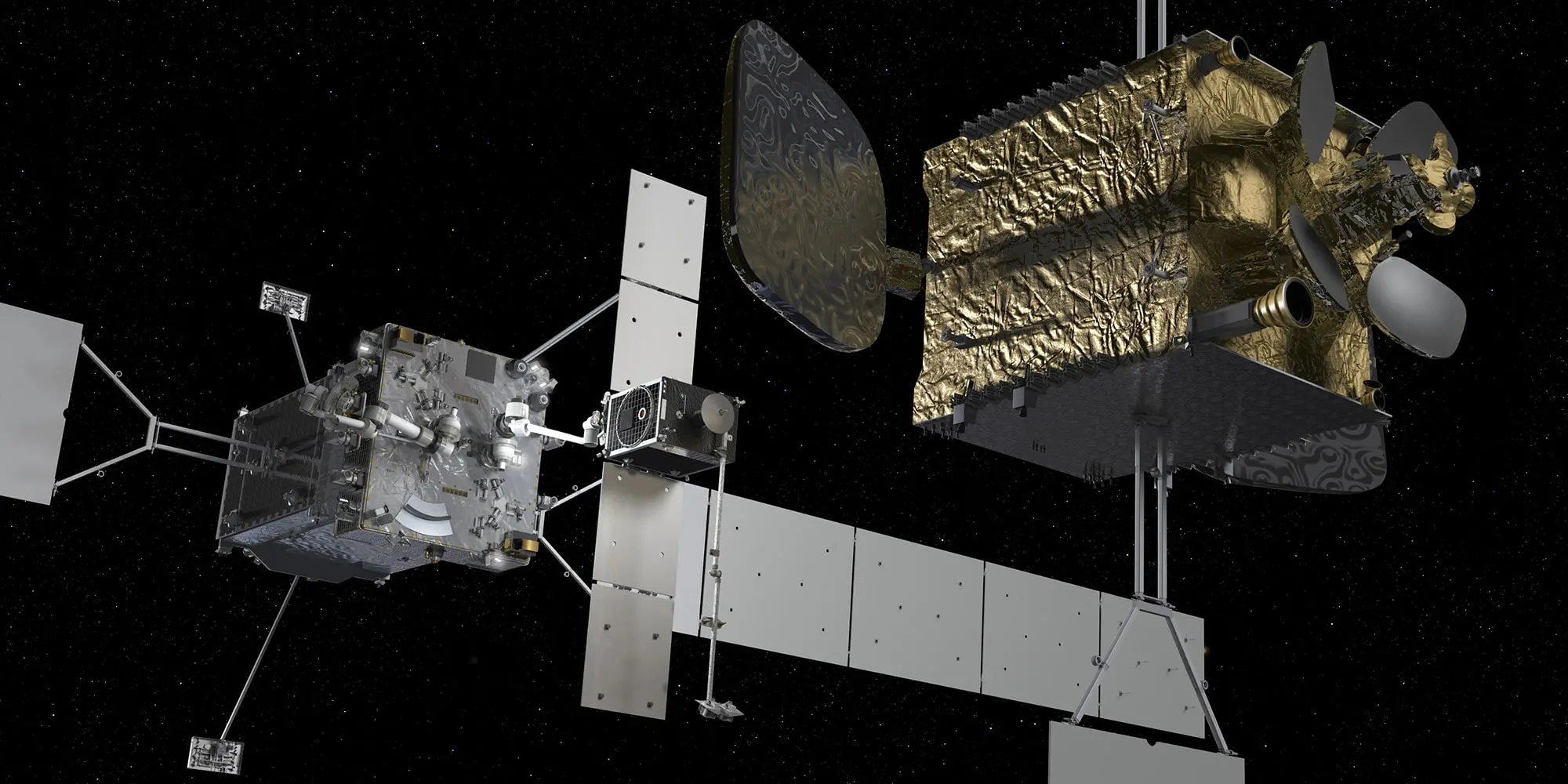 January 18, 2022
CMU-Led Research Team Selected To Develop Robotics Technology To Service Satellites, Build Structures in Orbit
Media Inquiries

Name

Aaron Aupperlee

Title

School of Computer Science
There are 6,500 satellites in orbit, but only about half of them are functional. Once a satellite breaks down or runs out of fuel, it is essentially useless. Repairs, maintenance and upgrades are nearly impossible in orbit.
It's launch once, use once.
But as satellites have become more robust, their operators often find that fleets outlast their projected lifespans and need new technology, repairs, refueling or maintenance to stay competitive, relevant and operational.
Researchers from Carnegie Mellon University will head a consortium selected by the Air Force Research Laboratory (AFRL) and the Air Force Office of Scientific Research (AFOSR) to pioneer research into robotic inspection, maintenance and manufacturing of satellites and other structures while in orbit. Led by principal investigator Howie Choset(opens in new window) (left), CMU will collaborate with researchers at the University of New Mexico, Texas A&M, and Northrop Grumman Corporation to develop systems for intelligent inspection, dexterous maintenance and agile manufacturing of satellites in space.
"This is an incredible opportunity to work together toward an ambitious goal," said Choset, a professor in the Robotics Institute(opens in new window) at CMU's School of Computer Science(opens in new window). "No one knows how to refuel spacecraft such as satellites and telescopes. If we're successful, we will."
The work will require expertise in artificial intelligence, hard and soft robotics, additive manufacturing, astrodynamics, estimation theory, control, and space systems. Researchers intend to further develop existing technologies related to self-deployable construction tools, decentralized autonomy, attaching new components to existing structures while in orbit, and intelligent and interactive inspection.
"Our vision for basic and applied research will open a new frontier of opportunities to maximize the utility for satellites and other in-orbit assets by prolonging, enhancing or augmenting their mission capabilities," Choset said. "This ushers in a new era of satellite capabilities and configurations that will transform the future of space operations."
AFRL and AFOSR selected the CMU-led consortium's proposal, "Breaking the 'Launch Once, Use Once' Paradigm," as part of the newly established Space University Research Initiative (SURI). The University of Buffalo will lead a team from Penn State, Georgia Tech, MIT and Purdue in a second SURI proposal focused on tracking and gathering information on objects in space. Each proposal is eligible for up to $1 million in funding per year for three to five years.
CMU's efforts will be led by Choset and Matt Travers(opens in new window) co-directors of the Robotics Institute's Biorobotics Lab(opens in new window); and Carmel Majid(opens in new window)  a professor of mechanical engineering in CMU's College of Engineering(opens in new window) who specializes in soft robotics. They will build on previous work by Choset and Travers with Northrop Grumman that evaluated robotics and AI for servicing satellites while in orbit and conducting assembly and manufacturing tasks in space.
Northrop Grumman has already had success with its Mission Extension Vehicles, the first that can dock with orbiting satellites with exhausted fuel supplies and provide propulsion and pointing control — extending their useful service lives. CMU previously partnered with the company on the next generation of satellite-servicing vehicles by assisting with vehicle dynamics in Northrop Grumman's rendezvous, proximity operations and docking lab.
"Servicing satellites in orbit will soon become vital to the operations of government and commercial missions," said Andy Kwas, a Northrop Grumman fellow and engineering systems architect. "Our goal is to develop and transition critical concepts from this consortium to further revolutionize technologies for both government and commercial use. This three-way partnership among academia, government and industry will help play a critical role in enhancing Department of Defense-relevant capability in the space domain."
The University of New Mexico's Agile Manufacturing (AgMan) Lab, a joint effort between the university and AFRL, provides state-of-the-art robotics and automation equipment aimed at creating on-orbit advanced manufacturing. The lab is directed by Professor Rafael Fierro in the Department of Electrical and Computer Engineering in the School of Engineering, who will lead the university's contributions to the consortium. Fierro's research includes advanced robotic manipulation for space operations.
"The AgMan Lab and Fierro's group make an ideal partner to transition technology into the Air Force," Choset said.
Manoranjan Majji, an associate professor of aerospace engineering, will head Texas A&M's contributions. The university's Land Air and Space Robotics Lab has decades of experience in satellite rendezvous, docking and proximity operations and best-in-class ground robot emulation.
CMU has two other active Texas A&M collaborations that will contribute to the SURI project.
More information about SURI is available on AFRL's website(opens in new window).
In this rendering of the Mission Robotic Vehicle (MRV) from Northrop Grumman, the MRV is using its robotic arm to attach a service a satellite. Credit: Northrop Grumman
NASA Mission To Test Technology for Satellite Swarms
Carnegie Mellon's Zac Manchester leads a three-satellite experiment.
January 21, 2021
100 Maps From CMU's EarthTime Chart Humanity's Greatest Chal
A new book includes satellite maps and data visualizations by the CREATE Lab's EarthTime team.
September 3, 2020
CMU Leaves Marks on Mars
Perseverance's mission on Mars includes more than a dozen CMU graduates.
May 7, 2021