April 27, 2021
Students Give Buggy New Push
By Michael Henninger mhenninger(through)cmu.edu
Media Inquiries
Jason Maderer
Marketing and Communications
For the past century
, Carnegie Mellon University's
Buggy
— also known as Sweepstakes — has only halted race day twice: during World War II and last year due to the COVID-19 pandemic. Neither kept the brakes on for long. A modified race day returns this weekend, May 1-2, as a dedicated group of student racers strive to keep the long-held tradition rolling.
Absent the cheers of adamant fans, Buggy will hold timed rolls — or heats — with numerous COVID-19 safety precautions in place. The students behind the resurgence cite the sport's uniqueness as reason to find time during an already shortened spring semester.
"Buggy is unlike anything else. There's no way that you can sit down and read a book and know how to do it," said Tishya Girdhar, this year's Sweepstakes chair. "Buggy knowledge really comes through word of mouth — it's a really hands-on thing. Without practices, you really don't get that knowledge."
Girdhar, a fifth-year senior with dual majors in
neuroscience
and
statistics
, came to Carnegie Mellon hoping to be a part of a Buggy team. A former driver for Fringe, she returned to Pittsburgh from her home in New York State on a mission.
"Coming back, everyone had the mindset that we were going to find a way to make Buggy happen this year, no matter what," Girdhar said. "It's such a big part of our history, and we wanted to make sure it's also a part of our future."

Students discuss bringing back Buggy in 2021.
As chair of the
Carnegie Involvement Association
(CIA), one of the teams that competes in Sweepstakes, Ethan Husted works to keep his crew on track. Buggy was one of the reasons Husted, a junior studying
mechanical engineering
, decided to tour CMU — his mother had showed him video of races, and he was immediately interested.
"My mom went to business school here while she was pregnant with me. So, I guess I've technically attended classes twice," Husted said.
He's now focused on a successful year at CMU, the future of his team and how Buggy adds to the well-being of his crew.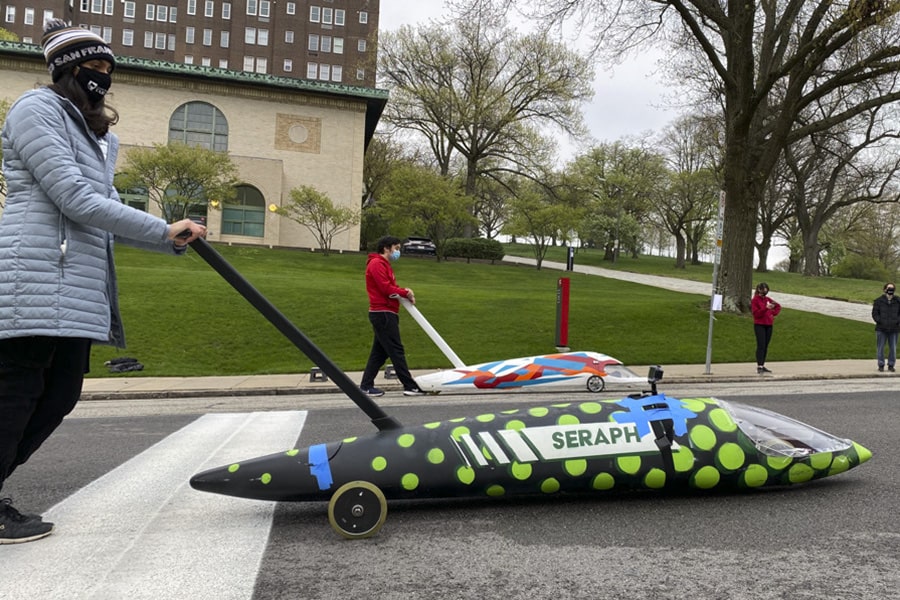 "Bringing Buggy back is critical to our team's mission. We pride ourselves on getting first-year students involved from the ground floor and exposing them to every aspect of our organization," Husted said. "Adding team Zooms to a day of classes can be difficult, but the thrill of getting outside, working with your hands and running the course like you used to can relieve a lot of stress. It's giving the new people a little bit of hope for how things will be as they return to normal."
A self-described adrenaline junky, buggy driver Mia Krishnamurthy feels at home hurtling down Schenley Drive at 30 mph inches off the ground. A sophomore with a double major in
biological sciences
and
international relations and politics
, Krishnamurthy joined Sigma Phi Epsilon's Buggy team last year. She has never competed in a race day due to last year's shutdown.
"I'm really glad we're having rolls and gaining more experience this year," Krishnamurthy said. "I would have felt really nervous if we had gone two years without Buggy. Basically, we'd have to relearn everything at that point."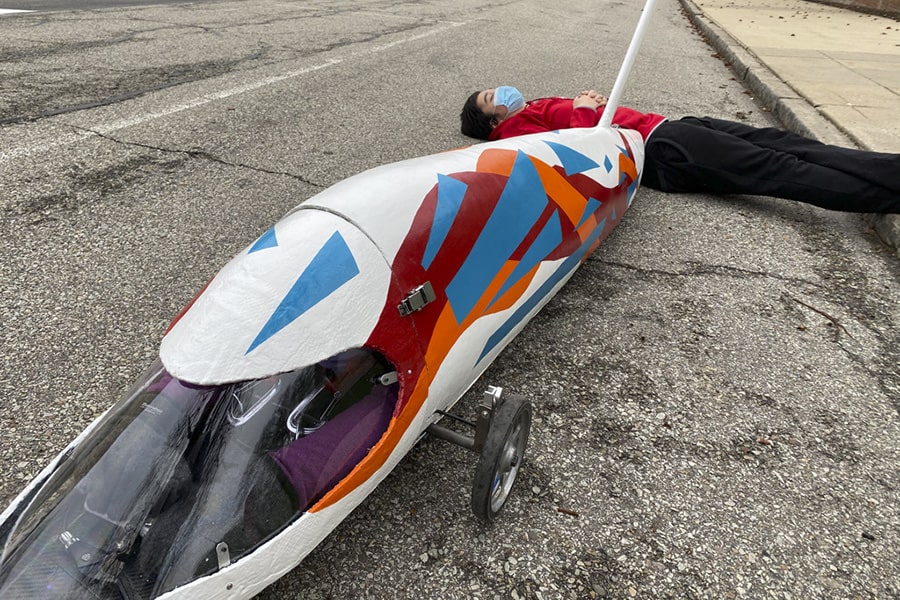 Krishnamurthy said that resuming Buggy was especially important for the younger teams, who don't have as extensive an alumni network to rely upon for base knowledge.
"The people who are graduating this year came into it helping us learn Buggy, and inspiring us to have the confidence to lead things in the future." she said.
As head mechanic for
Fringe
, James Wong is responsible for the design and modifications of any new buggy and for the day-to-day maintenance of the team's active vehicles. When last year's outbreak canceled the event, Wong, a junior studying mechanical engineering, started to document all the processes that his team would need to continue, should the shutdown keep Buggy off the track for an extended time.
"Even right now there are some things that are a little fuzzy because the last time we did it was two years ago," Wong said. "I've tried to get a lot of institutional knowledge down on paper to try and retain it better. There's just really no substitute for being able to experience this in real life."