October 18, 2019
CMU Celebrates Buggy Tradition of Skills and Thrills
Sweepstakes marks 100th anniversary this spring
By Bruce Gerson bgerson(through)cmu.edu
Media Inquiries
Jason Maderer
Marketing and Communications
It's quirky, it's different, and it's so Carnegie Mellon University, where the college experience is a little buggy.
Sweepstakes, better known as the Spring Carnival Buggy Races, will celebrate its 100th anniversary April 17-18, 2020. The CMU tradition is unlike any other.
Since the first Campus Week in 1920, when "chariots" were built to race around campus, student groups have been working year-round, using their engineering skills, design expertise and penchant for interdisciplinary collaboration to secretly build, modify and refine the most aerodynamic, torpedo-like vessel they call a "buggy."  
The buggies are pushed by a team of five pushers and steered by drivers often less than 5 feet, 3 inches tall, who lay prone, strapped inside the three-wheeled carbon fiber tube. The buggy is pushed up Hills 1 and 2 of Tech Street, roll freely — up to nearly 40 miles per hour— down and around Schenley Drive to the hard, right-hand turn on Frew Street, known as the "chute." From there, they are pushed up Hills 3, 4, and 5 to complete the 0.84-mile, or 4,418-feet course.
"Buggy doesn't exist anywhere else. It's a 100-year love of creation and collaboration," said Olivia Keller at dawn on the inaugural morning practice — called first rolls — in late September. "That the alumni network can be so involved, that they continue to be passionate about buggy long after they've gone is very telling of how amazing and special buggy is. It's part of the CMU experience," said the senior chemical engineering major, pusher and chair of this year's Kappa Kappa Gamma and Kappa Sigma teams. 
Ben Matzke is one such passionate alumnus. A 2011 mechanical engineering graduate, Matzke, former chair of the student group CIA (Carnegie Involvement Association), is chair of the Buggy Alumni Association's Centennial Planning Committee. He attended the first rolls to officially kick off the 100th anniversary season. 
"Buggy is a sport that encompasses all elements that CMU has to offer," he said. "Everything that goes into it, the challenge, the teamwork, the fun, the rewards. It's a real-life challenge working with a team. I learned to work together with people with different personalities and visions toward the same goal to make it happen."
"Buggy will be an activity and memory that will stick with me as a cool and unique thing that I'll carry with me forever." — Jacob Muskovitz
Tynan Tinley transferred to CMU last year, got involved with buggy and quickly became taken with the sport.
"You don't find this at any other school. It takes a lot, mechanics, drivers, pushers and a lot of organization," said Tinley, a mechanical engineering major and head mechanic for Sigma Phi Epsilon fraternity. "Everyone who's involved is passionate about it. I have the most fun with buggy. It's the coolest thing."
The Sigma Phi Epsilon team placed fourth in the men's division last year, and Tinley said he and his brothers are working on building a faster buggy. But, he won't say what the new features will be.
"You have to keep it secret," he said. "As soon as you get something good that nobody else has you want to keep that competitive edge."
Sophomore dramaturgy major Katy Zapanta is a second-year driver for Pi Kappa Alpha fraternity, but her ties to buggy span a lifetime. Her mother, Laura, was a driver for CIA, and her father, Conrad, was Laura's Hill 5 pusher.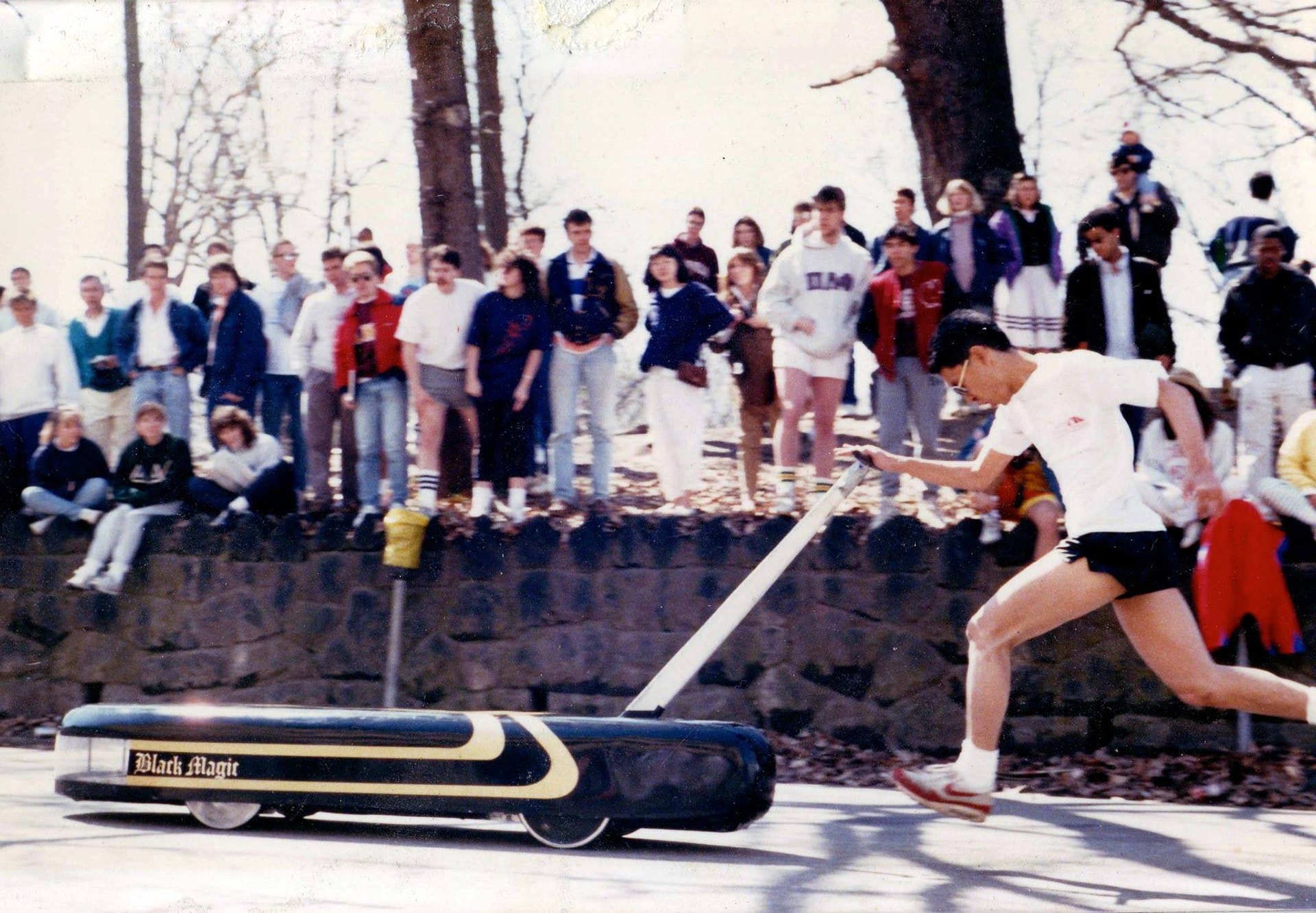 Conrad Zapanta pushes CIA's Black Magic up Hill 5 with his eventual wife, Laura, driving inside.

"Buggy is something that only a small fraction of people in the entire world have done and even a smaller fraction has been drivers," Katy said. "It's a thrill unlike anything else. It's like driving a rollercoaster.
"Buggy has always been a part of my family and it's part of who I am. And it's a huge part of what CMU is," said Katy, who drove Pi Kappa Alpha's buggy last year, which placed second by only .18 seconds.
Laura Zapanta, a 1989 graduate of the Mellon College of Science, is a biological sciences professor at the University of Pittsburgh. Conrad earned his bachelor's degree in mechanical engineering with an option in biomedical engineering, and is now associate head for undergraduate education and a teaching professor in biomedical engineering at CMU.
"Watching Katy drive on race day was much more nerve-wracking than actually driving," Laura said. "Katy and I compared our lines — how the buggy makes the turn into the chute and travels through to Hill 3 — and I do remember her asking if I had any advice. I don't recall everything I said, but I do remember telling her to have fun, to shake off the nerves and to enjoy the thrill of the ride — and of course not to be afraid to brake if necessary."
Conrad pushed Katy up Hill 5 in an exhibition heat last year.
"It's really cool how something like buggy can bring parents and their kids together," Conrad said. "It's even more special that I got to push Laura on Hill 5 in April 1989 and Katy on the same hill in April 2018. I was much slower 29 years later, but I enjoyed every second of it. I actually got a bit teary eyed as I pushed Katy over the finish line, but everyone who watched said that I did have a big smile on my face."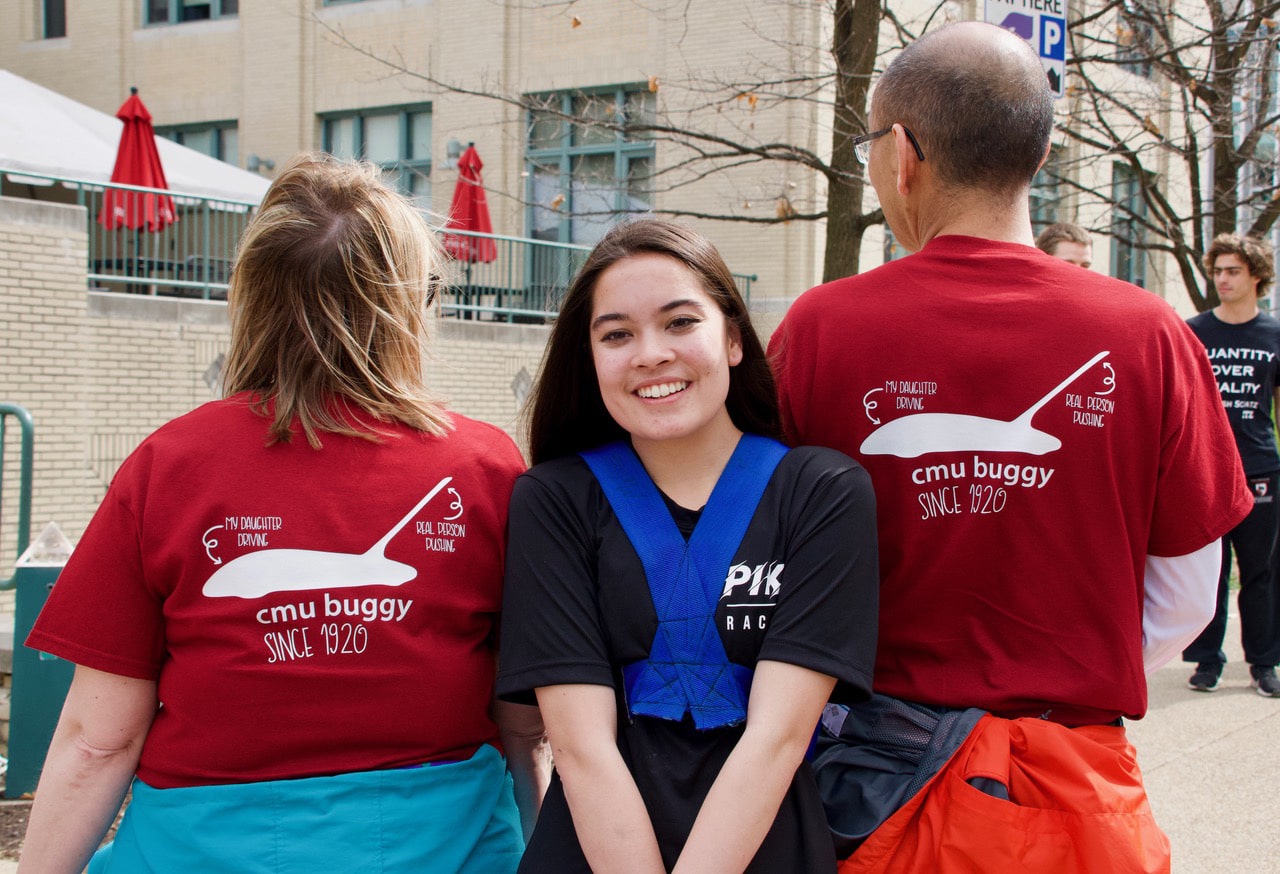 The Zapantas are a Sweepstakes family. Mother Laura was a driver and father Conrad was her Hill 5 pusher. Daugher Katy is a current driver for Pi Kappa Alpha.

Senior Jacob Muskovitz, assistant Sweepstakes chair, was attending his fourth first rolls.
"Seeing the amount of excitement going into our 100th year I think makes it one of CMU's greatest traditions," said the biology and social and political history major. "All of our alumni are excited and reaching out. There's a lot of cool stuff in the works and people are getting into celebrating the history."
Before becoming assistant chair, Muskovitz was a pusher for the Sigma Phi Epsilon fraternity team.
"Buggy will be an activity and memory that will stick with me as a cool and unique thing that I'll carry with me forever," he said.
Wood Rolls Down Memory Lane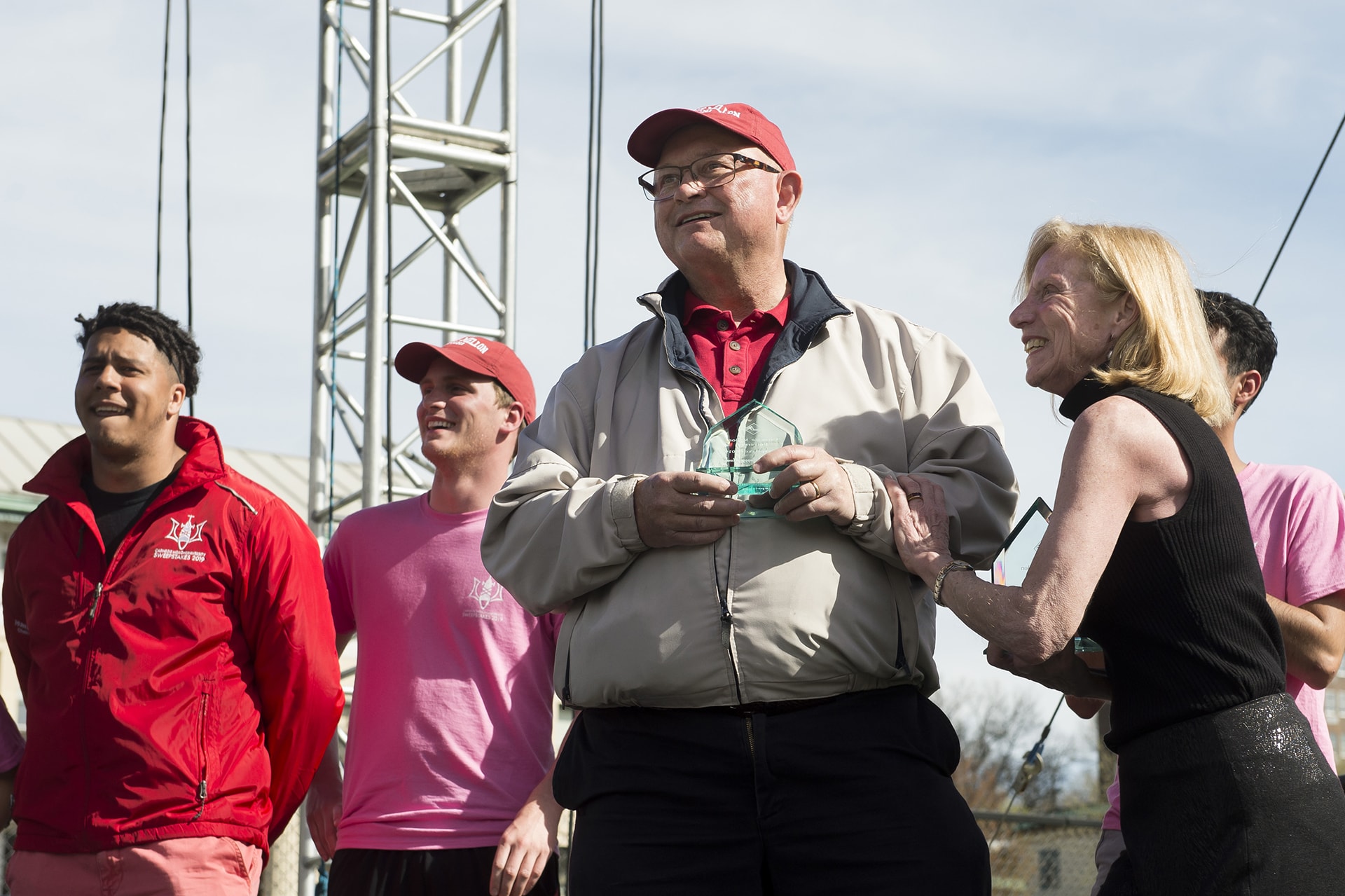 Alumni Tom Wood and Anne Witchner were honored for their longstanding impact on Sweepstakes last year. Witchner was presented with a Lifetime Chairman's Choice Award, and Wood received a Lifetime Spirit of Buggy Award. Beginning this year — Sweepstakes' 100th anniversary — the annual awards will bear their names.
Tom Wood is a CMU treasure. The 1974 materials science and engineering graduate and Pi Kappa Alpha fraternity brother hasn't missed a buggy race since 1969. The 100th anniversary this spring will be his 52nd consecutive Sweepstakes
Wood has been involved with the Buggy Alumni Association since its founding in 2008, and is CMU's buggy historian. He delivers presentations about the tradition during Homecoming and Spring Carnival.
Wood received an Alumni Association Distinguished Service Award in 2009, and last year was presented with a Lifetime Spirit of Buggy Award. Anne Witchner, associate dean of Student Affairs, received the Lifetime Chairman's Choice Award. The annual awards will bear their names beginning this year
"I love my brothers. I love the competition," he said at last spring's Sweepstakes awards ceremony.   
"Buggy is a testament to what our students are capable of," said Witchner, who was Sweepstakes adviser for more than two decades, and along with Wood helped to rewrite and institute stringent buggy safety rules and regulations after a 1986 fire in a buggy prep truck threatened to end the competition. 
"Buggy is a testament to what our students are capable of." — Anne Witchner
Woods' 277-slide PowerPoint presentation chronicles the history of Sweepstakes from its beginning in 1920 to present day. It includes archival photos, newspaper clippings and videos, and traces the evolution of the buggy, from the soap-box-derby-style, Delta Upsilon's "Fish" and Sigma Nu's "Toonerville Trolley," to the two-wheel bike-buggies and Alpha Tau Omega's "Golden Goose," the precursor to today's modern-day creations.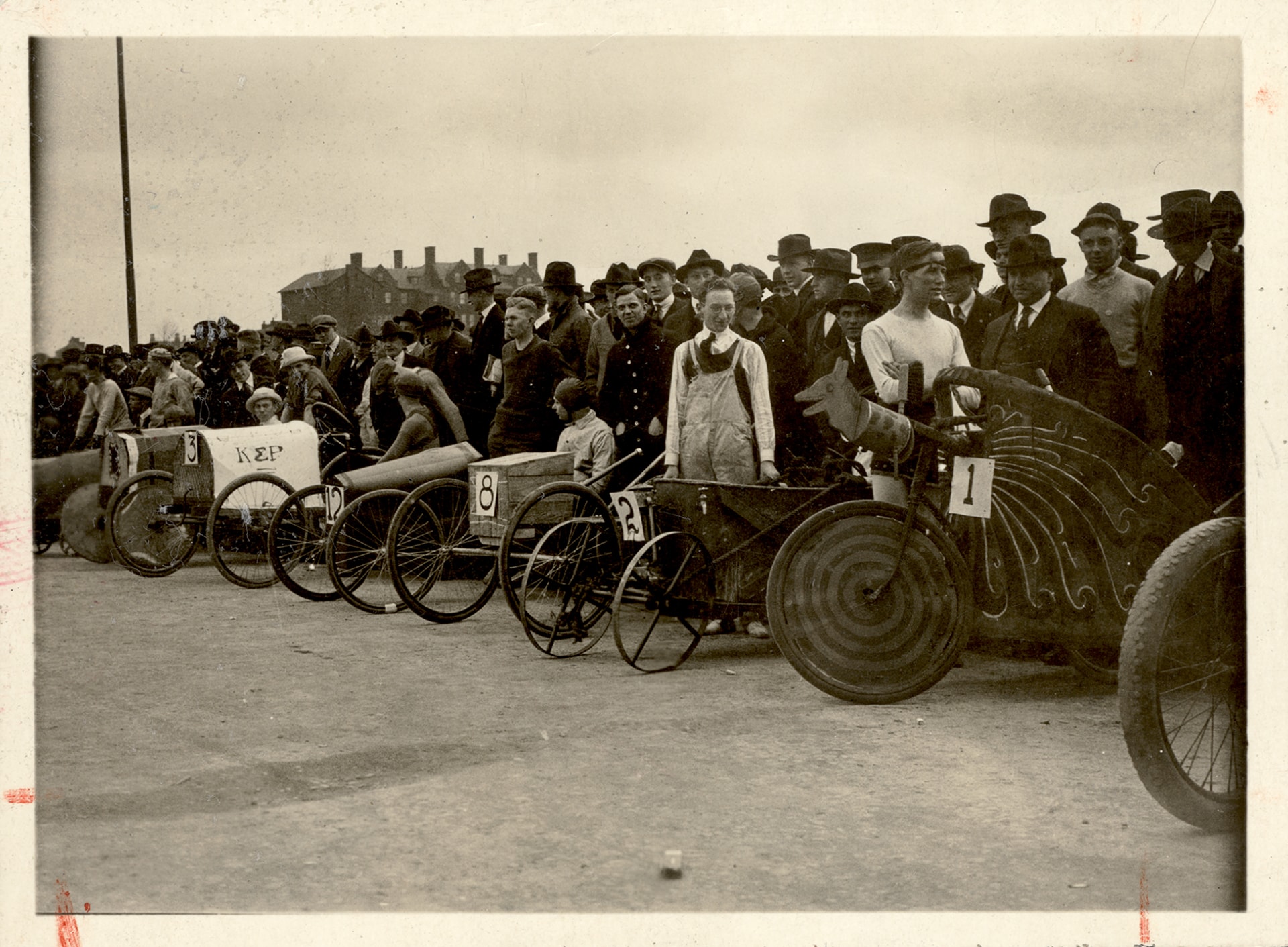 The early, early years of Sweepstakes
In 1981, CIA was the first non-fraternity team to win, and the first time a female driver was in the winner's circle — no male driver has won since. While women's heats were added in 1979, Kappa Kappa Gamma became the first all-women's organization to enter Sweepstakes in 2004.
Wood credits his fraternity brother, Ray Williams, for assuming his role as buggy historian. Williams asked Wood to present a history of buggy to the university community in honor of Williams' 40th reunion in 2006.
"It was standing room only," Wood said. "I have interviewed many people about their experiences – it began with the ATOs, Delta Tau Deltas and Beta Theta Pis. It has just kept growing. I have met so many wonderful people from almost all of the organizations during this adventure." 
Wood will present his "History of Buggy: Buggy 100-Year Anniversary" from 11 a.m. to noon, Saturday, Oct. 26 in the Cohon University Center's Connan Room.