October 28, 2019
CMU's Counseling Center, CaPS, Expands Services, Doubles Clinical Staff
By Katy Rank Lev klev(through)andrew.cmu.edu
Nationally, the Center for Collegiate Mental Health reports that counseling center utilization has increased by over 30% since 2009. Today's students, it would seem, are more likely to ask for support when they realize they need it.
"My sophomore year was really rough and I should have gotten help," said Andrew Conduff, a senior in electrical and computer engineering at Carnegie Mellon University. "But I also felt like adding another meeting would interrupt my ability to get things done."
Conduff eventually became so overwhelmed he visited CMU's Counseling and Psychological Services (CaPS). He met with a counselor weekly over the course of his junior spring semester.
"I really wish I had gone in earlier," he said.
During his appointments, Conduff gained a listening ear and tangible, actionable strategies to not only tackle his current stressors but make lasting changes. The results have helped make college a more positive experience.
Since 2016, Carnegie Mellon has heavily invested in CaPS. The university has increased full-time clinical staff by over 50 percent and more than doubled the funding and availability of contract clinical staff who offer additional clinical hours during busy times. The investments came from recommendations of the Task Force on the CMU Experience, and the improved service has been an important resource to many students like Conduff.
In fact, CaPS serves over 35 percent of CMU's student body at some point in their academic career, according to Executive Director Shane Chaplin.
"We used to be these shadowed places hidden in basements," Chaplin said, "but this generation is happy to tell you about their life coach, their mentor and their therapist."
Chaplin said the stigma has lifted from seeking guidance with mental health. CaPS offers sunny, comfortably furnished rooms where clinical staff have packed schedules offering short-term care to CMU's student body.
The expanded funding means students are able to get appointments more easily to help learn strategies for addressing anxiety or other challenges. Professional staff also are able to design outreach opportunities, by offering workshops and events teaching students important skills to approach their studies and interpersonal relationships before they reach a crisis.
Chaplin explained that CaPS has built a deep network of community resources ranging from community providers, to disability resources and specialized care. He said the center's new screening tool, Counseling Center Assessment of Psychological Symptoms (CCAPS) allows staff to better triage new clients and together with a clinical interview helps clinicians ascertain the best plan of care for each individual student. The CCAPS screening tool is a quantitative measure that also allows CaPS to track clinical progress.
Because CCAPS is a nationwide, evidence-based screening tool, Chaplin and CaPS clinicians can participate in data collection with over 160 counseling centers and use anonymized data to understand where CMU students fall in relation to national trends. The tool also helps CaPS prepare outreach programming.
"We want to drive home the importance of thinking practically about self-care," Chaplin said.
His hope is that students like Conduff won't need to struggle as much before reaching out for support. CaPS is working to improve existing collaborations with departments and colleges across the university to help students avoid crises.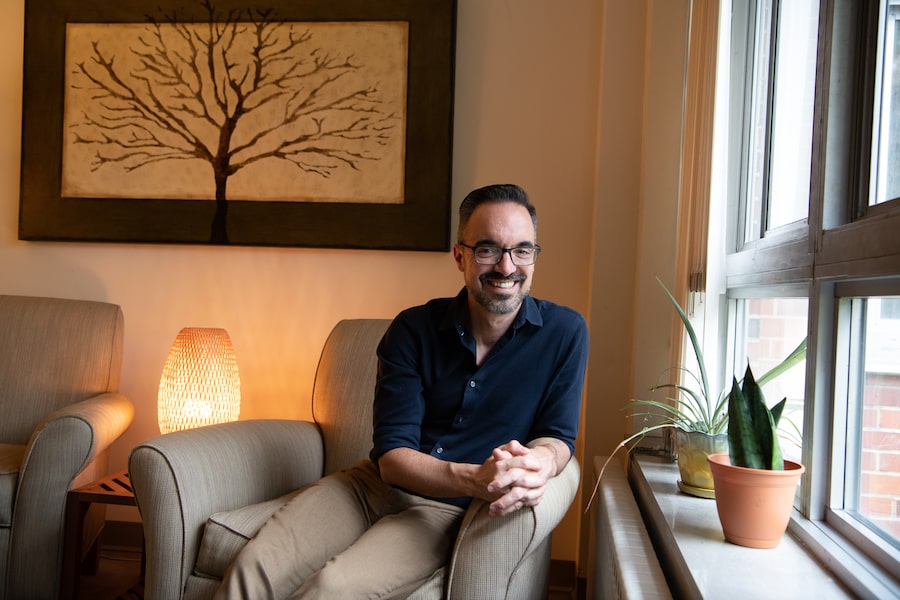 Shane Chaplin, Executive Director of CaPS
"We are in the process of engaging different colleges to think about the services they provide to students and focus on prevention — how each department takes care of its own students," Chaplin said.
The university's CaPS Outreach and Prevention Education (COPE) Team presented 134 events in the 2018-2019 academic year, impacting over 4,000 students.
"Intentionally building community engagement is something the staff have wanted to do for a long time," Chaplin said. "They've often felt our services were responsive rather than proactive."
Their team is delighted by the new capacity to offer the CMU community resources such as Question, Persuade, Refer (a two-hour training on suicide prevention Chaplin equates to CPR for mental health) and access to Kognito, an interactive role-play simulation for students, staff and faculty that builds awareness, knowledge and skills about mental health and suicide prevention.
"People can practice online as much as they'd like," Chaplin said, and "the program provides immediate feedback."
In the coming months, Chaplin said he hopes to complete an accreditation process for CaPS that will allow the university to bring in high-caliber doctoral students from around the country to serve as interns.
"CMU already has such a strong reputation," he said. "This accredited internship will create a competitive site that will benefit us tremendously in terms of what we can provide to our students."
Carnegie Mellon University is committed to educating, empowering and aligning its community around the world to address the Sustainable Development Goals, also known as the Global Goals, which aim to create a more peaceful, prosperous planet with just and inclusive societies. Recognizing the critical contributions that universities are making through education, research and practice, CMU publicly committed to undertaking a Voluntary University Review of the Global Goals. The 17 Global Goals cover wide-ranging issues, including reducing violence, ending extreme poverty, promoting equitable education, fighting inequality and injustice, advancing economic growth and decent work, and preventing the harmful effects of climate change by 2030.

The preceding story demonstrates CMU's work toward attaining Global Goal 3.