April 22, 2019
Life@CMU Measures Student Stress, Depression
Study to inform future student life initiatives
By Bruce Gerson bgerson(through)cmu.edu
Media Inquiries
Jason Maderer
Marketing and Communications
Carnegie Mellon University is turning to its strength in research to help enhance the student experience.
Commissioned by the Office of the Provost and the Task Force on the CMU Experience, the Life@CMU Project examined student behavior over the course of a semester, and looked at how factors such as stress and sleep affected, and in some cases predicted, students' well-being. Results of the study, which were presented during a recent campus forum, will be used to guide future student experience initiatives.   
"There's been an impressive amount of work looking at mental health in college student samples in the published scientific literature, and our students look quite similar to other student samples," said principal investigator David Creswell, associate professor of psychology.
Creswell's team followed two cohorts of students. The first phase included 160 first-year students during the spring 2017 semester. Phase two studied 120 first-year students and 118 second-year students during the fall 2018 semester. Eighty of the 118 second-year students participated in the first phase as well. Students represented schools and colleges across the university.
Some surveys were conducted to measure the students' perceived stress levels at the beginning, middle and end of each semester.  
"As you might expect, we see an increase in student stress levels from the beginning to the end of the semester," Creswell said. "We don't see a lot of difference with stress levels on this campus relative to other college students. So, you might ask, 'do we have a unique stress culture here?' We're not seeing that."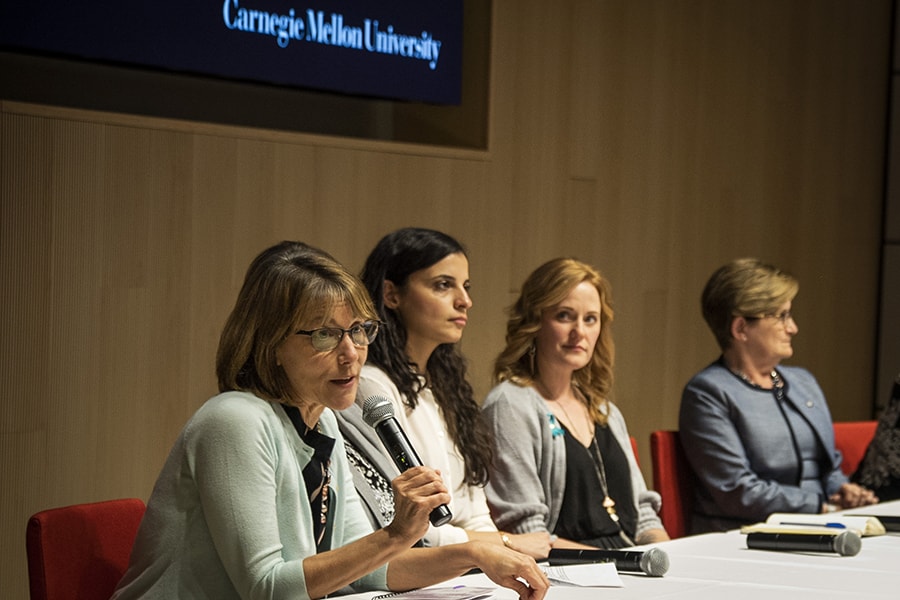 Beth Kotarski talks about University Health Services during the campus forum's panel discussion. To her left are Dareen Basma, a counselor with Counseling & Psychological Services; Angela Lusk, program director for Community Health and Well-Being; and Amy Burkert, vice provost for Education.
Researchers also monitored students' daily lives for one week at the beginning, middle and end of the study. Using smart technology, including the AWARE smartphone app and FitBits, researchers kept track of the students' location and when they were studying, working, exercising, eating, participating in activities or sleeping. Other data was monitored as well, including texting habits and other uses of their smartphone.  
"We did pretty intensive experience sampling," Creswell said. "We sent them pings on their smartphones a couple of times a day with five-minute questionnaires zeroing in on their daily life experiences. We have 21 days of rich experience sampling data."
"Do we have a unique stress culture here? We're not seeing that." — David Creswell
Creswell said students spent approximately half their waking hours on school-related activities. The other half was spent on self-care activities, eating, exercising, napping and working a job.
"We are starting to look at what they were doing and how that may be related to their mental health," he said.
Creswell's team also measured the level of depression in students. Similar to stress, depression levels rose during the semester with 58 percent of the participants indicating high depressive symptoms by the end of the semester.
While the depression levels are similar at other colleges, Creswell said 58 percent is alarming.
"Given that we're seeing so much depression symptomology in our students, we've been really getting interested to see if we can predict who's going to be depressed and what factors may cause students to be vulnerable to depression," Creswell said. "We're doing some initial machine learning work to predict depression risk using our Fitbit data and mobile sensing data."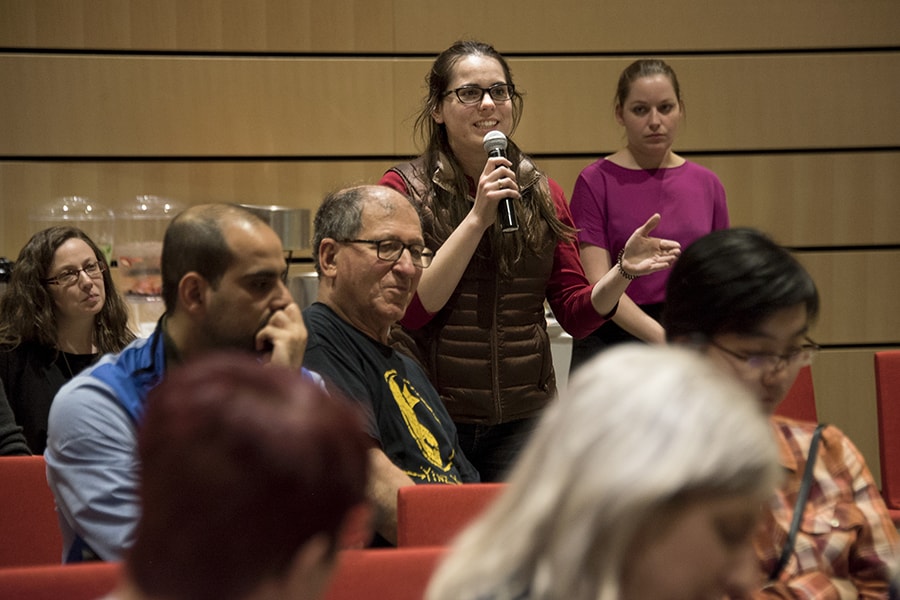 Computer Science major Gabbi Brik participated in the campus forum's Q&A.
Creswell said data from smartphones and Fitbits predicts end of semester depression with nearly 86 percent accuracy. He said this may suggest ways to intervene when students need help.
The study also measured sleep, substance abuse, happiness and loneliness.
Results showed CMU students are averaging seven hours a night at the beginning of the semester and then under seven as the semester progresses.
Students scored high in the happiness category and low in substance abuse. Students expressed loneliness throughout the semester, which is an issue that needs to be addressed, Creswell said.
"Our students are showing a more complex psychological portrait of mental health. While students have depressive symptoms, they also have high happiness and purpose in life throughout the semester," Creswell said.
The forum ended with a panel discussion and Q&A that highlighted the mental health resources available to students and next steps. Panelists were: Beth Kotarski, executive director, University Health Services; Maureen Dasey-Morales, associate vice president, Community Health and Well-Being; Dareen Basma, counselor, Counseling & Psychological Services; Angela Lusk, program director, Community Health and Well-Being; Amy Burkert, vice provost, Education; and Gina Casalegno, vice president, Student Affairs, dean of Students.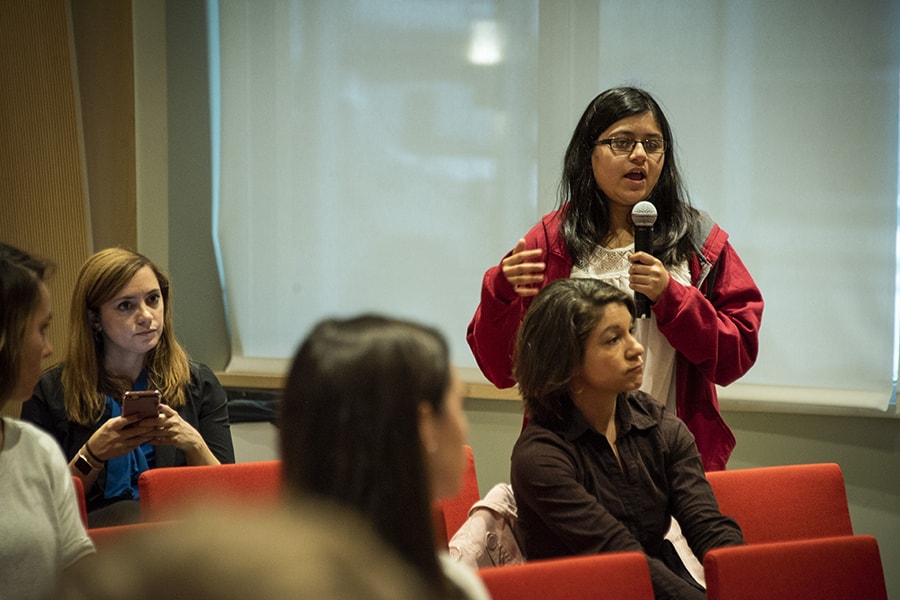 Dietrich College senior Inez Khan said it was important to educate the campus community about the study's findings. 
Over the last several years, Carnegie Mellon has implemented new programs, policies and initiatives to enhance student life. Faculty are now including information about mental health resources and how students can get help with their studies in their course syllabi. New drop/withdraw deadlines have been established to allow students to make better, informed decisions about their academic workload. Classroom and dining renovations have been made, and a new athletic facility in the Tepper Building opened last fall. Group exercise classes are now free for students, faculty and staff, as is Headspace, a popular meditation app for the university community.
Provost Jim Garrett expressed his thanks to Creswell and his research team, and to the panelists for their work. He said more needs to be done to educate the campus community about available resources and to intervene to help students when needed.
Casalegno said the support of senior leadership has been critical in enabling efforts to enhance the overall student experience.
"This is a critical time for us as a nation and at Carnegie Mellon to positively impact the experience of our student community," Casalegno said.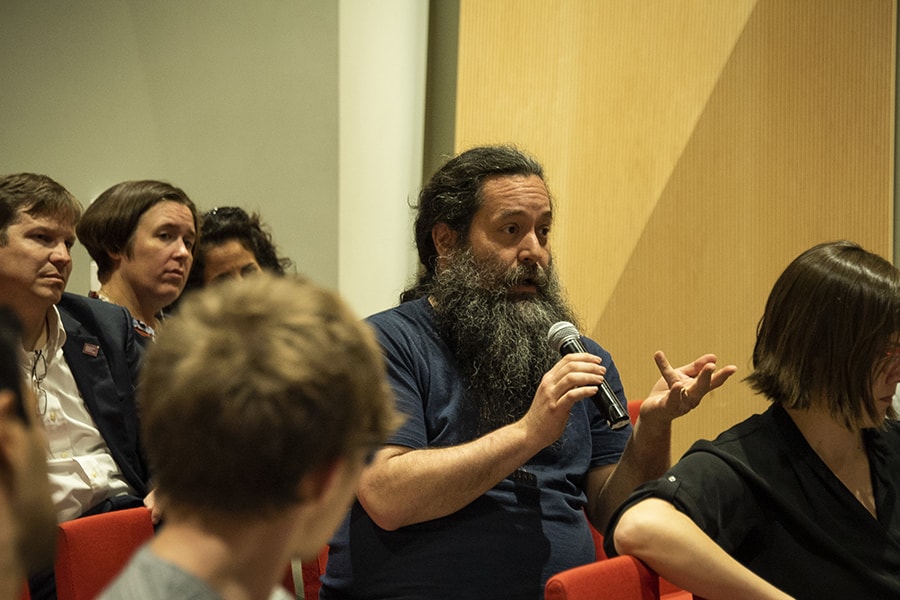 Computer Science Professor David Eckhardt said members of the campus community should be on the lookout for students who need help.
David Eckhardt, associate teaching professor in the Computer Science Department, said while he was glad to hear that CMU students were similar to their peers around the country, "some of our students are not OK."
"We all can help by being on the lookout for people who are not OK. We want to make sure that people who need treatment and professional interventions get that. We should all do what we need to do," Eckhardt said.
Creswell agreed.
"It makes us faculty look differently at the room. What are actions that I can take to be more proactive in better helping my students?" Creswell said.  
Carnegie Mellon University is committed to educating, empowering and aligning its community around the world to address the Sustainable Development Goals, also known as the Global Goals, which aim to create a more peaceful, prosperous planet with just and inclusive societies. Recognizing the critical contributions that universities are making through education, research and practice, CMU publicly committed to undertaking a Voluntary University Review of the Global Goals. The 17 Global Goals cover wide-ranging issues, including reducing violence, ending extreme poverty, promoting equitable education, fighting inequality and injustice, advancing economic growth and decent work, and preventing the harmful effects of climate change by 2030.

The preceding story demonstrates CMU's work toward attaining Global Goal 3.