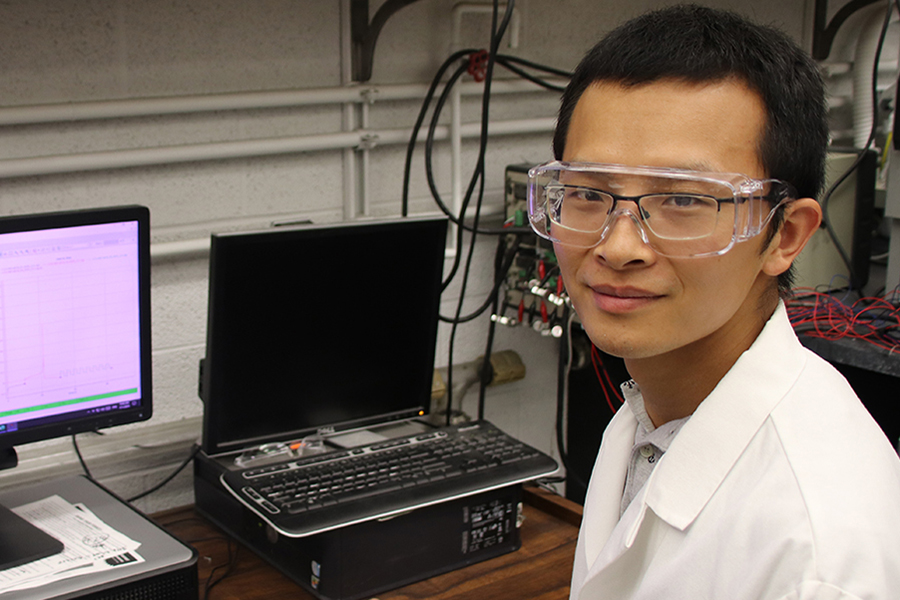 September 09, 2019
From Postdoc to Professor, Liu Works at the Intersection of Energy and Water
By Jessica Keast
Media Inquiries
This semester, Xitong Liu began his new position as an assistant professor in the Department of Civil and Environmental Engineering at The George Washington University in Washington, D.C. A former Postdoctoral Researcher at Carnegie Mellon University, Liu says that ultimately, the work he did and the connections he made at Carnegie Mellon aided him in landing his new position.
From 2017-2019, the majority of Liu's research in CMU's Civil and Environmental Engineering Department focused on electrochemical desalination—an innovative technology to separate ionic constituents from water by means of electro-sorption.
"Large parts of the western U.S. are facing a water shortage issue," said Liu. "Therefore, people need to tap unconventional water sources including the brackish groundwater. In order to make the brackish water drinkable, we need to remove the salts."
Liu is particularly interested in examining wastewaters generated from the energy sector, which are difficult to treat because of their complex composition. Liu notes that one of the most challenging issues he deals with is the scale that forms on surfaces as a result of the high salinity.
"My aim is to better understand scale formation and, afterward, figure out how to control and delay the process," he said.
Liu is also interested in recovering valuable resources from wastewater.
"For example, municipal wastewater contains phosphorous, which can actually be recovered and used as a resource. However, when it enters natural water, it can cause algae blooms," said Liu.
The question then becomes how to effectively and efficiently develop the proper materials and interfaces needed to extract a particular species from the waste.
Liu said he believes the solution lies in utilizing the right combination of technology and system engineering, a challenge he began to tackle at CMU and will continue to tackle at the George Washington University (GW).
"My work at CMU was critical to landing this position," Liu said. "The research I did for my postdoc was fundamental and had practical applications. I was able to pitch this when interviewing for my job, and it helped me relate my research to everyday life."
Liu added that he enjoyed working extensively with both CMU Scott Institute for Energy Innovation Director and Trustee Professor in Energy Jay Whitacre and with former CMU Associate Professor of Civil and Environmental Engineering Meagan Mauter.
"I benefitted a lot from Professor Mauter's interdisciplinary group and weekly group meetings. In these groups, I was exposed to a variety of research approaches. I also acquired a tremendous amount of knowledge on electrochemistry while working with Professor Whitacre," he said. "It is the interdisciplinary nature of the Scott Institute that drives its innovative, groundbreaking research."
As Liu settles into his first semester at GW, he said he's excited to be teaching a course on industrial waste treatment, which he hopes will help students expand their knowledge in a field he is incredibly passionate about. In addition to teaching, Liu's Research Group is working to advance sustainable environmental nanotechnology, among other research thrusts.