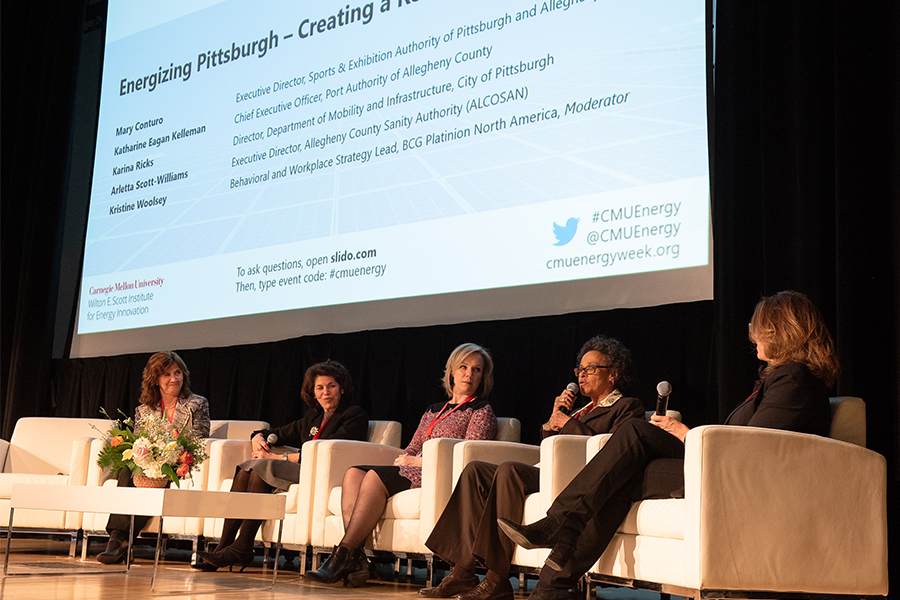 April 15, 2019
CMU Energy Week 2019 Recap
By Amanda King and Cody Januszko alking(through)andrew.cmu.edu
Media Inquiries
Hosted by Carnegie Mellon University's Wilton E. Scott Institute for Energy Innovation, CMU Energy Week 2019 brought together thought leaders from all energy and cleantech sectors to engage and collaborate on research, trends, insights, and opportunities that are making a significant and disruptive impact. From the inaugural CMU VentureWell Energy Hackathon to mainstays, such as the CMU Energy + Cleantech Investor Forum and the Student Research Poster Competition, the fourth annual CMU Energy Week was a success! 
2019: By the Numbers
CMU Energy Week 2019, which took place March 25-28, drew over 900 registrants for a facilitated dialogue on how to advance energy technologies and innovations around the world. Additional stats from the conference: 
261 organizations from 23 states and 3 countries
87 speakers including 11 panels and 8 keynotes
4 networking sessions
20 event sponsors
Total online news audience of 2.2 million
For those who could not travel to Pittsburgh (or those who want to look back on the event!), you can view event coverage here with highlights from the conference below:
Videos

of our keynote speeches, panels and innovation pitches

Photos of the event

, including the Student Poster Competition, CMU Energy + Cleantech Investor Forum Pitch Showcase, receptions and tours.

 
Day 1, March 25
In the morning, we kicked off our inaugural CMU VentureWell Energy Hackathon with over 80 participating students and five organizations. Congratulations to the winning teams:
1st Place ($2,000): Team Bottlerockets - Joshua Pope, Lilan Huang, and Kwaku Jymafi (Chevron Challenge)
2nd Place ($1,000): Team Zap Bloom - Mohamed Abdelrahman and Bowo Akinlabi-Oladimeji (Honda Challenge)
3rd Place ($500): Team E-saver - Siliang Lu, Sarthak Chakraborty, Shichen Yang, Qingyang Liu, and Lili Yu (Port Authority of Allegheny County Challenge)
People's Choice ($250): Team HackOverflow - Athanasios Terzakis, Daksha Bopanna, Yuan Lee, and Wei Yu (NextEra Energy Resources Challenge)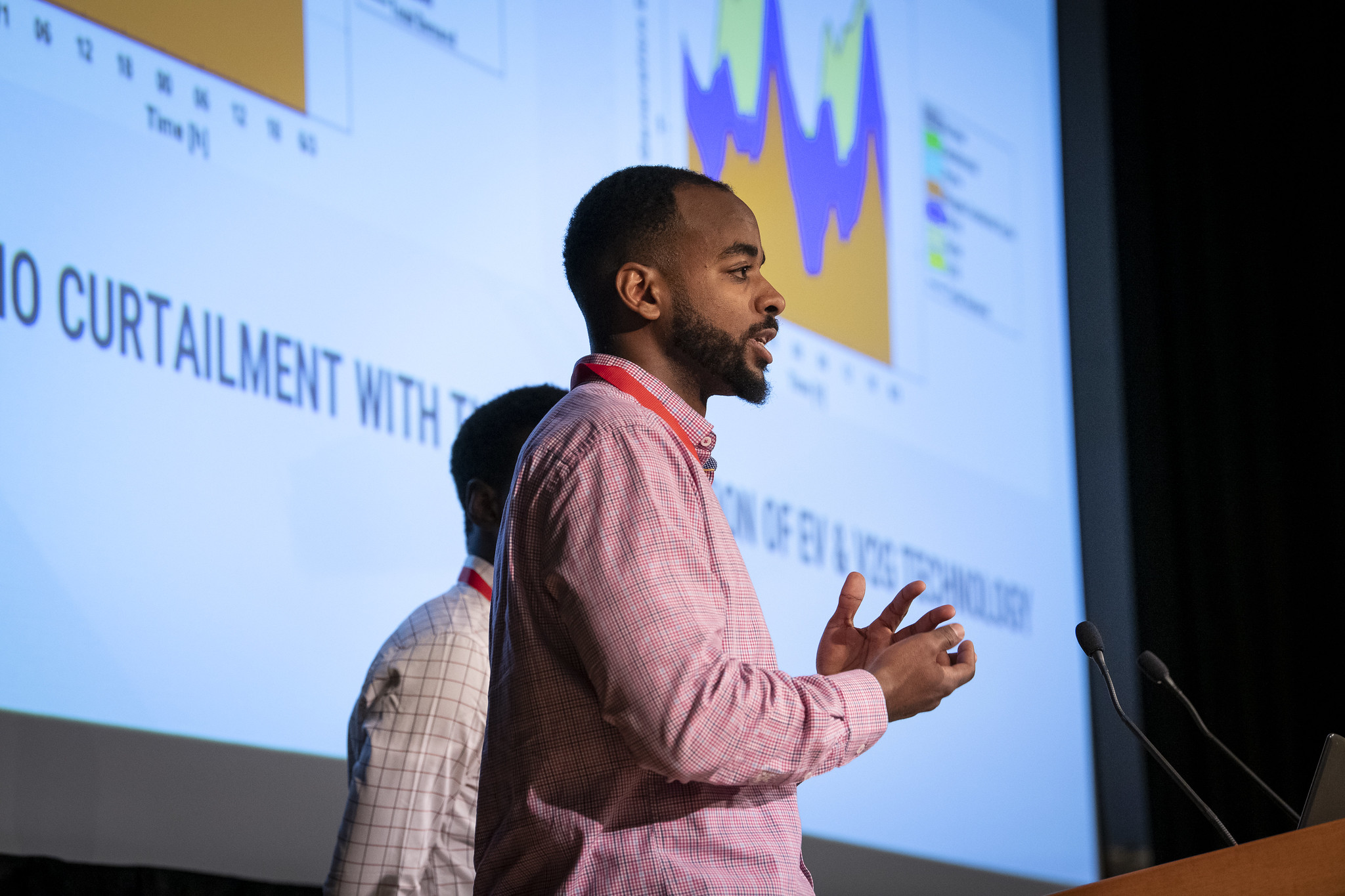 Later in the afternoon, over 150 students met with 28 energy companies at our Energy Industry Career Fair.
Day 2, March 26
This morning, the Scott Institute officially kicked off CMU Energy Week 2019 with a welcome by Carnegie Mellon University leadership and City of Pittsburgh officials including Mayor William Peduto, Chief Resilience Officer Grant Ervin, County Executive Rich Fitzgerald and Councilman Corey O'Connor.
Four keynote speakers took to the stage, including Thomas Siebel, chief executive officer of C3.ai (pictured below). Siebel discussed what's driving digital transformation (the subject of his forthcoming book due out in July), as well as the company's analytics work across the smart grid. Read more in C3.ai's article.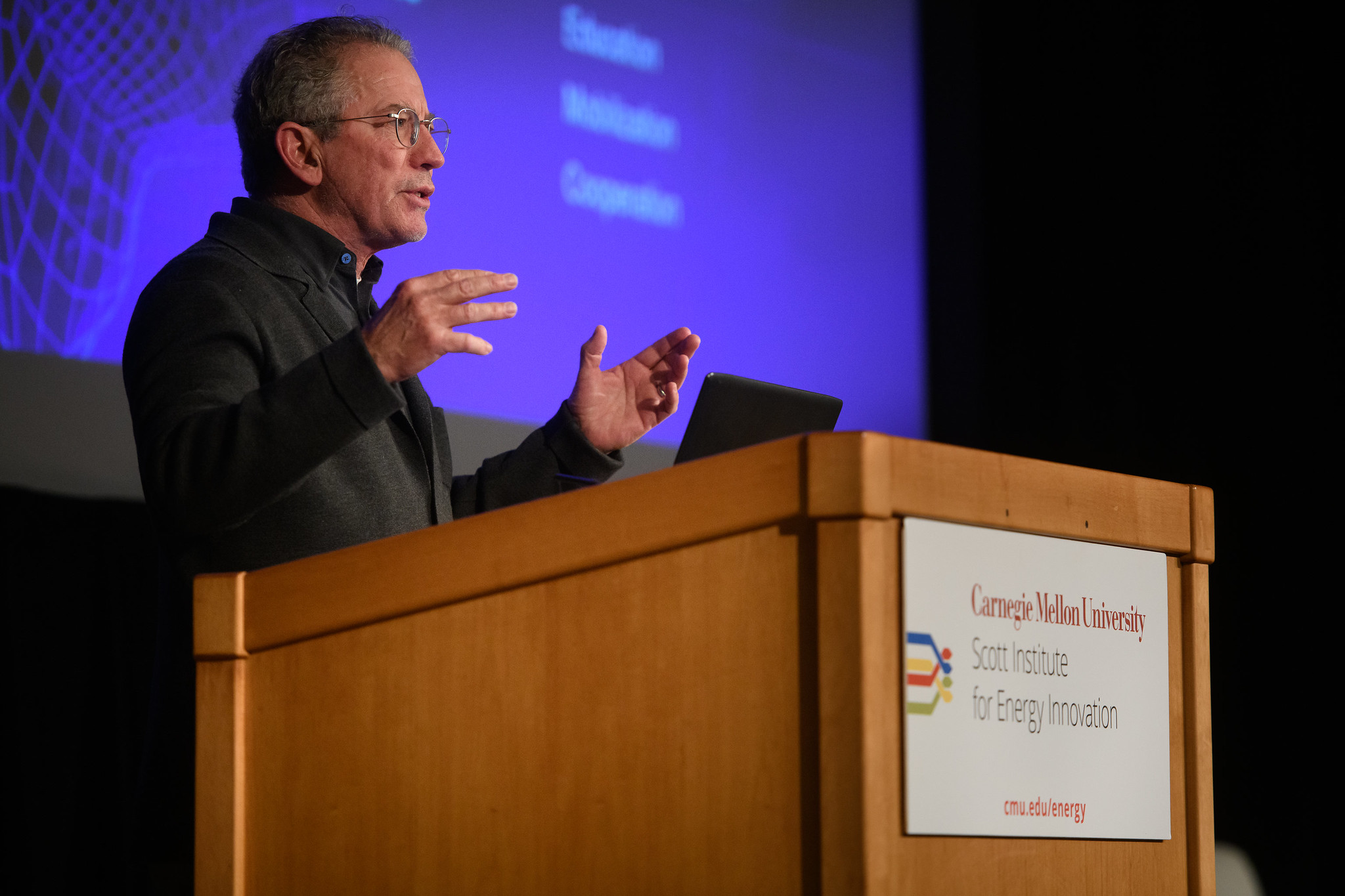 The day also comprised of four exciting panels with a concluding forum of distinguished female leaders in the City of Pittsburgh's mobility and infrastructure planning sectors who focused on how to create a resilient future:
Mary Conturo, Executive Director of the Sports & Exhibition Authority of Pittsburgh and Allegheny County
Katharine Eagan Kelleman, Chief Executive Officer of Port Authority of Allegheny County
Karina Ricks, Director of the City of Pittsburgh's Department of Mobility and Infrastructure
Arletta Scott-Williams, Executive Director of the Allegheny County Sanitary Authority (ALCOSAN)
In the afternoon, Carnegie Mellon students presented over 30 posters showcasing their innovative research. The winning posters were:
1stPlace ($1,000): "Integrating Earthen Building Materials and Methods Into Mainstream Construction" by Lola Ben-Alon
2ndPlace ($500): "Powering the future with waste water" by Carolyn Goodman, Daksha Bopanna, and Vibhor Kumar
3rdPlace ($250): "Why Rapid and Deep Decarbonization isn't simple" by Turner Cotterman
People's Choice ($250): "Can autonomous light vehicles be fully electric?" by Aniruddh Mohan and Shashank Sripad
Best In-Person Presentation ($250): "Engineers Without Borders: Energy Solutions for Nyadire, Zimbabwe" by Mengying Fang, Melina Driscoll, Sophie Yeh, Christina Ou, Evan Schinderwolf, Katharine Nie, and Hyunji Kim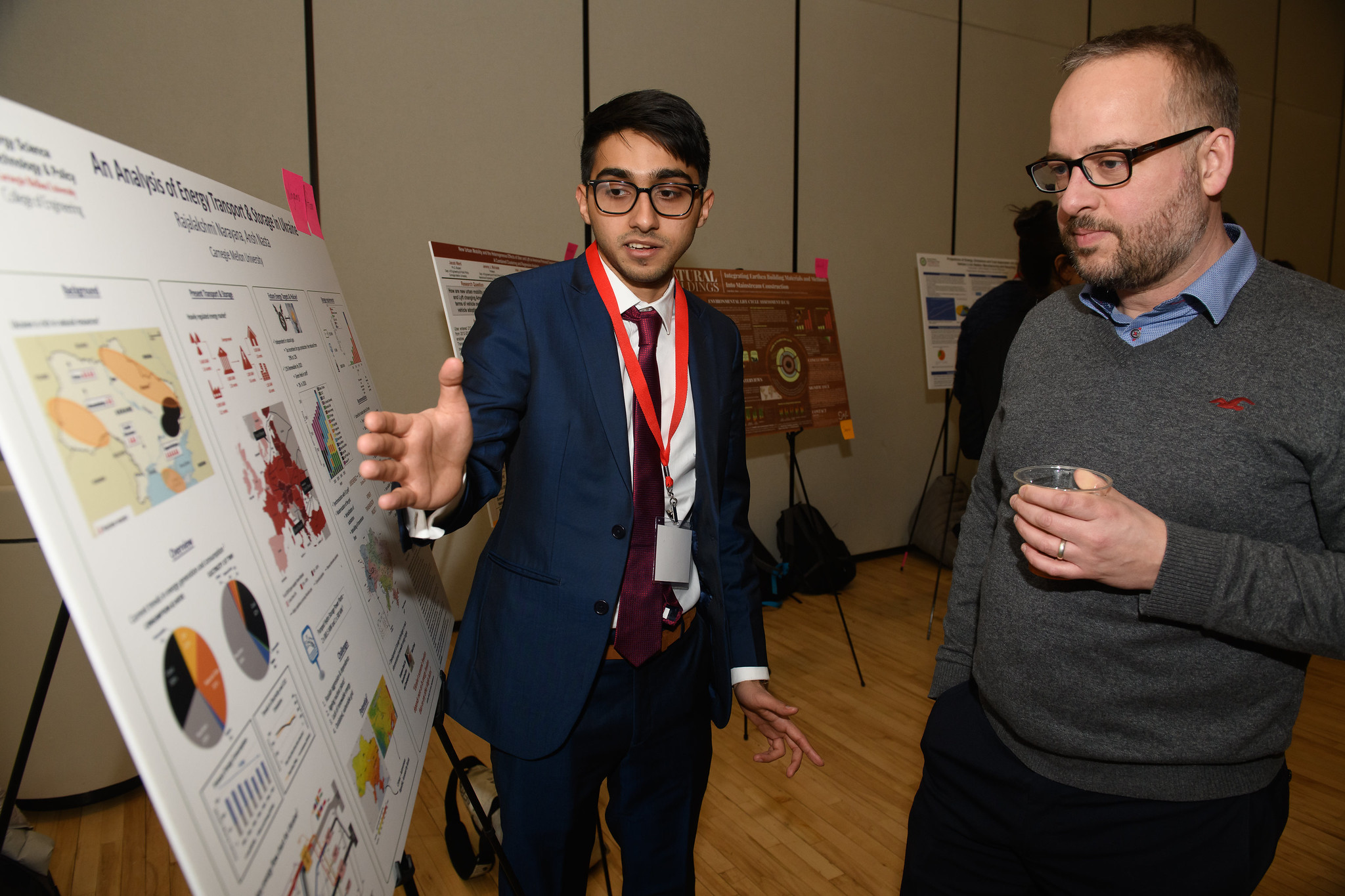 Day 3, March 27
CMU Energy Week activities continued on Wednesday morning. After a networking breakfast, we kicked off the day with a panel of recent CMU alumni who reflected on their first few years in the energy sector. Five panels ranging from high performance in large building portfolios to siting grid-scale solar and four keynote speeches followed before the day wrapped up with an evening reception at CMU's Swartz Center for Entrepreneurship in the newly-opened Tepper Quadrangle. Here are highlights from the day:
Our Energy Fellow Costa Samaras (pictured below) led a panel discussion that touched on e-mobility in terms of infrastructure, electrification and energy. Experts from Tesla, Ford Smart Mobility, NREL, City of Pittsburgh and Duquesne Light Company discussed how electric offers flexibility for a wider range of mobility options in cities. According to the panelists, 10% of all cars sold in 2030 will be electric, and utilities will need to plan the grid for this demand change.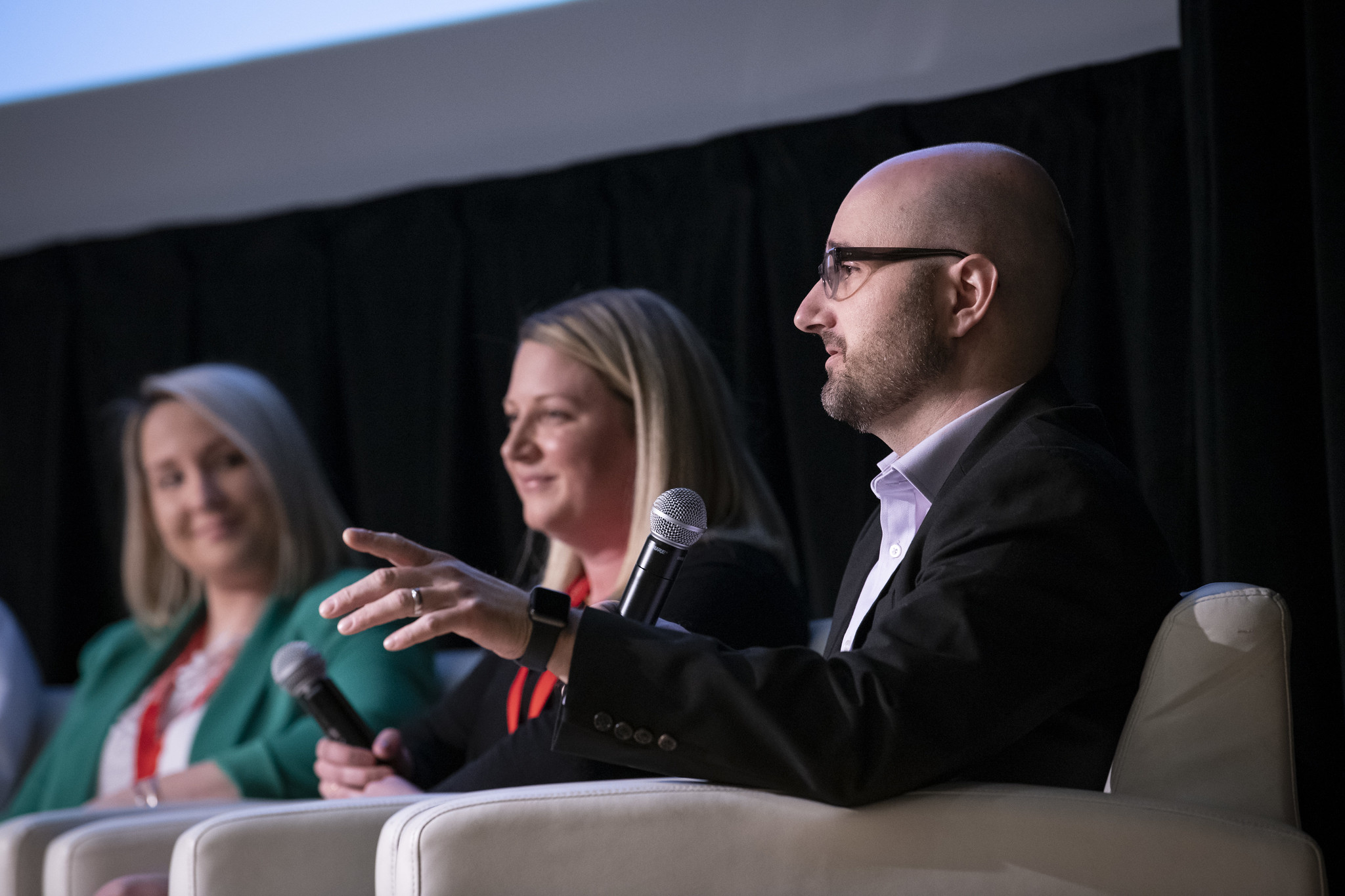 Afterwards, NextEra Energy Resources Senior VP of Development Michael O'Sullivan presented an inspiring keynote aimed at the current landscape of utility-scale wind and solar power, with a look ahead at storage.
"By 2030, customers could begin to use solar and battery systems to dramatically reduce their consumption of energy from the grid, even without the ability to sell excess solar with net energy metering," said O'Sullivan.
Later in the day, Barbara Burger, president of Chevron Technology Ventures, spoke about the role that corporations play in the innovation ecosystem and the closely-interrelated role that the innovation ecosystem plays in corporations.
Before the evening reception at the Tepper Quad, Matthew Nordan, managing director of PRIME Impact Fund, delivered a keynote speech about how a new strand of investors is mobilizing capital to fund high-risk, high-impact breakthroughs in cleantech.
Day 4, March 28
The Scott Institute kicked off its final day of Energy Week with a keynote by Cleantech Open Executive Director Ken Hayes. While discussing "Cleantech 2.0," Hayes mentioned a new wave of investor entrants: Strategics, large global utilities, oil and gas majors, such as Shell, plus engineering firms.
After his talk, panelists from Chevron Technology Ventures, Clean Energy Trust, Babst Calland, Energy Foundry and Mountain State Capital SBIC, LP took to the stage to speak about Energy + Cleantech Innovation and Commercialization. They discussed emerging cleantech trends, such as Data Analytics and AI related to energy and water usage, and mobility/transportation.
Next up was the CMU Energy + Cleantech Investor Forum and Startup Pitch Showcase where 21 startups presented their technologies in 4-minute pitches to a public audience that included judges/investors. Congratulations to the best pitch award winners:
1stPlace: Rapid Flow Technologies (CMU)
The company's software solution, Surtrac, uses artificial intelligence to optimize traffic flow through intersections in real-time. 
2ndPlace: H2know by Conservation Labs (CMU)
H2know, the company's first product, converts sound measurements from a pipe to provide accurate water flow estimates, leak alerts, and custom conservation recommendations. 
3rdPlace: BREK Electronics
The company's innovative, patented designs produce high efficiency, high reliability, compact power converters and inverters for use in the commercial/utility solar PV market.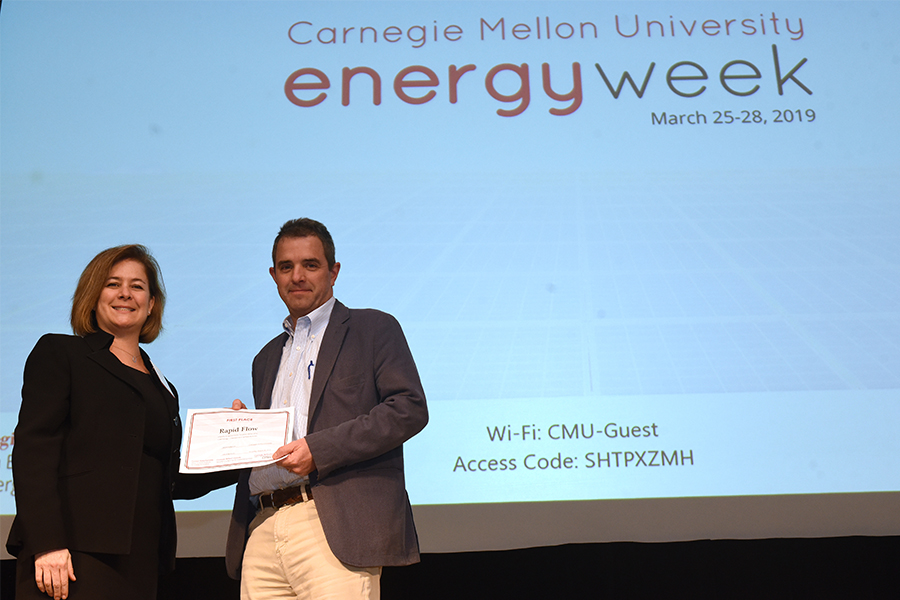 Scott Institute Executive Director Anna J. Siefken presents Rapid Flow Technologies CEO Griffin Schultz with the award for best pitch during the CMU Energy + Cleantech Investor Forum and Startup Showcase.
The entrepreneurs also had the opportunity to meet one-on-one with nearly 20 investors from across the nation. Energy Week concluded with a series of sustainability tours at CMU's Sherman and Joyce Bowie Scott Hall and Phipps Conservatory and Botanical Gardens' Living Campus.
Local and national media also took interest in CMU Energy Week 2019:
Special thanks to our sponsors who made CMU Energy Week 2019 a remarkable success!:
Chevron
Peoples Gas
Duquesne Light Company
NextEra Energy Resources
VentureWell
U.S. Department of Energy American-Made Solar Prize
Siemens
Enlighted – A Siemens Company
Westinghouse
The Efficiency Network (TEN)
Lightsource BP
WGL Energy
Clearway Energy
BCI Technology Investments
Montauk Energy
Johnson Controls
Washington Clean Energy Test Beds
Solbridge Energy Advisors LLC
Babst Calland Attorneys at Law
Renewable Engine
Interested in partnering on CMU Energy Week 2020? Contact Anna Siefken.