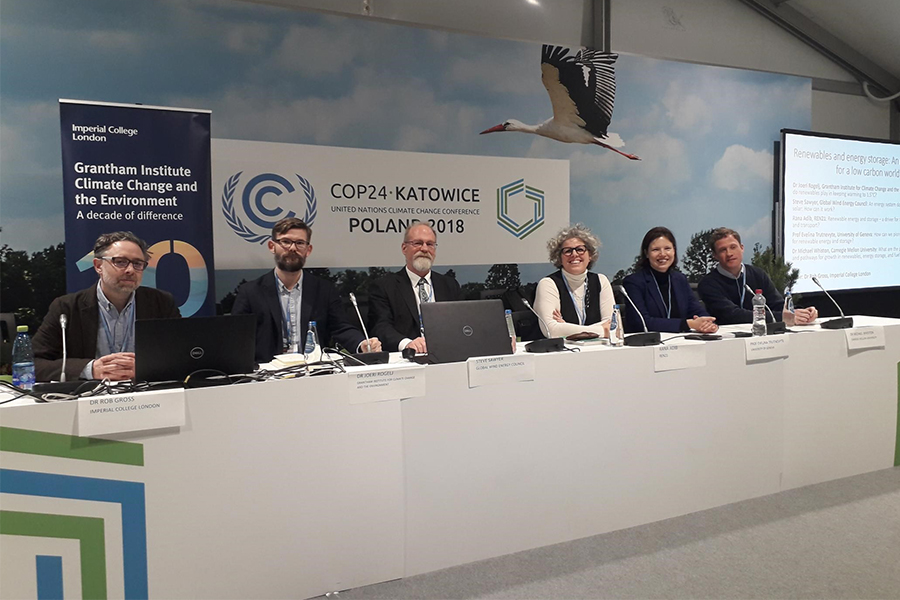 January 04, 2019
Engineering and Public Policy Postdoc Presents on Energy Storage at COP24
In December, Carnegie Mellon University Engineering and Public Policy Postdoctoral Research Associate Michael Whiston presented his research on energy storage and participated on a panel with energy experts at the 24th Conference of the Parties to the United Nations Framework Convention on Climate Change (COP24) in Katowice, Poland. Bringing together over 18,000 participants, COP24 aimed to adopt rules for implementing the Paris Agreement on climate change. Delegates from nearly 200 countries and the European Union met to negotiate the implementation package.
Whiston's research, funded by the Alfred P. Sloan Foundation, focuses on the expected future costs and performance of solid oxide fuel cells. He conducted this work with Carnegie Mellon Professors and Scott Institute Faculty Affiliates Jay Whitacre, Inês Azevedo, Shawn Litster, Constantine Samaras and Kate Whitefoot. Whiston also presented research conducted by Azevedo and Rochester Institute of Technology Professor Eric Hittinger on the impact of bulk energy storage on U.S. electricity system emissions.

Following his presentation, Whiston participated in a panel discussion on synergies between energy storage, renewables and fuel cells with experts from Imperial College London, the Global Wind Energy Council, REN21 and the University of Geneva.
Whiston is one of multiple researchers who have represented CMU at this international conference over the years. In 2017, former Engineering and Public Policy Professor of the Practice Deborah Stine participated in COP23.