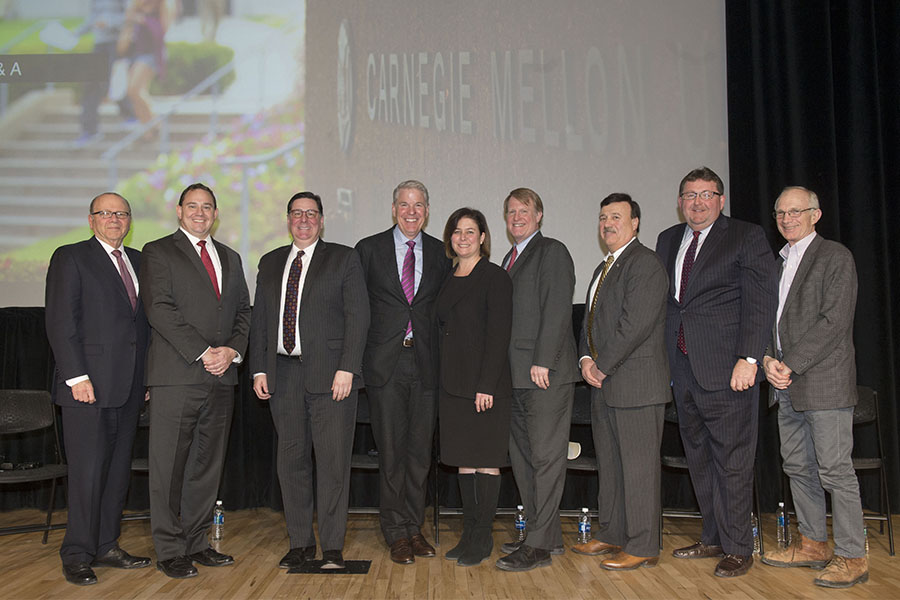 October 05, 2018
Partner Spotlight: Itron
By Amanda King alking(through)andrew.cmu.edu
On Feb.16, 2017, the Wilton E. Scott Institute for Energy Innovation at Carnegie Mellon University hosted over 400 faculty members, staff, students and members of the public at a panel discussion titled "Building a Resilient, Smart and Sustainable City: The Energy-Water Nexus" at Carnegie Mellon. Keynote speaker Dr. Michael E. Webber from the University of Texas at Austin set the stage by explaining the challenges and solutions that arise from the interdependent nature of energy and water. 
The distinguished panel of government leaders, CEOs and academic experts then gathered to discuss the role of the energy-water nexus in Pittsburgh and across the country. Moderated by the Scott Institute's Executive Director Anna J. Siefken and former Director Jared Cohon, the panel included:
Rich Fitzgerald, Allegheny County executive;  
William Peduto, mayor of the City of Pittsburgh;  
Philip Mezey, president and CEO of Itron Inc.;  
Morgan O'Brien, president and CEO of Peoples Natural Gas;  
Richard Riazzi, president and CEO of Duquesne Light Co.; and  
Richard Stafford, distinguished service professor at CMU's Heinz College and founder of Metro21/MetroLab.  
Sponsors included the City of Pittsburgh, Duquesne Light Co., Itron, Peoples Natural Gas and the Scott Institute. The Institute worked closely with the Department of City Planning and Itron to plan the event.
"Having CMU host this signature event allowed our CEO a unique opportunity to interact with students at the university and also exposed Itron to the skills and capabilities of the world-class Scott Institute faculty. It brought together key thought leaders and inspired collaboration for next-generation innovation," said Itron Vice President of Smart Cities Business Development Bob Borzillo.
Borzillo says Itron benefits from partnering with the Institute in a number of ways including collaborating with CMU faculty and students on internal and external engagements related to energy, water and the Internet of Things. 
Borzillo adds that partnering with the Scott Institute has allowed Itron to strategically collaborate within the City of Pittsburgh and surrounding Allegheny County on events, such as their recent participation as a sponsor and speaker at CMU Energy Week 2018.
"Universities like CMU play a growing and central role in the energy and smart cities innovation ecosystem, driving regional and national economic growth," said Siefken. "Partnerships, like the one we have with Itron, are integral to the work we do at the Scott Institute for Energy Innovation."