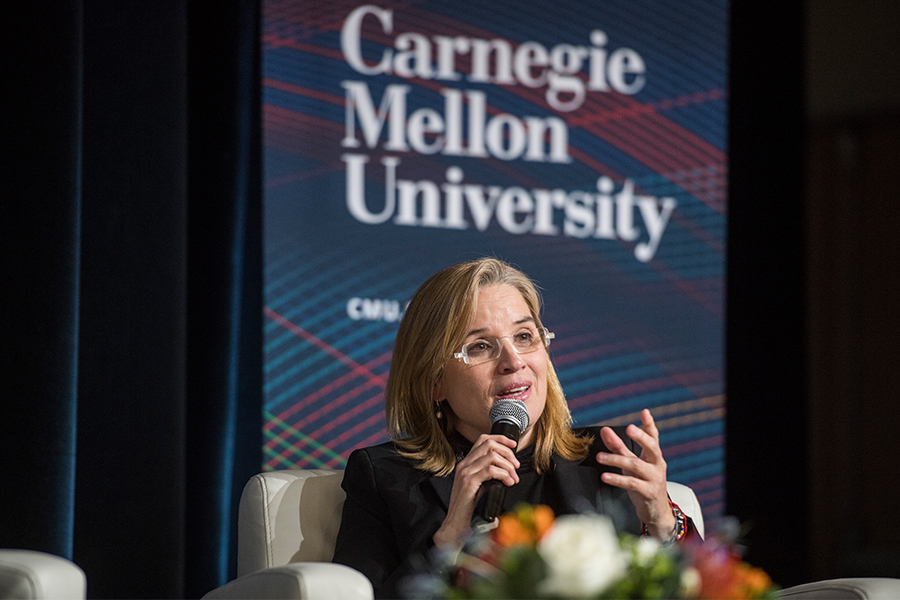 October 05, 2018
CMU Energy Week 2018 Draws Global Thought Leadership
By Amanda King and Annie Rucker
Media Inquiries
The Wilton E. Scott Institute for Energy Innovation hosted its third annual Carnegie Mellon University Energy Week from April 4-6, 2018. Open to the public, this year's symposium brought together leaders from industry, government, academia and the nonprofit sector to engage and collaborate on energy research, trends, innovative technologies and opportunities to tackle pressing energy challenges. 
Carnegie Mellon Energy Week 2018 was highly successful with approximately 1,000 attendees, over 90 speakers, 45 sessions including five keynotes and nine panels, 14 event sponsors, 280 companies and organizations represented and 24 local and national media placements.
Day 1
On Day 1, Exelon Utilities Senior Executive Vice President and Chief Executive Officer Anne Pramaggiore, who was president and chief executive officer of ComEd at the time of her talk, captivated the audience with her keynote address on ComEd's roadmap for the second electric revolution. 
Five incredible panels followed, along with a keynote speech by Don Anderson, operating partner and chief sustainability officer of The Private Equity Group at The Blackstone Group. He discussed the evolution of energy efficiency and sustainability in the building and finance industries. 
The day concluded with a Distinguished Mayor's Forum that featured San Juan Mayor and CMU alumna Carmen Yulín Cruz (Heinz 1986) and City of Pittsburgh Mayor William Peduto. Cruz and Peduto discussed resiliency, community and microgrids. Cruz, whose city was devastated by Hurricane Maria in 2017, spoke about the need for a "back-up system of micro-grids" built on renewable energy sources, like solar and wind power. 
"We must use the opportunity to look at that portfolio of options and to look at other cities that have already started considering these options," she said.
Cruz took the opportunity to thank Pittsburgh and CMU for their relief efforts for Puerto Rico.
"The City of Pittsburgh helped us, but above all Carnegie Mellon University rose to the occasion and showed what Carnegie Mellon is all about. It's putting technology to work, but making sure that technology doesn't replace the heart of people. Lives were saved because of the people in this room," said Cruz.
"To have witnessed the mayor of Pittsburgh and the mayor of San Juan having such an intimate discussion about the importance of energy and grid resilience will have an impact on future initiatives and planning," said Anna J. Siefken, event organizer and Scott Institute executive director. 
Day 2
Day 2 kicked off with a Corporate and Industry Networking Breakfast where Mitsubishi Hitachi Power Systems President and Chief Executive Officer and CMU alumnus Paul Browning (Engineering 1990) announced the release of the 2018 Carnegie Mellon Power Sector Carbon Index report.
During his lunchtime keynote, David Danielson, managing director for Science at the Bill Gates-backed Breakthrough Energy Ventures (BEV), mentioned that his coalition of investors from across the world created a billion-­dollar fund that will support BEV in its ventures to support cleantech investments. These projects will reduce at least half a gigaton of greenhouse gases during every year of BEV's operation.
Day 2 also featured the CMU Scott Institute Faculty Seed Funding Showcase, the CMU Energy + Cleantech Investor Forum and Startup Fair, four panels, two speakers, an energy-themed monologue competition, plus CMU Sustainability Weekend's opening showcase.
The day concluded with a special evening reception commemorating the Sherman and Joyce Bowie Scott Hall's LEED Gold certification from the U.S. Green Building Council. The Scott Institute also inducted its inaugural class of energy faculty fellows and director emeritus'.
Day 3
The final day of CMU Energy Week 2018 featured the Allegheny Cleantech University Prize Collegiate Competition where WasteLESS Tech, a student team from Pennsylvania State University, took home the DOE-sponsored $50,000 grand prize for developing a coating to reduce water consumption. New to the 2018 competition was a $35,000 prize from the U.S. Department of Defense that was awarded at nationals.
Afterwards, the Scott Institute awarded $2,500 in total prizes to CMU students in the annual CMU Energy Week Poster and Multimedia Competition. 
Philips Lighting Chief Executive Officer Chris White spoke about the benefits of LED lighting innovations during his keynote, highlighting a smart light pole that his company installed in Huntington Beach, CA. Smart poles like these each have a 5G antenna, a Wi-Fi antenna and an environmental antenna to cultivate a better environment in a community. White went on to speak about the IoT and future smart lighting applications. 
One panel, an evening keynote, two field trips and two on-campus tours later—and CMU Energy Week 2018 officially concluded. 
"The conversations and insights shared during CMU Energy Week 2018 were extraordinary," said Siefken. "We had thought leadership from around the world, and we could not be more pleased with the outcomes."
Planning for CMU Energy Week 2019 is already underway. Make sure to save the date for the event, which will take place March 25-28.
Learn more and sign up for registration and programming updates