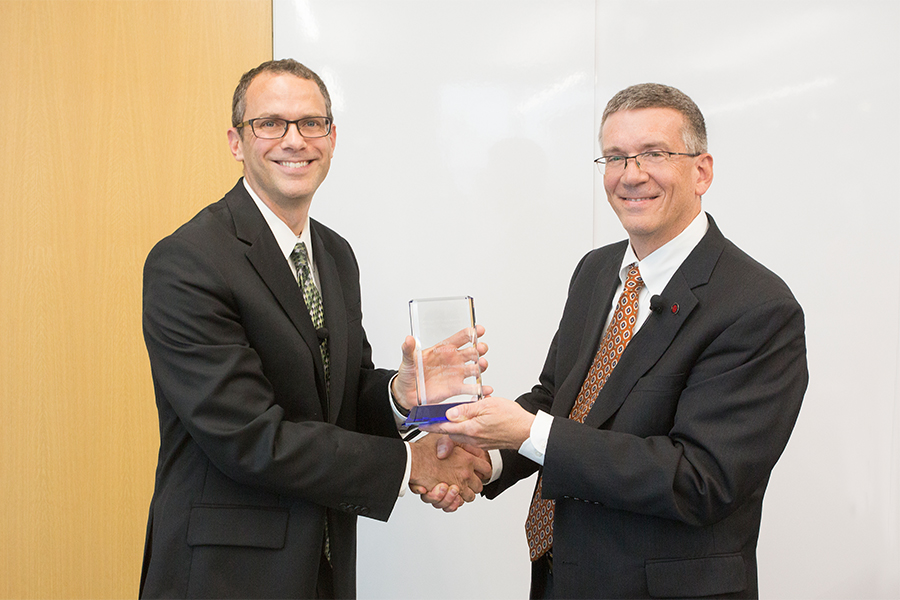 October 06, 2017
Whitacre Named The Trustee Professor in Energy
By Amanda King alking(through)andrew.cmu.edu
On Oct. 5, over 80 people including Carnegie Mellon University leadership, faculty, staff and community members gathered to honor Jay Whitacre, director of the Wilton E. Scott Institute for Energy Innovation, as he was installed as the College of Engineering's Trustee Professor in Energy. The professorship is designated by the University's Board of Trustees to honor leadership and academic excellence in the College of Engineering. 
College of Engineering Dean James Garrett served as the host for the evening.
"I truly enjoy hosting professorship receptions because it is an opportunity for us to shine a spotlight on some of the College of Engineering's world class faculty," said Garrett.
Since arriving to CMU in 2007, Whitacre has focused on the synergistic fields of energy storage and energy system modeling. He developed the first mass-produced, low-cost, eco-friendly battery and in May 2017, he became the director of the Scott Institute.
Additional speakers touched on Whitacre's accomplishments and presented him with gifts. The speakers included:
Farnam Jahanian, Interim President, Carnegie Mellon
Douglas Sicker, Department Head, Engineering and Public Policy, Carnegie Mellon
Marc De Graef, Professor, Materials Science and Engineering, Carnegie Mellon
Jared Cohon, President Emeritus, University Professor, Former Scott Institute Director, Carnegie Mellon
John Scofield, Professor, Physics and Astronomy, Oberlin College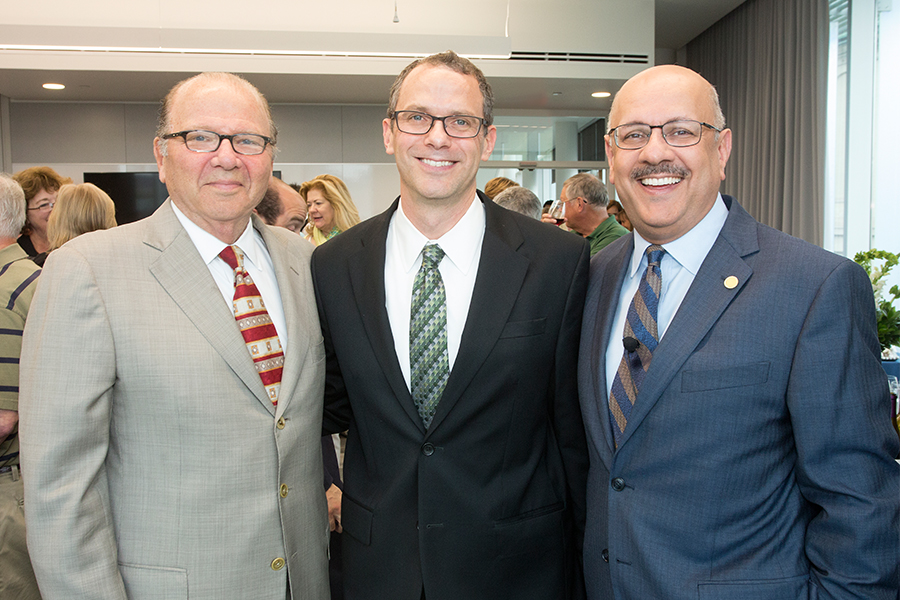 From left to right, CMU's President Emeritus and University Professor Jared Cohon, the Trustee Professor in Energy Jay Whitacre and Interim President Farnam Jahanian pose for a photo at the Oct. 5 reception.
"With the support of this professorship, Jay's trailblazing work in energy storage and power system design will continue to position this institution as a leader in energy innovation. A place where we are solving humanity's problems in the new century," said Jahanian. 
Also in attendance at the reception were Whitacre's family and Sherman Scott (E'66), president and founder of Delmar Systems. The Scott Institute and the Sherman and Joyce Bowie Scott Hall were made possible through the generosity of the Scotts.
Whitacre is the recipient of multiple awards, including the 2015 $500,000 Lemelson-MIT Prize, the 2014 Caltech Resnick Institute Resonate Award, and has been named a Fellow of the National Academy of Inventors. He has authored or co-authored over 75 peer review papers and is an inventor on over 20 patents. Whitacre earned his bachelor of arts degree in Physics from Oberlin College in 1994 and a Ph.D. in 1999 in Materials Science and Engineering from the University of Michigan.