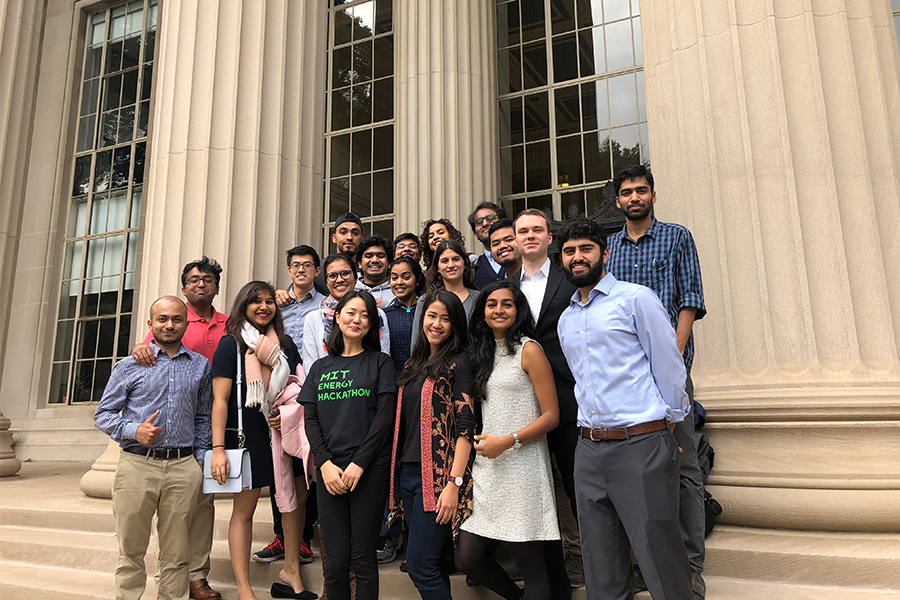 November 13, 2017
CMU Students, Alumni Present Innovative Energy Solutions at MIT Hackathon
By Amanda King alking(through)andrew.cmu.edu
Media Inquiries
At the 3rd Annual MIT Energy Hackathon, 17 Carnegie Mellon University students and two alumni presented novel solutions to energy challenges that society faces daily. 
The Hackathon, hosted by the Massachusetts Institute of Technology from Nov. 3-6, offers monetary prizes to students who get the opportunity to learn and understand real-world challenges, generate ideas and network with other students and companies.
Nine notable companies including Shell discussed the issues they were seeking solutions for. Shell needed to identify commercial customers to target for solar panels and energy storage solutions. Most of the Carnegie Mellon students were tasked with analyzing the customer's energy loads and finding the ideal size for solar panels, as well as other technologies the customers should use. 
"We sized the solar panels and storage systems so that the customers would be able to see savings in their electricity bills in the long run," said Ashwin Balaji, a master's student in the Energy Science, Technology and Policy (EST&P) Program.
Using business intelligence software called Tableau, Balaji and his student team members created an innovative tool that Shell executives could use to input building energy requirements from potential customers and forecast savings and profits.
Balaji credits his EST&P and Civil and Environmental Engineering courses for helping him create these solutions.
"We use Tableau right now in my class, 'Data Analytics for Engineered Systems,' with Professor H. Scott Matthews," said Balaji.
He adds that Materials Science and Engineering Professor David Landis's course, 'Energy Transport and Storage,' utilizes the leading microgrid software, Homer, which helped Balaji and his team size the solar panels. 
The student's travel and lodging to the Hackathon were supported by CMU's Wilton E. Scott Institute for Energy Innovation, which has provided support to students and faculty to participate in innovation events including the ARPA-E Energy Innovation Summit, the TransTech Energy Business Development Conference and the NREL Industry Growth Forum.
The Institute also hosts the Allegheny Cleantech University Prize Collegiate Competition where students with innovative cleantech ideas can compete for a $50,000 grand prize, sponsored by the U.S. Department of Energy. The competition takes place on April 6, 2018 during Carnegie Mellon's Energy Week (April 4-6).